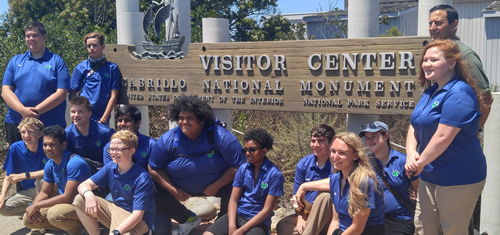 Extension Specialist Tim Prather chaperoned Unicoi County 4-H GPS Team members Elisabeth Casey, Christiana Gilbert and Ben Merritt to San Diego to participate in the National 4-H GIS/GPS Leadership Team Meeting held in Conjunction with the Education Summit @ Esri Users Conference on July 6-10, 2019.  
Tennessee 4-H members are nominated to the national team upon winning of the annual Tennessee 4-H GIS Contest. This year's winners used ArcGIS Online to produce the map titled Unicoi County Emergency Services Response Times showing 5, 10 and 15 minute driving times coverages of Unicoi County emergency services, whereby they found that approximately 30% of homes in the county are more than 15 minutes away from a fire station, the ambulance station or the local hospital.
The 2019-2020 National 4-H GIS/GPS Leadership Team is comprised of youth from five states (LA, NC, NV, NY, TN). Youth and their adult leaders participated in the team meeting by attending the GIS conference workshops and presentations and then meeting each evening to discuss how they can apply what was learned to promote STEM education and to promote geospatial awareness through the next school year.
Each team member is required to present a map in the Esri Users Conference Map Gallery to share their work with some of the 17,000+ conference attendees from 133 countries. More than 1,100 maps were presented this year, and Jeffrey Carmichael (NY) was awarded 2nd Place in the Student Maps Age 13-18 category for his map EarthCachesTM of the USA, and the Louisiana team of Vibriyogn Epuri and Hunter Gravois received 3rd Place for their online Story Map titled GIS Tips and Tricks.               
Following the conference, members participated in a service learning project at Cabrillo National Monument. This year's project, led by three returning members of the team, used the Collector for ArcGIS app to inventory locations and conditions of all the signs in public areas of the park. This information has been made available to the park maintenance staff so it can be supplement their existing records.               
Tim is a member of the national group's advisory team and coordinates their participation in the international conference's Map Gallery and a service learning project at a local National Park. Tim was accompanied by Level 3 Volunteer Leaders Lynn Prather and Sullivan County 4-H alumni Austin Ramsey. Austin is a past member of the National 4-H GIS/GPS Leadership Team and a now member of the Advisory Team and coordinates workshops at the annual National Youth Health Summit at the National 4-H Center where 4-H members use GIS and county-level health data to explore health issues in their communities.                
The National 4-H GIS/GPS Leadership Team is an effort of Esri, USDA National Institute of Food And Agriculture, states' Land Grant Universities and volunteer GIS professionals. The oppportunity for Tennessee 4-H members to travel to San Diego for the event is made possible by the support of Esri, Tennessee Geographic Information Council, Inc. (TNGIC) and several individual donors.