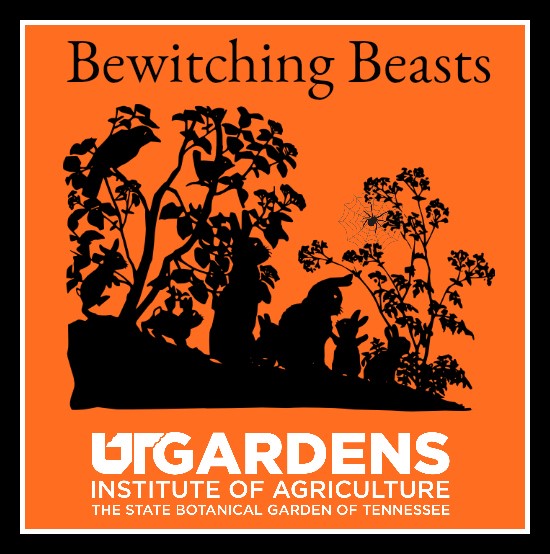 Event for Children and Families, Friendly for Those with Food Allergies
KNOXVILLE, Tenn. — Make plans to attend a fun, family-friendly event at the University of Tennessee Gardens in Knoxville this October. Bewitching Beasts is a food allergy–friendly children's program for families to learn about different creatures and plants. It is currently scheduled for Saturday, October 30, from 11 a.m. to 1 p.m.
The theme for the 2021 event is Bewitching Beasts: Scary to Lose. Participants will learn about different plants and animals that might be lost forever due to changing climates, habitat destruction and more. Participants will have fun learning about these unique plants and animals and their contributions to our world. Families may dress in costume to be entered to win a prize. Photo spots will be placed throughout the Gardens.
Pre-registration is required and admission costs $8 for UT Gardens members and $10 for non-members. Register online at tiny.utk.edu/utgbb by Friday, October 22.
This program is sponsored by Allergy and Asthma Affiliates, Allergy, Asthma and Sinus Center, and the University of Tennessee Federal Credit Union. No food is allowed at this event.
For directions, more information and a full calendar of fall events at the UT Gardens, visit utgardens.tennessee.edu.
The UT Gardens inspire countless families, children, youth, green industry professionals and students to enrich their lives with beauty, better health and a closer connection to nature every day of the year. The mission of the UT Gardens is to educate and cultivate an appreciation of plants through horticultural displays, educational programs and research. The UT Gardens features more than 1,000 woody plants under long-term observation and 2,000 varieties of herbaceous plants evaluated annually. The Gardens function as an outdoor laboratory, teaching and research facility, and public gardens, sharing their beauty with more than 50,000 visitors yearly. Established in 1983 by the UT Institute of Agriculture Department of Plant Sciences, the Gardens are recognized as an official All American Selections (AAS) test site for evaluating new plants for the ornamental market, an American Conifer Association, an American Hosta Society reference garden and a Tennessee certified arboretum. They are a valuable resource for home gardeners and landscape professionals.
You can find the UT Gardens, Knoxville, just off Neyland Drive behind the UT Veterinary Medical Center on the Institute of Agriculture campus. From I-40 take Exit 386B onto Highway 129 (Alcoa Highway south toward the airport). From Highway 129 take the exit for Highway 158 (Neyland Drive). Turn left onto Neyland Drive at end of exit ramp. Turn left onto Joe Johnson Drive and right at the next light onto Chapman Drive. Free visitor parking is available directly across from the entrance to the UT Gardens.