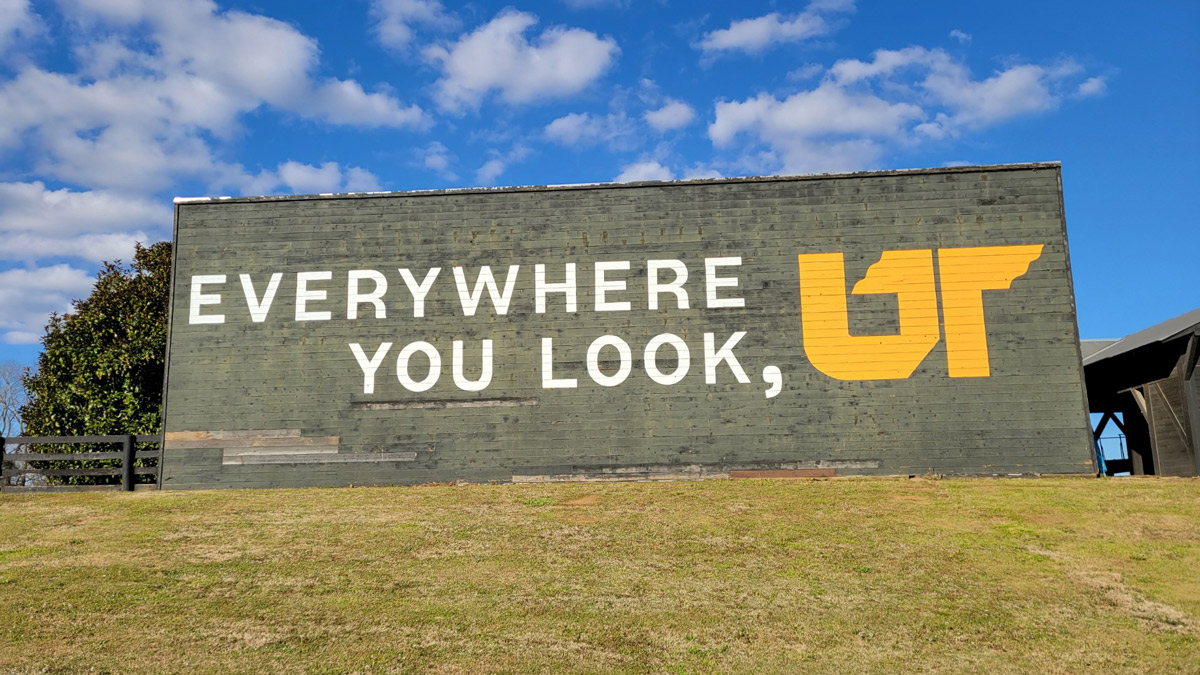 Lone Oaks Farm is Home to the 25th "Everywhere You Look, UT" Mural
KNOXVILLE, Tenn – The University of Tennessee System is on a mission to paint the state orange with its "Everywhere You Look, UT" campaign, and Lone Oaks Farm in Hardeman County just became home to UT's 25th mural.
The UT System has a goal to paint a mural in 95 counties across Tennessee to remind travelers of UT's statewide presence. Since the campaign's launch in 2018, 24 murals have been completed in Anderson, Crockett, Cumberland, Dyer, Fentress, Gibson, Giles, Grainger, Greene, Houston, Knox, Lawrence, Lincoln, Meigs, Roane, Shelby, Scott, Sullivan, Sumner, Tipton, Trousdale, Wayne and Weakley counties.
"These murals serve as a continual reminder of the far-reaching impact UT has on our great state," UT President Randy Boyd said. "From west to east, UT really is everywhere you look." The 25th mural at Lone Oaks Farm is positioned on the side of a carriage house in a "place like no other" according to the spring 2016 issue of Tennessee Land Life and Science magazine. Lone Oaks Farm is one of the newest locations administered by UT Extension and is a unit of the UT Institute of Agriculture (UTIA). The property serves as a world-class venue for education, business retreats, special events and family travel. It encompasses 1,200 acres of pastures, woodlands and lakes and has been hosting youth experiences for more than six years. The past few years have focused heavily on STEM field trips and youth leadership development.
See more details online.
Through its land-grant mission of research, teaching and extension, the University of Tennessee Institute of Agriculture touches lives and provides Real. Life. Solutions. utia.tennessee.edu.