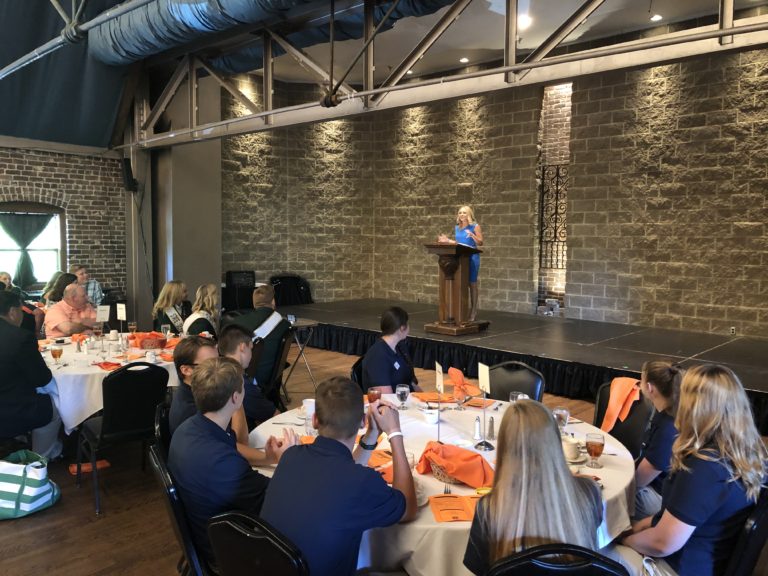 In-Person Activities Resume after an Extraordinary Year of Virtual Efforts
MARTIN, Tenn. – After missing 2020 due to the pandemic, the State 4-H Roundup and All Star Conference is returning to the University of Tennessee at Martin to celebrate the outstanding project work and leadership accomplishments of senior high 4-H members. The event takes place July 19-23.

Approximately 300 high school age 4-H'ers from across Tennessee will meet for several days on the UT Martin campus. The 4-H'ers have completed local projects in areas such as communication and public speaking, livestock, computers and technology and photography and will now compete for statewide awards that include college scholarships and trips to the National 4-H Congress in Atlanta. The theme for this meeting and for all 4-H programs in 2021 is "The Great Comeback."
"Although much of the year's efforts were completed through virtual experiences, we are pleased that we can gather to celebrate our members' accomplishments in person at Roundup and the All Star Conference. This is the 98th year we will gather, and I am looking forward to seeing my young friends and hearing about all their efforts," said Justin Crowe, director and state 4-H program leader.

"While we honored our 4-H project winners virtually last year, we are excited to get to recognize our 2021 outstanding 4-H members in person this year! 4-H Roundup is one of Tennessee 4-H's premiere events," said Lori Gallimore, UT Extension specialist in 4-H youth development. "4-H'ers who have spent years growing their skills and knowledge in their respective project areas come our annual 4-H Roundup event to compete in their project areas for scholarships, trips and awards. Roundup is also an opportunity for them to learn skills in leadership and citizenship and enjoy networking with other 4-H'ers from across the state."
In addition to project competitions, delegates will participate in a number of activities, including the 4-H All Star Conference, Vol State Ceremony, the election of the 2021 State Council officers and a service-learning project.
Delegates to the Tennessee 4-H Roundup and All Star Conference will work to benefit two worthy causes. Some will meet with members of the 4-H Club on Standing Rock Reservation in North Dakota, to learn about life on the reservation and to gather school supplies to send for youth on the reservation. Roundup participants will also work to give their "hands to larger service" to benefit St. Jude Target House for families and patients of St. Jude Children's Research Hospital in Memphis. 4-H clubs across the state sent needed items like hand sanitizer, laundry detergent and household supplies that the Roundup participants will package for delivery to the Target House.
"Service-learning opportunities are a very important component of the 4-H program," said Crowe. "Each year, 4-H'ers statewide perform thousands of hours of service at an estimated economic impact of almost $14 million. Through the service-learning projects, our 4-H'ers learn that they can really make a difference in their communities."
Of course, during Roundup the youth will take the time to have some fun. The group will visit Discovery Park of America in Union City.
The Division of Youth and 4-H is housed in the Institute of Youth, Family, and Community at USDA's National Institute of Food and Agriculture and is conducted through the land-grant university extension 4-H offices. Additional support is provided to 4-H by National 4-H Council (a private, non-profit organization). In Tennessee, University of Tennessee Extension manages the program with cooperation from Tennessee State University. 4-H teaches leadership, citizenship and service learning to more than 180,000 Tennessee youth in the fourth through 12th grades. 4-H also has more than 5,000 adult volunteers in the state and numerous alumni, among them Governor Bill Lee. Many Tennessee 4-H alumni generously support the organization and Tennessee youth through the Tennessee 4-H Foundation.
Through its land-grant mission of research, teaching and extension, the University of Tennessee Institute of Agriculture touches lives and provides Real. Life. Solutions. utia.tennessee.edu.