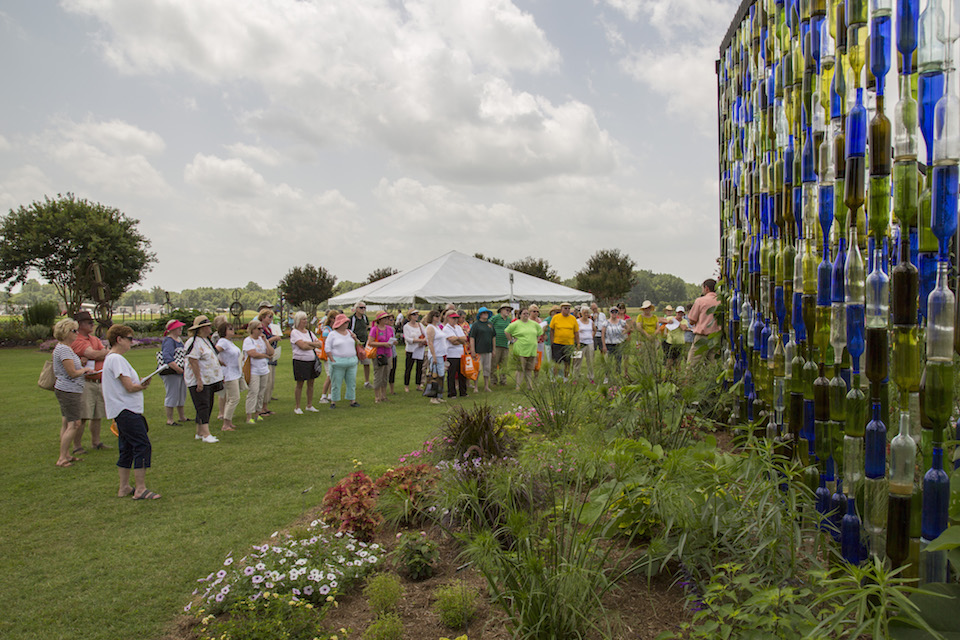 ​Anniversary to be Commemorated with Kaleidoscope of Color and Garden Art
JACKSON, Tenn. – Summer Celebration, one of the largest gardening shows in the Mid-South, will be held Thursday, July 11. The event features 18 garden talks and tours, more than 40 plant and craft vendors, an extensive Master Gardener plant sale and a plant and pest diagnostic clinic. 

Hosted by the University of Tennessee Institute of Agriculture, Summer Celebration runs from 8 a.m. – 4 p.m. at the West Tennessee AgResearch and Education Center in Jackson, Tennessee. Admission is $5 for adults (cash or check only) and free for children under 18. More program information can be found at west.tennessee.edu/events. 

The 2019 theme, Kaleidoscope, will pay homage to the bounty of colorful blooms at the UT Gardens, Jackson, as well as celebrate the colorful history of this event. 

"This year is the 30th anniversary of Summer Celebration, and to mark that milestone, we're reviving some of our most creative garden displays from the past three decades," says Jason Reeves, curator of the UT Gardens, Jackson. 

Reeves says guests can expect to see a "Kitchen Garden" complete with appliances, painted trees, neckties and a few surprises. Visitors can also attend a garden talk that will offer a behind the scenes look at the inspiration for Summer Celebration's signature garden art. 

When gates open at 8 a.m., visitors can shop hard-to-find ornamentals at the Master Gardener plant sale, or visit local nurseries and garden-themed vendors at the exhibitor tent. For specific plant or pest concerns, head to the diagnostic center to get advice from UT experts. 

Garden talks begin at 9 a.m. and repeat throughout the day. They will be held both indoors and out. Hear ideas for adding color and personality to your landscape, finding plants with foliage worth flaunting and growing vegetables with novel traits and colors. Talks will also cover hydrangea care, wildlife management, turf maintenance and other trending gardening topics. 

The UT Kitchen Divas will help celebrate the 30th anniversary with a Poppin' Pepper Party. This cooking demonstration will be presented hourly beginning at 10 a.m. There is an additional $5 charge to see and sample dishes from this very popular presentation. Tickets can be purchased at 9 a.m. outside the demonstration kitchen for morning shows and at 12:15 p.m. for afternoon shows. 

A wagon tour of the West Tennessee AgResearch and Education Center rounds out the program. This tour is included in the admission price and will depart every 30 minutes for interested visitors. 

The West Tennessee AgResearch and Education Center is located at 605 Airways Boulevard, Jackson, Tennessee. Visit the website​ or like the UT Gardens, Jackson, Facebook page for the most up-to-date information. For large groups of 20 or more, pre-registration is appreciated. Please call 731-425-4751. 

Through its mission of research, teaching and extension, the University of Tennessee Institute of Agriculture touches lives and provides Real. Life. Solutions. ag.tennessee.edu​.