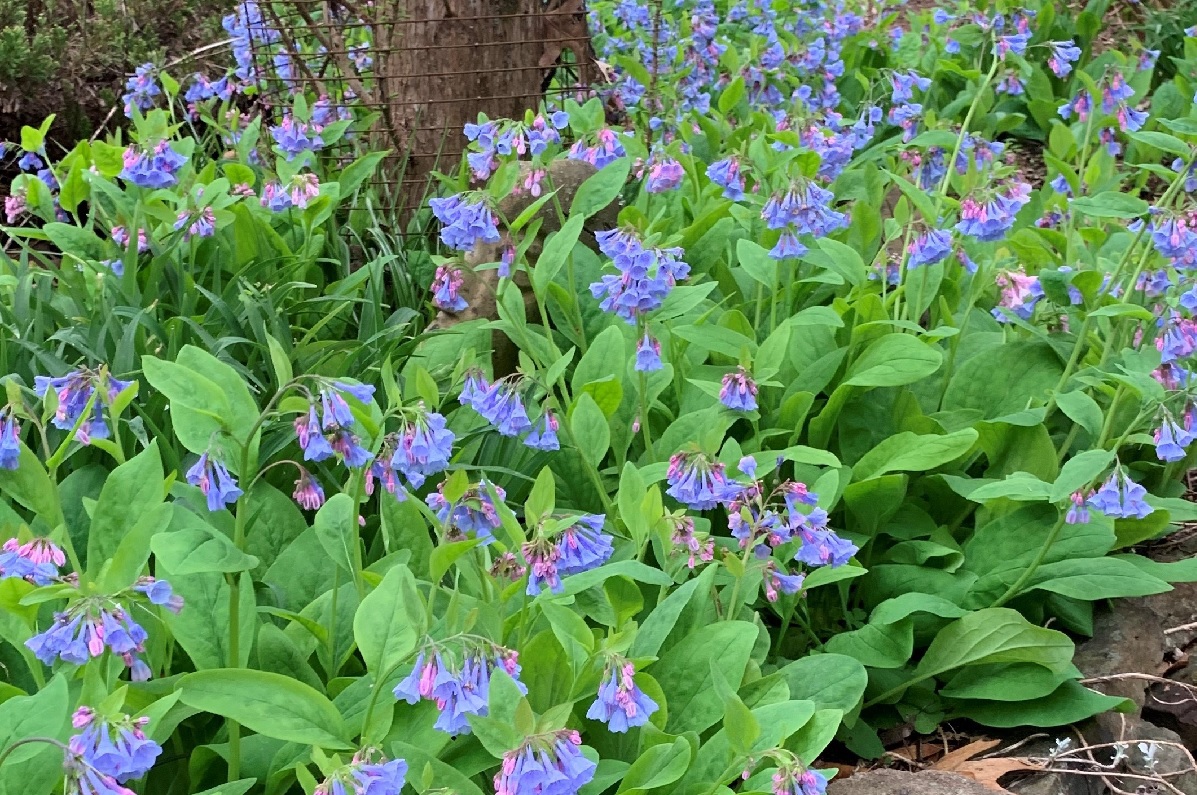 The UT Gardens' Plant of the Month for April 2021
Submitted by Jason Reeves, horticulturist, UT Gardens, Jackson
"From the moment the blue green mouse-ear shaped leaves break the soil in the spring until they disappear in the summer, these plants provide immense pleasure," says Allan Armitage in his second edition of Herbaceous Perennial Plants. I could not agree more! I fell in love with Virginia bluebells (Mertensia virginica) the first time I saw them more than 30 years ago. The gardener shared some plants with me, and I haven't been without since. My home garden would not be complete without Virginia bluebells or our native columbine, Aquilegia canadensis. These two wildflowers have become my favorites because they thrive and naturalize with little or no care while putting on a great spring show.
Native to the eastern half of North America, Virginia bluebells are commonly found in the wild in moist, rich, shady woodlands and river flood plains but can be found in sunny locations in good soil. Hardy in zones 3–9, they are easily grown in average-to-good garden soil in shade to full sun.
The leaves of this spring ephemeral are oval in shape and emerge in early spring a deep purple but quickly turn a blue to gray-green, reaching 4- to 8-inches long. Virginia bluebells bloom in mid-spring with loose clusters of flowers that are borne at the ends of 12- to 18-inch arched stems that are frequented by bees, hummingbird moths, butterflies, skippers and hummingbirds. The pendulous, bell-shaped flowers start out pink in bud, turning sky blue as they open. They combine well with columbine, bleeding heart, celandine poppy and trillium. The leaves are thin and quickly decay as the plants go dormant shortly after flowering, thus not requiring clean-up. Hosta, ferns and hardy begonias are also good to grow amongst them to fill the summer void or they can be overplanted with shallow-rooted annuals. In my home garden, I overplant them with annuals like begonias, impatiens, torenia, petunias or zinnias, depending on whether the site is in sun or shade.
When happy, Virginia bluebells will naturalize and can form dense colonies. The dozen plants I started with in my own garden have become several hundred, both in shade as well as in full sun areas. They have no serious insect or disease problems and are not favored by deer.
They can be difficult to find for sale. One reason is that they go dormant as people really begin to hit the garden centers in the spring. Native plant nurseries and plant sales at nature centers can be a good source. Finding a source for them is well worth the effort. Once they are established in the landscape they are sure to bring years of pleasure.
You can find specimens on display at the UT Gardens sites in Knoxville and Jackson.
The UT Gardens includes plant collections located in Knoxville, Crossville and Jackson. Designated as the official botanical garden for the State of Tennessee, the collections are part of the UT Institute of Agriculture. The Gardens' mission is to foster appreciation, education and stewardship of plants through garden displays, educational programs and research trials. The Gardens are open during all seasons and free to the public. For more information, see the Gardens website.