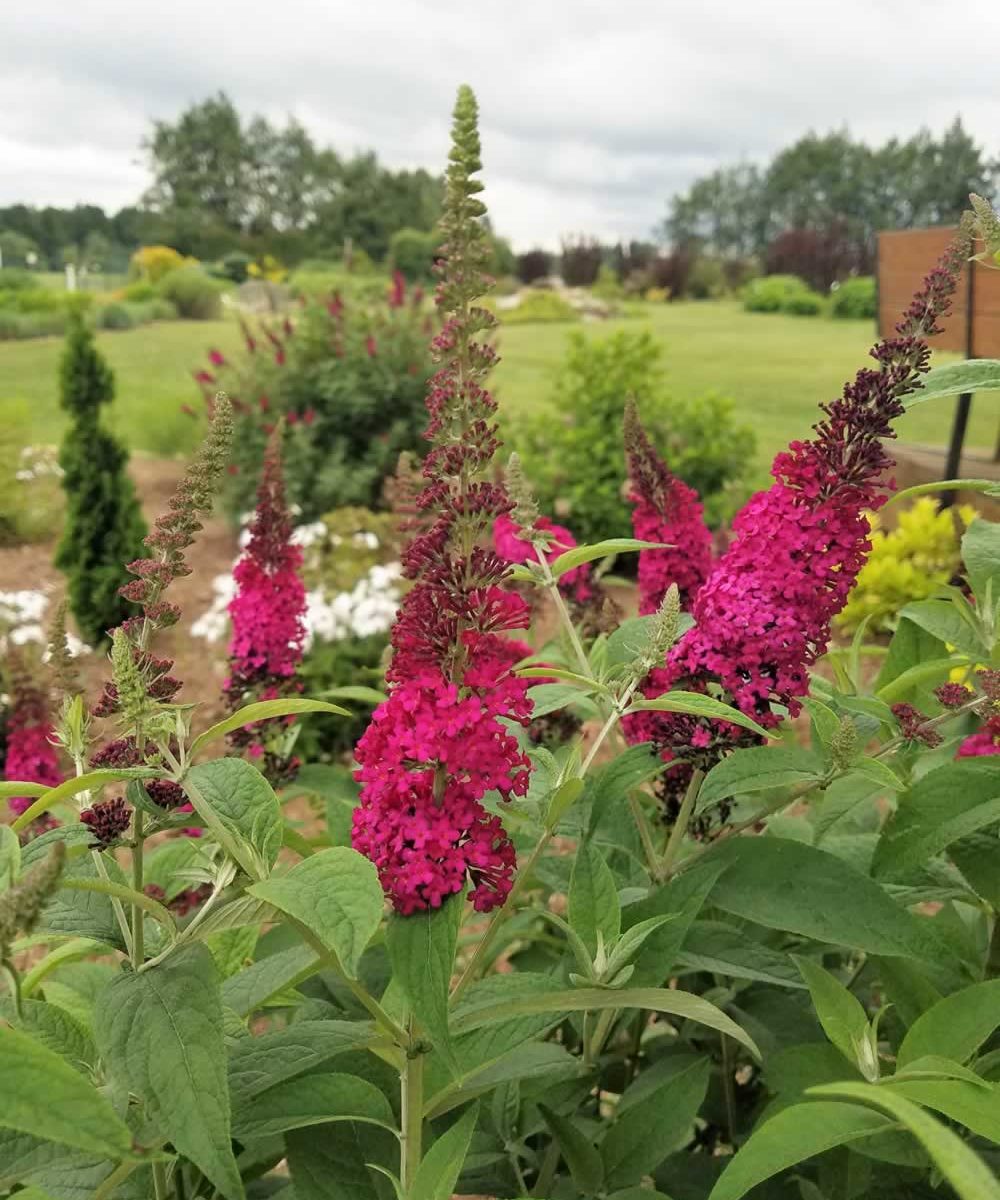 NOTE FROM THE UT GARDENS – Updated from August 2, 2019
Many of our gardening friends from across the state have pointed out that Buddleja davidii is listed on the Tennessee Invasive Plant Council's list of emerging plant threats​. The updated text below reflects that omission; however, it is worth noting that not all butterfly bush crosses are considered invasive, including the recommended varieties listed in our August Plant of the Month. We thank our readers for their avid attention and appreciate the discussions that have ensued. Together, we will continue to improve Tennessee landscapes while preserving its native beauty.
UT Gardens' August 2019 Plant of the Month: Butterfly Bush
Submitted by Shalena Durkot, UT Gardens, Crossville
Good Golly Miss Molly!
Buddleja x 'Miss Molly' is definitely a show stopper. It is hard to compete with the vivid color and abundance of this butterfly bush. This long-blooming beauty lasts from summer to frost! The fragrant blooms are great for cutting. Deadheading is not required but makes for a tidier plant.
They also attract pollinators and are a favorite of hummingbirds and, of course, butterflies.
The blooms are not the only attribute of the Miss Molly butterfly bush. The plant has a compact branching form and an average growth of between 4 to 5 feet. Miss Molly loves the sun and heat, is non-invasive, and deer resistant. The silvery-green leaves are another attraction, contrasting nicely with chartreuse or gold.
It's worth noting that the butterfly bush variety Buddleja davidii has been included on the list of emerging plant pests by the Tennessee Invasive Plant Council​ since 2009. Butterfly bushes are native to Asia, and many varieties have become invasive here as well as in Europe. However, Miss Molly is not among them. Many butterfly bush selections have been specifically bred to be sterile.
In addition to the 'Miss' series, other non-invasive butterfly bushes have done well in the University of Tennessee Gardens. The 'Pugster' series has become very popular due to its compact size and full-sized flowers. Many are on display in all three UT Gardens' locations: Knoxville, Crossville and Jackson. My favorite is the 'Pugster Blue' with its true-blue blooms.
If your garden space is limited or if you are looking for a miniature version, check out the 'Lo & Behold' series. Two of the smallest selections are planted in our Butterfly Garden in Crossville. 'Blue Chip Jr.' and 'Pink Micro Chip,' both average only 1 to 2 feet in size.
Although easy to grow, butterfly bushes can be sensitive to root rot. Many are lost due to wet soil and temperature fluctuations between fall and spring. So, plant butterfly bushes in such a way as to encourage water to drain away from the plant, not settle around it. This is particularly true when dealing with clay soil. You should also avoid mulching directly around your butterfly bush, as the mulch can hold too much moisture.
If pruning is desired, wait until after new growth emerges in the spring. This insures greater protection through the winter, especially in colder climates. This may require a bit of patience. Butterfly bushes tend to be one of the last to leaf out in the spring. Some say to wait well into June before determining whether they survived winter or a wet spring.
One last tip for establishing one of these beauties: avoid fall planting. Unlike most shrubs, butterfly bushes prefer ample time to develop a good root system before enduring the cold, wet season. Plant them in spring through summer. August is not too late, but now is the time.
Come and visit the UT Gardens, Crossville, located at the Plateau AgResearch and Education Center. Miss Molly will greet you at the garden entrance.
The UT Gardens includes plant collections located in Knoxville, Jackson and Crossville. Designated as the official botanical garden for the State of Tennessee, the collections are part of the University of Tennessee Institute of Agriculture. The Gardens' mission is to foster appreciation, education and stewardship of plants through garden displays, educational programs and research trials. The Gardens are open during all seasons and free to the public. For more information, see the Gardens' website: ag.tennessee.edu/utg.

The UT Gardens, Crossville, also known as the Plateau Discovery Gardens, will host a Fall Gardeners' Festival on Tuesday, August 27, 2019. Attendance is free and doors open at 8 a.m. Central. For more information visit website for the Cumberland County Master Gardeners Association​.