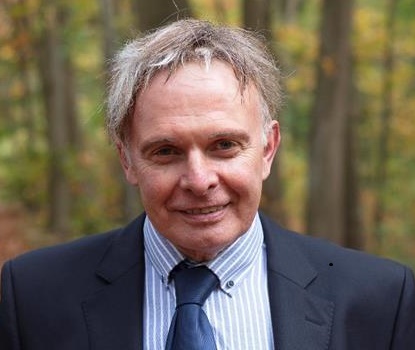 World-renowned Scientist To Help Shape Research Direction

KNOXVILLE, Tenn. – Daniel Berckmans, a worldwide leader in the development of precision livestock farming, has joined the University of Tennessee's Department of Biosystems Engineering and Soil Science as an adjunct distinguished professor.

Precision livestock farming (PLF) involves improving an individual animal's health and well-being by real-time monitoring of the animal's condition through images, sounds and biological, physiological and environmental measurements. PLF systems allow farmers to make better individual animal or herd or flock management decisions, based upon quantifiable, objective measures. These timely decisions can result in higher process efficiency along with improved animal health and welfare. Human working conditions can improve, too, as can the environmental impact of individual and regional agricultural operations.

Research has shown that significant improvements in the production efficiency of all livestock sectors will be required to meet the anticipated growth in demand for animal proteins by a more prosperous worldwide population over the next 30 years. PLF will help farmers achieve this goal if they adopt practical, innovative technologies that feature automation, artificial intelligence, big-data analytics, machine learning, and real-time monitoring and decision-making, says Hongwei Xin, a biosystems engineer and dean of UT AgResearch.

"UT AgResearch is investing heavily in PLF to enhance production sustainability so U.S. producers can remain profitable and competitive in the global market. To advance PLF research and Extension programs at UT, and to better serve the livestock and poultry industries in Tennessee, we've formed an interdisciplinary PLF team including more than 19 faculty and staff, and we are extremely pleased to have Dr. Berckmans join that team," Xin says.

Berckmans has a master's degree in bioengineering and his Ph.D. focused on real-time, model-based control of biological systems. In 2017 he retired from the Catholic University of Leuven in Belgium, where he spent 40 years in various capacities including as head for 25 years of the research division M3-BIORES (Measure, Model and Manage Bioresponses), for the Department of Biosystems. His work mainly focuses on the development of real-time algorithms to monitor and improve the life of individual humans and animals. He is a co-author of more than 320 scientific articles and 450 papers in conference proceedings. He has been a member of 64 Ph.D. committees in 14 countries and advised more than 200 master's students. In addition, he has worked with more than 48 research teams worldwide.

Berckmans is also co-inventor of 20 patents. He coordinated several European Union projects including the European Committee for Precision Livestock Farming, which since 2003 has organized the biannual European Conference for Precision Livestock Farming (ECPLF). This conference is now organized in agreement with the Asian Conference for PLF (ACPLF) and the U.S. Conference for PLF (USCPLF).

He initiated the first European master's degree in human health engineering at the Catholic University of Leuven and is the co-founder of three spin-off companies: BioRICS NV in 2006; SoundTalks in 2011; and BioRICS Inc. in San Francisco in 2016. BioRICS develops and sells technology for real-time monitoring of humans and animals.

Berckmans is a member of the Research Council of the World Farmers Organization (WFO), which represents more than 1 billion farmers in 191 countries.

Berckmans is expected to be on campus October 18 through mid-November, then as needed per project and faculty obligations. Similar periodic in-person collaborations with fellow faculty and graduate students at UT will occur on an annual basis. He is expected to help chart the direction and growth of the PLF programs at the UT Institute of Agriculture as well as serve as an active investigator on competitive research proposals and grants. He will also serve on graduate student committees and function as the liaison for academic exchanges involving PLF between UTIA and European Union academic institutions and industry groups.  

"When Dr. Hongwei Xin, as a top researcher in our field, moved to UTIA, it was clear to me that this is the place where a strong team in precision livestock farming will be built. PLF is a technology for the future to help the world in fulfilling the increasing demand for animal products with less feed input, less manure and less environmental impact in combination with more animal health and welfare," explains Berckmans. "The PLF technology will not replace but will support experts like the farmer, the veterinarian, the feed expert, the breeding expert and many others to realize a better livestock sector. Moreover, animal health is of crucial importance for human health worldwide. I am grateful and very enthusiastic to join and work in precision livestock farming at UTIA."

The UTIA PLF efforts are described in detail online at the UTIA Precision Livestock website.

Through its land-grant mission of research, teaching and extension, the University of Tennessee Institute of Agriculture touches lives and provides Real. Life. Solutions. utia.tennessee.edu.