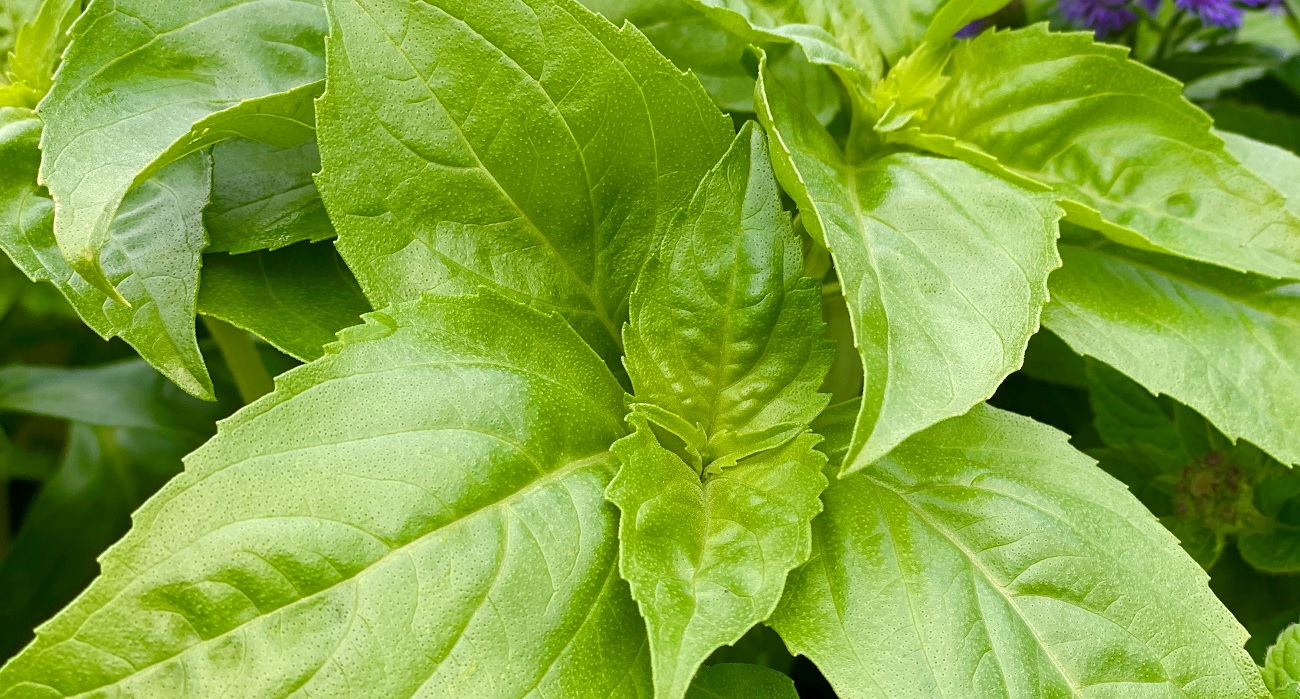 The UT Gardens' Plant of the Month for May 2021
Submitted by Holly Jones, horticulturist, UT Gardens, Knoxville
Have you noticed your sweet basil (Ocimum basilicum) plants suffering from diseased leaves and stems in recent years? If so, the chances are good that basil downy mildew (Peronospora belbahrii) is the culprit. This fungus-like pathogen has been plaguing farmers and home gardeners since it was identified in the U.S. in 2007. Thankfully, scientists, farmers and home gardeners now have science-based tools and advice we can put to use to save our basil.
One of the most exciting developments has been the recent release of downy mildew resistant (DMR) varieties. At least six new varieties from multiple independent breeding programs have become commercially available in the past few years. So far, they are all pretty promising. From Rutgers University we have 'Devotion', 'Obsession', 'Passion' and 'Thunderstruck'. Notice a theme here? They are all named in honor of the Italian tradition associating basil with love. Other varieties are also available. The retail supplier Johnny's Selected Seeds is marketing Prospera® from an Israeli breeder, and the Proven Winners brand has trademarked Amazel Basil® from the University of Florida.
While choosing a resistant cultivar is a key part of a pest management strategy, it is not a silver bullet. Resistance does not guarantee complete immunity; so, it is best to cover all the angles when trying to prevent this disease. This means starting with disease-free seeds or plants from a reputable source, providing optimum growing conditions, and learning to recognize disease symptoms so you can remove infected plants as soon as possible.
Cultural controls (i.e., providing an ideal environment) are important because they help keep the plants healthy as well as discourage the establishment of pests and diseases. Basil is a warm-season annual that grows best in full sun with fertile soil that is moist but well drained. If possible, water at the soil level rather than overhead. Keeping the leaves as dry as possible and providing good air circulation will create a less hospitable place for downy mildew to flourish. Chemical controls such as organic and conventional fungicides can be effective if applied regularly. For up to date fungicide recommendations and more detailed information on the disease refer to the Cornell University publication Basil Downy Mildew (cornell.edu).
The main symptoms to watch for are yellowing leaves beginning toward the bottom of the plant; fuzzy gray spores on the undersides of the leaves; angular black spots and disfiguration on the leaves; and leaf drop. If you see these characteristic signs developing, you should harvest the entire plant. The healthy leaves are still safe to eat and removing the plant will prevent the disease from spreading to other basil plants.
Though the DMR-resistant varieties may develop the disease eventually, they generally stay healthy longer than traditional varieties, which means the grower can harvest basil for a longer period of time.
If you are open to a broader flavor palette, you can also opt to grow some of the less common basil varieties like 'Sweet Dani Lemon', 'African Blue Holy', 'Spicy Globe' and 'Purple Ruffle'. These varieties, as well as a handful of other licorice- and lemon-flavored types, showed good resistance to downy mildew during a 2018 basil trial at UT Gardens, Jackson. At the UT Gardens Kitchen Garden in Knoxville we have grown Amazel Basil® as well as 'Devotion' and 'Obsession' with decent results. Amazel Basil® showed no signs of downy mildew in 2019, but did develop symptoms towards the end of the season in 2020. All three of these varieties will be on display for the 2021 growing season. The UT Gardens sites in Jackson and Crossville have successfully grown Amazel Basil® with no signs of the disease.

The UT Gardens includes plant collections located in Knoxville, Crossville and Jackson. Designated as the official botanical garden for the State of Tennessee, the collections are part of the UT Institute of Agriculture. The Gardens' mission is to foster appreciation, education and stewardship of plants through garden displays, educational programs and research trials. The Gardens are open during all seasons and free to the public. For more information, see the Gardens website.