UT Institute of Agriculture Presents Top Faculty and Staff Awards for 2020
KNOXVILLE, Tenn. – The University of Tennessee Institute of Agriculture recognized extraordinary service from members of the faculty and staff across the state at its annual awards and promotions event, held this year on August 21, 2020. Honorees were recognized virtually during a Zoom presentation rather than a fun, in-person luncheon. This change in venue did not minimize the amazing accomplishments for 2020. Many of the awards are gifts made possible by past faculty, alumni and friends of the Institute.
Established by Dutch Cavender, former director of UTIA Communications, and his wife, Marilee, the Cavender Outstanding Award for Best Publication recognizes peer-reviewed publications. This year two publications with two authors each have been recognized for excellence with Cavender Awards for Best Publication.
Lori Duncan, Department of Biosystems Engineering and Soil Science, and Tyson Raper, Department of Plant Sciences, were recognized for Cotton Nitrogen Management in Tennessee (Publication W 783). Duncan is a UT Extension specialist based in Knoxville, while Raper is a UT Extension cotton and small grains specialist based in Jackson at the West Tennessee AgResearch and Education Center. This publication describes the nitrogen cycle and ways to maximize nitrogen use efficiency. This publication can help growers optimize applied nitrogen while also preventing movement or loss out of the production system. Duncan and Raper have summarized numerous field studies conducted within Tennessee and pooled research conducted throughout the Mid-South to produce a cumulative set of recommendations for cotton nitrogen management.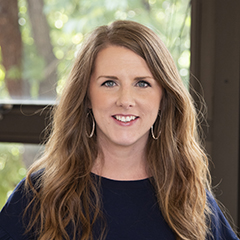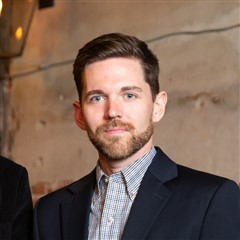 Lori Duncan (left) and Tyson Raper are co-authors of a publication recognized with a Cavender Award for Best Publication. Duncan is an Extension specialist in the Department of Biosystems Engineering and Soil Science. Raper is an associate professor in the Department of Plant Sciences.
Rose Diseases: Identification and Management (Publication W 833), authored by brothers Alan Windham and Mark Windham, both of the Department of Entomology and Plant Pathology, is also a 2020 winner of the Cavender Award. This publication provides many examples of common diseases that affect rose bushes and advises Tennessee growers on steps they make take to help their plants should these diseases be identified. Diseases like rose rosette, powdery mildew, and various root rot diseases are debilitating to homeowners and industry leaders, but this publication offers assistance in early identification and proper treatment. Alan is based in Middle Tennessee at UT's Soil, Plant and Pest Center in Nashville, and Mark is based on the UTIA campus in Knoxville, but their publication is applicable to rose growers throughout the state. Both have been active throughout their careers in helping Tennessee's booming horticulture industry.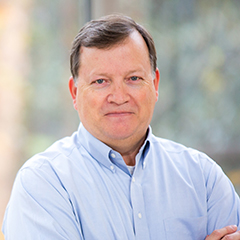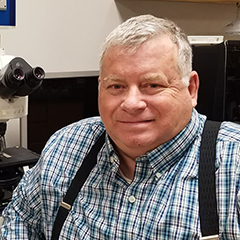 Alan S. Windham (pictured left) and his brother Mark T. Windham are co-authors of a publication recognized with a Cavender Award for Best Publication. Both Windhams are professors in the Department of Entomology and Plant Pathology.
UT Institute of Agriculture Senior Vice President Tim Cross hosted the Zoom session for the award winners and praised them for their work. "Now more than ever, it's critical that we take time to acknowledge the award-winning work that our faculty and staff carry out, even in the midst of the coronavirus pandemic," Cross says. "Tennesseans can count on the real-life solutions that the UT Institute of Agriculture provides to students and stakeholders from communities throughout Tennessee and beyond to enhance the economy, conserve the environment, and develop leaders for the future."
Through its mission of research, teaching and extension, the University of Tennessee Institute of Agriculture touches lives and provides Real. Life. Solutions. utia.tennessee.edu.