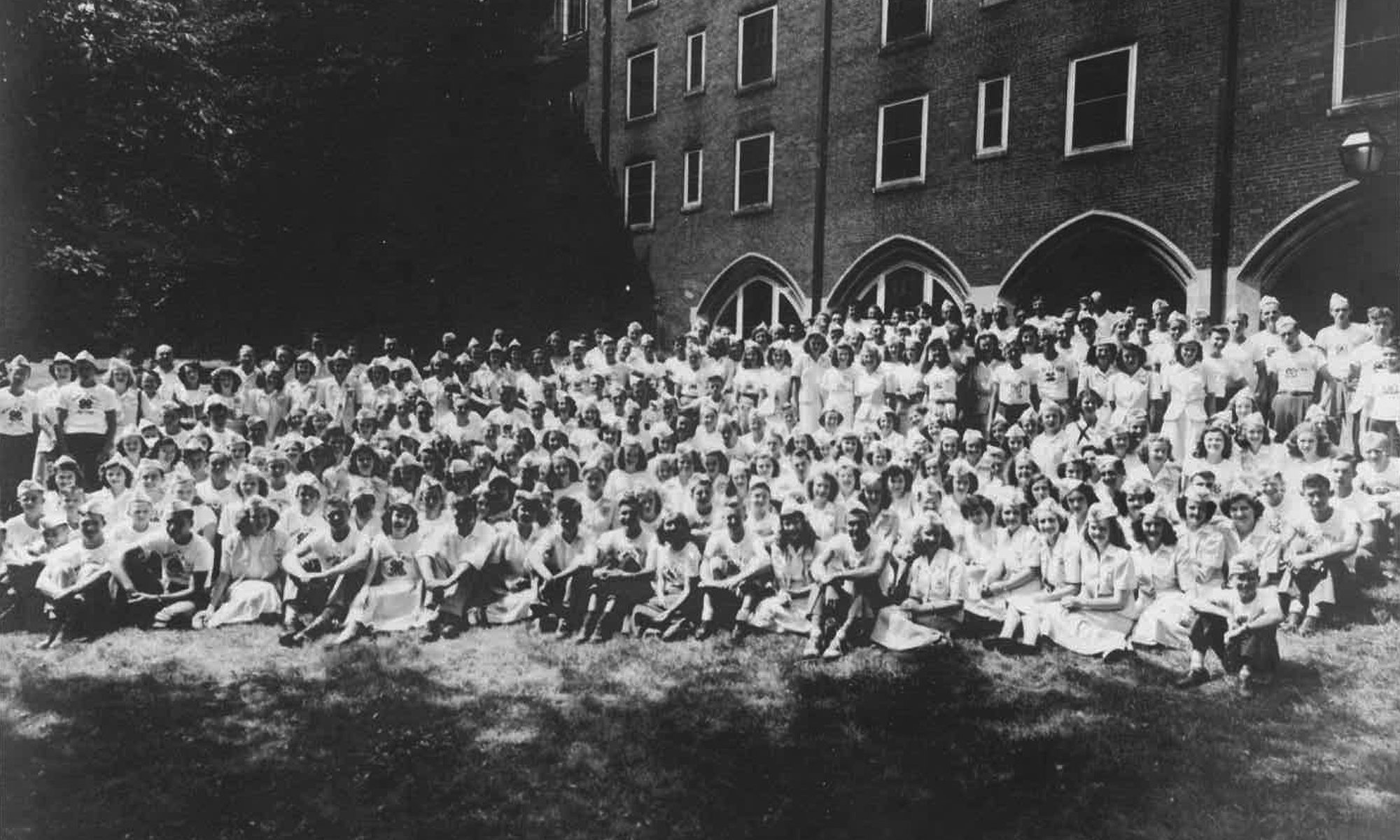 Celebrations are Happening at Youth Organization's County, Regional and State Levels
KNOXVILLE, Tenn. – The Tennessee 4-H Youth Development Program is celebrating the 100th anniversary of the event known today as State 4-H Roundup. The first statewide 4-H event in Tennessee took place in July of 1923 and was known as State 4-H Club Camp. The 196 delegates from 16 counties arrived by automobile, by train and by streetcar and many were loaded with baskets full of eats for a huge dinner on the ground on Monday evening, July 23, of that year.
From that early beginning, Roundup has seen many changes. It was discontinued for a short time during the Great Depression and again during World War II when the UT campus served as a training base for the U.S. Army Air Corps. The event was renamed Tennessee 4-H Short Course in 1939 and the name was again changed to State 4-H Club Roundup a decade later. Roundup was held on the campus of the University of Tennessee, Knoxville, until 1979 when it moved to the UT Martin campus with a plan to take place on that campus every third year. Activity on both campuses has caused that schedule to alter through the years. Today, a conservative estimate of how many Tennessee youth have participated in Roundup since its inception is 38,000, and each year participants come from most of Tennessee's 95 counties.
Roundup has always served as an opportunity for 4-H members to learn more about the university and the programs available to further their education. Competition has been a part of Roundup since 1929 when districts presented demonstrations. In the 1950s, it became the culmination of the year's project work. Neatly uniformed members gave demonstrations in their chosen projects. That changed in 1979, when interviews became a part of the competitive process. One of the most exciting parts of Roundup is the awards banquet when the winners of state 4-H projects are announced. Most winners are awarded a trip to National 4-H Congress and the opportunity for a college scholarship.
Civic and social opportunities are also a major part of Roundup programming. Youth often cite the opportunity to make lasting friendships while participating in cultural activities as the most memorable part of the event. During the history of Roundup, some of the activities members have experienced include visits to the Great Smoky Mountains, participating in the Unto These Hills drama at Cherokee, North Carolina, theatre productions at UT Knoxville's Clarence Brown Theatre, the Cumberland County Playhouse and outdoor theaters in the area, seeing a movie at Knoxville's grand Tennessee Theatre and attending the 1982 World's Fair, which Knoxville hosted. Roundup participants have also experienced a visit to Reelfoot Lake and had an opportunity to dip their toes in the Mississippi River, visit Union City, Tennessee's Discovery Park America Museum and Heritage Park and attend Dollywood in Pigeon Forge, Tennessee.
Leadership opportunities are one of the strongest aspects of Roundup programs. Since 1944, a state council of 4-H members has been elected at the annual event. The council is charged with planning the event and providing leadership for program activities. They also make recommendations to the state 4-H staff for all phases of the 4-H program. Many former state council members remain active today as 4-H staff members, volunteer 4-H leaders, donors and advocates for the 4-H program.
Celebrations for the 100th Roundup are happening at county, regional and state levels. The culmination of the celebration will be where it began, on the campus of the University of Tennessee, Knoxville, from July 17 to 21, 2023.
4-H is a youth development program of the University of Tennessee and Tennessee State University. 4-H develops youth to thrive and to "make the best better." Youth in grades four through 12 participate in 4-H through clubs, special interest groups, after-school programs, camps, and many other methods. Collegiate chapters also exist. 4-H youth "learn by doing" through hands-on activities, starting in their own communities and reaching far beyond; while empowering them to develop and strengthen valuable life skills.
Through its land-grant mission of research, teaching and extension, the University of Tennessee Institute of Agriculture touches lives and provides Real. Life. Solutions. utia.tennessee.edu.