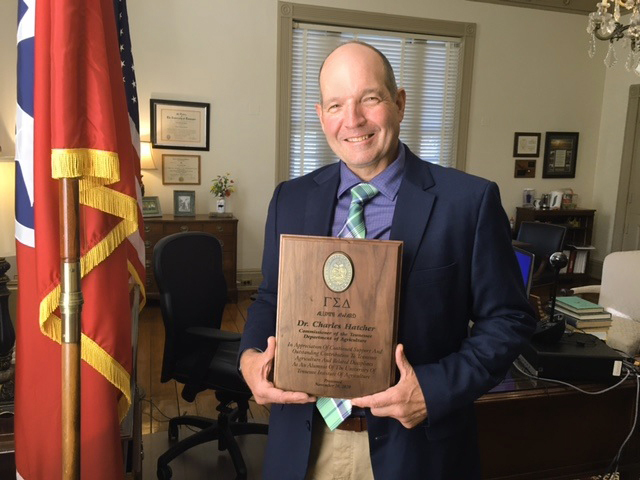 Hatcher Receives Distinguished Alumni Award
KNOXVILLE, Tenn. — The Tennessee Chapter of Gamma Sigma Delta, the International Honor Society of Agriculture, has honored Tennessee Commissioner of Agriculture Charlie Hatcher, DVM, with its 2020 Alumni Award. Hatcher is a 1984 graduate of the University of Tennessee College of Veterinary Medicine.
The award was conveyed in person at a physically distanced gathering on November 19 by Rob Holland, director of the UT Center for Profitable Agriculture and interim assistant dean of UT Extension. A virtual celebration for all 2020 award winners and student initiates was conducted online on November 20.
Headquartered at the UT Institute of Agriculture, the Tennessee Chapter of Gamma Sigma Delta recognizes leaders of Tennessee agriculture and exceptional students and faculty. Hatcher was appointed by Governor Bill Lee to serve as the Commissioner of the Tennessee Department of Agriculture and sworn in as the 38th Commissioner on January 19, 2019. He is a tenth generation farmer and the fifth-generation of his family to farm in Tennessee.

"It is an honor to be recognized with this alumni award. Agriculture is truly the most honest, pure, and rewarding profession with an impact that touches every one of us every day. I am proud to be a UT graduate and appreciative for the education that was the foundation for my career. UT is doing important work to ensure the agriculture industry continues to grow and thrive for generations to come."

Prior to becoming Commissioner, Hatcher served for ten years as the Tennessee State Veterinarian. His primary role was to protect the health and welfare of animals within the state and to promote the marketability of Tennessee animals and animal products.
In addition to his service with the Tennessee Department of Agriculture, Hatcher has also served as a practicing veterinarian. He founded Rock-N-Country Veterinary Services in College Grove, Tennessee, in 1993, a private veterinary practice specializing in livestock. That veterinary practice is now managed by his daughter, Dr. Jennifer Hatcher, who is also a veterinarian.
The Hatcher family is well known in the dairy and agritourism industries. In 2007, Hatcher Family Dairy began bottling its own milk and today provides milk and milk products to customers in Middle Tennessee. The family farm was established in College Grove in Williamson County in 1831.
Hatcher earned a bachelor's of science in animal science from Middle Tennessee State University in 1980 prior to attending UT.

Through its mission of research, teaching and extension, the University of Tennessee Institute of Agriculture touches lives and provides Real. Life. Solutions. utia.tennessee.edu.