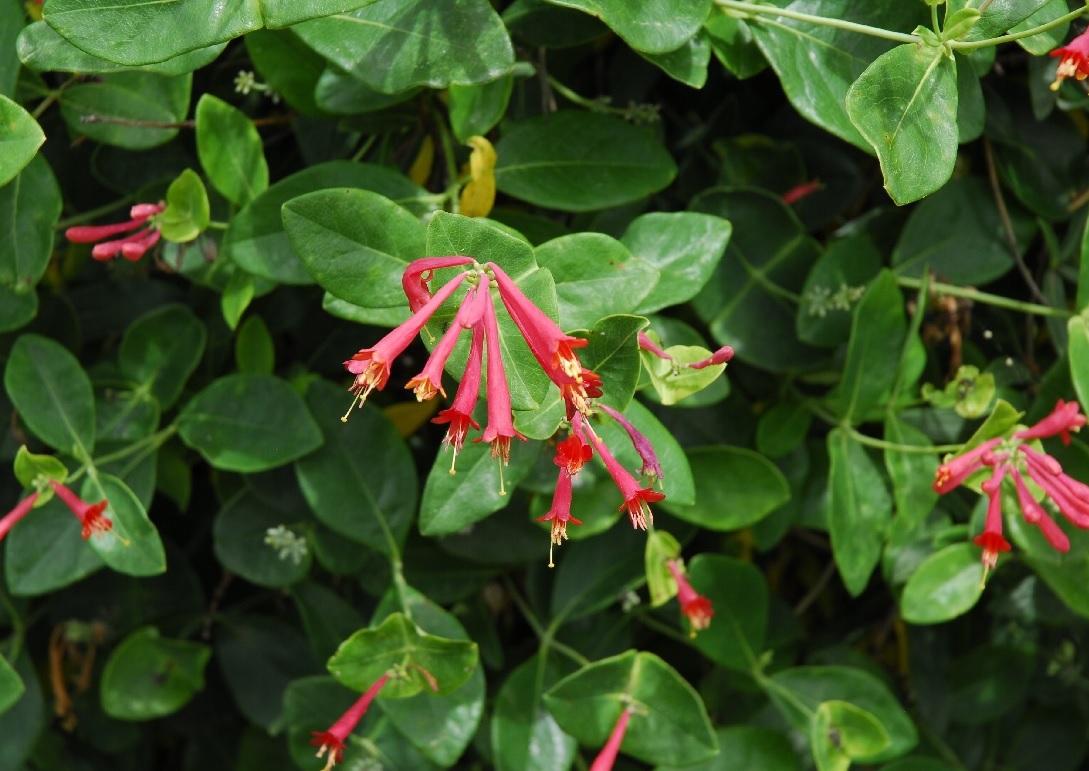 UT Gardens' June 2021 Plant of the Month
Submitted by Shalena Durkot, coordinator, UT Gardens, Crossville
Lonicera sempervirens, commonly called trumpet or coral honeysuckle, is a climbing vine native to the eastern half of the United States. It is a real eye catcher in the garden and widely known to attract butterflies and hummingbirds. Trumpet honeysuckle cultivars can be found that will provide blooms throughout the growing season followed by small, red berries that are eaten by songbirds.
The genus, Lonicera, is named for German botanist, Adam Lonitzer (Lonicer). The species, "sempervirens" means evergreen; however, this only holds true in milder climates of the Deep South. This species should not be confused with the terribly invasive Lonicera japonica. Although somewhat vigorous, trumpet honeysuckle does not grow or spread as rampantly as our native crossvine or trumpet creeper.
Trumpet honeysuckle is easy to grow and thrives in zones 4 to 9. It prefers full sun but can tolerate some shade. Best bloom production occurs with six hours of direct light. While it appreciates organically rich soils with good drainage, the vine will thrive with average, medium moisture, and neutral to acidic soils. Trumpet honeysuckle is also tolerant of clay, black walnut, and deer. The vine has no serious pest or disease problems, but powdery mildew and leaf spots may occur, particularly where summers are hot and humid and have been known to occur particularly where it gets less than ideal sunlight and air circulation. Aphids can occur on occasion. Pruning can be done throughout the growing season after its flush of blooms if needed. Trumpet honeysuckle is easily propagated by softwood cuttings taken in late spring or summer.
The colorful twining vine grows to 20 feet, and it is suitable for fences, trellises and arbors. It looks lovely cascading from retaining walls or left to sprawl as a groundcover on slopes and embankments. Trumpet honeysuckle's tubular flowers are perfect for hummingbirds and other long-tongued insect pollinators. The plant is a larval host to spring azure butterflies and snowberry clearwing moths. The fall fruit is enjoyed by quail, purple finches, goldfinches, hermit thrushes, eastern bluebirds and American robins.
Some of the popular cultivars of trumpet honeysuckle are:
'Cedar Lane'- strappy bluish foliage, scarlet flowers with better resistance to aphids
'John Clayton'- yellow flowers
'Sulphurea'- yellow flowers
Recommended reblooming forms:
'Major Wheeler'- prolific scarlet flowers
'Alabama Crimson'- deep red flowers
'Blanche Sandman'- orange-red flowers
Specimens of 'Blanche Sandman' have performed well in the UT Gardens' site in Crossville, also known as the Discovery Gardens. 'Major Wheeler' is recommended by the staff at the UT Gardens, Knoxville, and UT Gardens, Jackson.

The UT Gardens includes plant collections located in Knoxville, Crossville and Jackson. Designated as the official botanical garden for the State of Tennessee, the collections are part of the UT Institute of Agriculture. The Gardens' mission is to foster appreciation, education and stewardship of plants through garden displays, educational programs and research trials. The Gardens are open during all seasons and free to the public. For more information, see the Gardens website.