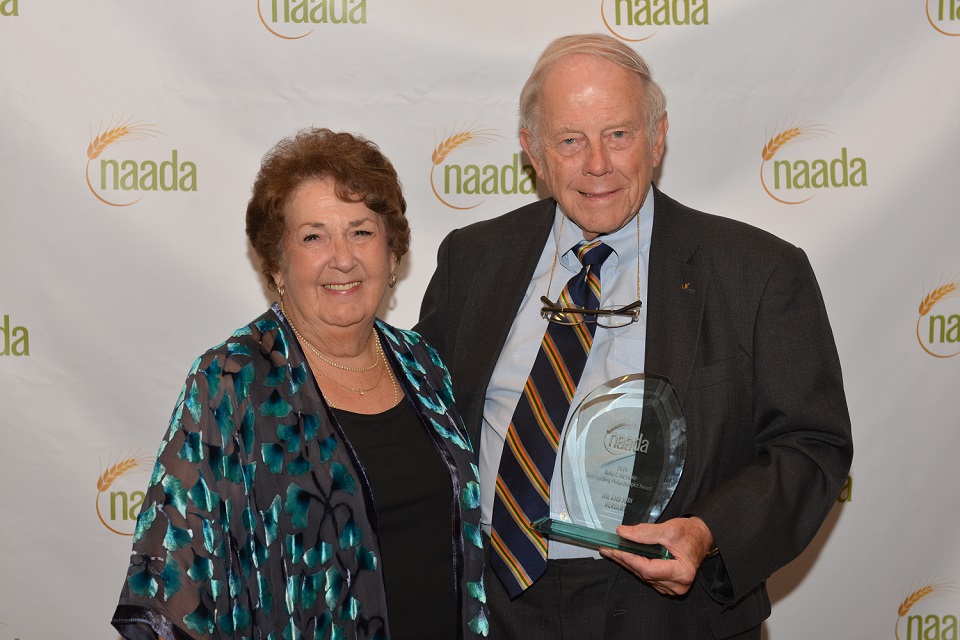 BATON ROUGE, La. – University of Tennessee alumni Jim and Judi Herbert were recently named the 2019 Ruby C. McSwain Outstanding Philanthropists by the National Agricultural Alumni and Development Association (NAADA) for their philanthropic efforts both at their alma mater and in their community.
The award recognizes an individual or individuals with a record of sustained giving to support agriculture, agricultural higher education, Cooperative Extension or land-grant universities.
The Herberts have a long history of philanthropic support at the University of Tennessee. In 2018, the couple established the Herbert College of Agriculture Strategic Endowment that marks one of the largest gifts to the University in its 224-year history and strategically positions the College for future success.
The University renamed the Herbert College of Agriculture in April that year in honor of their transformational support. UT now houses the second-ever agricultural college among land-grant universities named from a philanthropic gift.
"The Herberts' desire to enhance student learning, faculty engagement and programs makes this endowment truly capable of empowering the Herbert College of Agriculture for generations," said Tim Cross, chancellor of the UT Institute of Agriculture.
Jim began his annual support of UT immediately after graduating from the then College of Agriculture with a degree in animal husbandry in 1962. Judi's support began the following year when she graduated with a degree in English.
In 2016 Jim and Judi were named the UT Philanthropists of the Year. The couple's support of the University has led to the establishment of the Herbert Scholars program to provide financial assistance for Herbert College of Agriculture undergraduates engaged in experiential learning opportunities in the summer and a helpmate to engage additional corporations to invest in the College's students.
Other significant gifts include the establishment of the Herbert Excellence in Writing Endowment and support for their Greek societies. In 2017, the Herberts offered a matching challenge gift in support of UT's Big Orange Give campaign. It helped the University raise over $1.45 million in a single day.
Jim made his career in the world of food safety, cofounding Neogen Corporation in 1982, which he leads as executive chairman. The publicly held company is a pioneer in rapid diagnostic testing and focuses on the development, manufacturing, and marketing of products for food and animal safety. Jim's business acumen at Neogen and other corporations on which he has served as a board member has won praise from NASDAQ and USA Today, which named him a Michigan Entrepreneur of the Year. He has been awarded honorary doctorates from Michigan State University and Queen's University of Belfast, Ireland. In 2016, he picked up another honorary degree when UT recognized his service to industry and his alma mater with the University's first-ever honorary doctorate of agriculture.
During her years raising the couple's two children, Judi was heavily involved in volunteer activities at her children's schools, the Herberts' home community of Lansing, Michigan, and the family's local church. She pursued a career in sales after her children were grown. She was among the top independent sales consultants at Doncaster, a line of high-quality women's clothing, for 19 years.
The Herberts' local community giving in Michigan culminated in the Herbert-Herman Cancer Center at the Sparrow Health System, which is affiliated with the Mayo Clinic. Judi is a 14-year survivor of breast cancer and Jim had successful lung cancer surgery in 2011. Both were treated in Lansing at the Sparrow Cancer Center.
Through its land-grant mission of research, teaching and extension, the University of Tennessee Institute of Agriculture touches lives and provides Real. Life. Solutions. ag.tennessee.edu​.