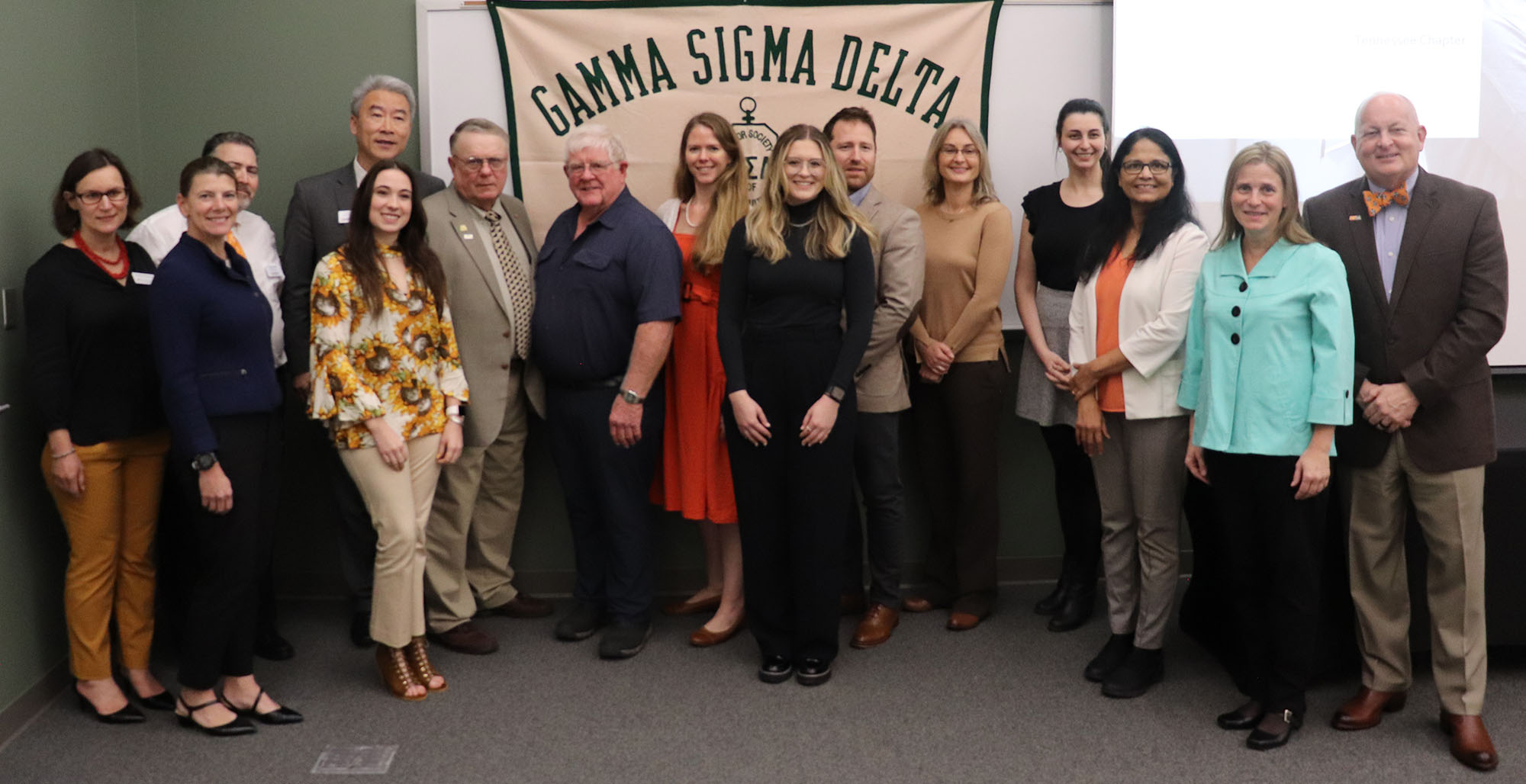 UT Alumnus, Faculty and Students Honored
KNOXVILLE, Tenn. — The Tennessee Chapter of Gamma Sigma Delta, the International Honor Society of Agriculture, honored several outstanding members of the state's agricultural community and University of Tennessee Institute of Agriculture faculty and students at its Spring Awards Banquet on March 3, 2023.
Founded in 1913, Gamma Sigma Delta is the oldest and largest honor society emphasizing scholarship and achievement in agriculture and natural resources. This year Annette Wszelaki, professor of plant sciences at UTIA, is serving as the chapter's president and Michelle Odoi, graduate student in Entomology and Plant Pathology at UTIA, served as chair of the awards committee. Keith Carver, UTIA senior vice chancellor and senior vice president, was the event's keynote speaker.
Joe Elliott, from Adams, Tennessee, was named as the winner of the 2022 Alumni Award. Elliott operates the legacy farm, Robert Elliott & Sons Angus. He attended the University of Tennessee from 1967-1971, graduating with a Bachelor of Science degree from the Department of Animal Science (then named, Animal Husbandry). Elliott continues to support UTIA programs and efforts by participating on the UT Beef and Forage Center's Advisory Council, supporting the Department of Animal Science in numerous ways including site visits by the livestock judging team and the beef management class, and actively engaging in UTIA leadership meetings representing the cattle industry from a producer's perspective.
Retired professor of plant science David Lockwood, was named as the 2022 Distinguished Service to Agriculture Award Winner. Across a career at UT spanning more than 49 years, Lockwood has contributed his expertise as an Extension professional working with Master Gardener Volunteers, as well as vegetable, small fruit, tree fruit, and nut tree producers and managers in Tennessee and across the southeastern U.S. He has served as the "go-to expert" for these commodities across the state. As an example of his Volunteer service, Lockwood continues to serve UT and his clientele in a variety of post-retirement appointments.
Other faculty and student awards announced included:
Amy Fulcher, professor plant sciences, was named the 2022 Extension Award Winner. Fulcher's work focuses on sustainable ornamental plant production and landscape management, including the use of intelligent sprayers to increase the precision of pesticide applications in nursery production. This technology has the potential to improve multiple facets of the green industry given the increased scrutiny pertaining to off-target movement of pesticides.
Sindhu Jagadamma, associate professor of biosystems engineering, was named the 2022 Research Award Winner. Jagadamma's work is centered on improving the sustainability of managed ecosystems, specifically determining practices that ensure soil health by delineating the relationships between deterioration of soil, water, and environmental quality considering increased food production.
Dan Mathew, assistant professor of animal science, is the 2022 Teaching Award Winner. Dedicated to student learning and success, Mathew guides students through hands-on experiences that include handling of large animals and whole animal or organ dissection. He also maintains a federally funded research program that investigates infertility in livestock and provides research training for both graduate and undergraduate students.
Natalie Bumgarner and Virginia Sykes, plant sciences associate professor and assistant professor, respectively, were named as the 2022 Team Award winners. Home gardening of vegetables has been an increasingly popular area in horticulture because it improves human health through providing physical activity and healthy foods. Because there was no home garden vegetable variety testing program, the two worked closely as an integrated team and developed a novel Home Garden Variety Trial program in 2017. The program has since been implemented very successfully across the state.
McKensie Nelms, a master's student studying biosystems engineering, was named as the M.S. Student Award Winner. Nelms is described as the perfect combination of multidisciplinary knowledge and skills to contribute significantly to the agricultural and biological engineering field.
Madison Henniger is the winner of the Ph.D. Student Award. Henniger is working on a federally funded research program in the Department of Animal Science focused on determining the relationship between the rumen microbiome and host genetics to define microbiome heritability in beef cattle.
Kristin Bowers was named as the College of Veterinary Medicine Award Winner. Bowers is a comparative and experimental medicine graduate student working to earn her Ph.D. Her passion is passion kinematics and biomechanics.
For more information about the Tennessee Chapter of Gamma Sigma Delta visit gsd.tennessee.edu.
Through its land-grant mission of research, teaching and extension, the University of Tennessee Institute of Agriculture touches lives and provides Real. Life. Solutions. utia.tennessee.edu.