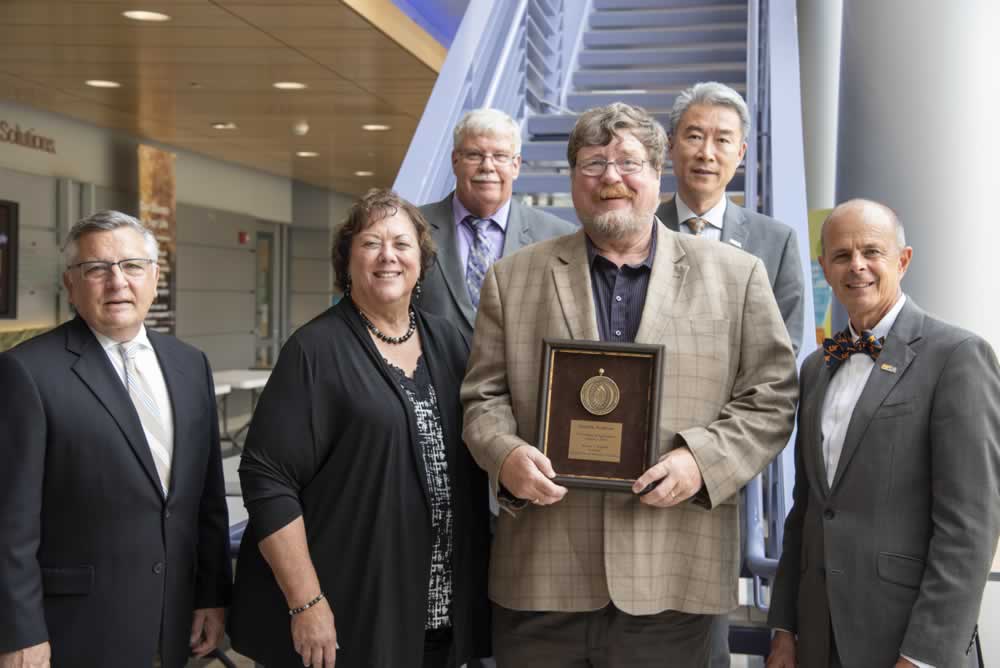 KNOXVILLE, Tenn. – The University of Tennessee Institute of Agriculture recognized some of its top faculty, staff, researchers and extension experts at UTIA's annual Awards and Promotions Luncheon held on the UTIA campus in Knoxville August 2, 2019. Many of the awards are gifts made possible by past faculty, alumni and friends of the Institute.

UTIA Senior Vice President and Senior Vice Chancellor Tim Cross hosted the award winners and praised them for their work. "The faculty and staff of the UT Institute of Agriculture are known on campus and throughout the state as dedicated, hard-working and knowledgeable experts who provide real-life solutions to challenging issues every day," said Cross. "The awards presented at this ceremony recognize excellence in research, education, Extension outreach as well as service programs that benefit our stakeholders. They serve as our way to express our gratitude for a job well done."

The 2019 winners are:

Charles and Patricia Goan Customer Service Award – Theresa Townsend​, UTIA Supplies & Service

Bill and Ann Hicks New Extension Worker Award – Natalie Bumgarner​, UTIA Plant Sciences

Vernon and Ida Darter Award – ​Steven Huff​, UT Extension, Jefferson County

Lloyd and Nettie Downen Award – Lori Gallimore​, Tennessee 4-H

G.L. Carter 4-H Agent Award – Lynne Middleton​, UT Extension, Bradley County

Alice Ann Moore 4-H Agent Award – Gary Rodgers​, UT Extension, Hardeman County

Tennessee Association of Agricultural Agents/Hicks Award –
Shannon DeWitt, UT Extension, Union County
John Goddard, UT Extension, Loudon County
Laurie Mobley, UT Extension, Houston County

Charles and Julie Wharton Award of Extension Achievements –
Whitney Danhof, UT Extension, Bedford County
Sharon Tubbs, UT Extension, Madison County
Gregg Upchurch, UT Extension, Cumberland County

Cavender Award for Best Publication – ​
Natalie Bumgarner​, UTIA Plant Sciences, ​Carol Reese​, UT Gardens, Craig Harper, UTIA Forestry, Wildlife and Fisheries, and
Janie Burney and Chris Sneed,​ UTIA Family and Consumer Sciences

J.E. Moss Achievement Awards –
Greg Blaylock​, UT AgResearch, Plateau Research and Education Center
Natalie Bumgarner​, UT Extension, Plant Sciences
Claudia Featherstone, UT College of Veterinary Medicine
Michael Smith, Herbert College of Agriculture

E.J. Chapman Award – Wanda McCall, UTIA Plant Sciences

Webster Pendergrass Award – Neil Rhodes, UTIA Plant Sciences

Mildred Pendergrass Award – Nick Stahlman, UT College of Veterinary Medicine

AgResearch Impact Award – Bob Trigiano, UTIA Entomology & Plant Pathology

Professional/Academic Award – Keith Barber, UTIA Institutional Advancement

B. Ray Thompson Award – Bob Hayes, UT AgResearch, West Tennessee AgResearch and Education Center

Williams – E.R. "Prof" Lidvall Outstanding Teaching Award – Lisa Muller, UTIA Forestry, Wildlife and Fisheries

William D. Bishop Award – Glenn Turner, UT Extension, Sevier County

T.J. Whatley Young Scientist Award – Neelam Poudyal, UTIA Forestry, Wildlife and Fisheries

Institute Professor Award – Burt English, UTIA Agricultural and Resource Economics

In addition to these awards, the following UTIA professionals received promotions to professor:
James Brosnan, Plant Sciences
Agricola Odoi, Biomedical and Diagnostic SciencesMargarita Velandia, Agricultural and Resource Economics
Sharon Thompson, DVM, was promoted to clinical professor in the Department of Biomedical and Diagnostic Services.
​​A list of all the 2019 UTIA promotions is online. ​

Through its mission of research, teaching and extension, the University of Tennessee Institute of Agriculture touches lives and provides Real. Life. Solutions. ag.tennessee.edu.