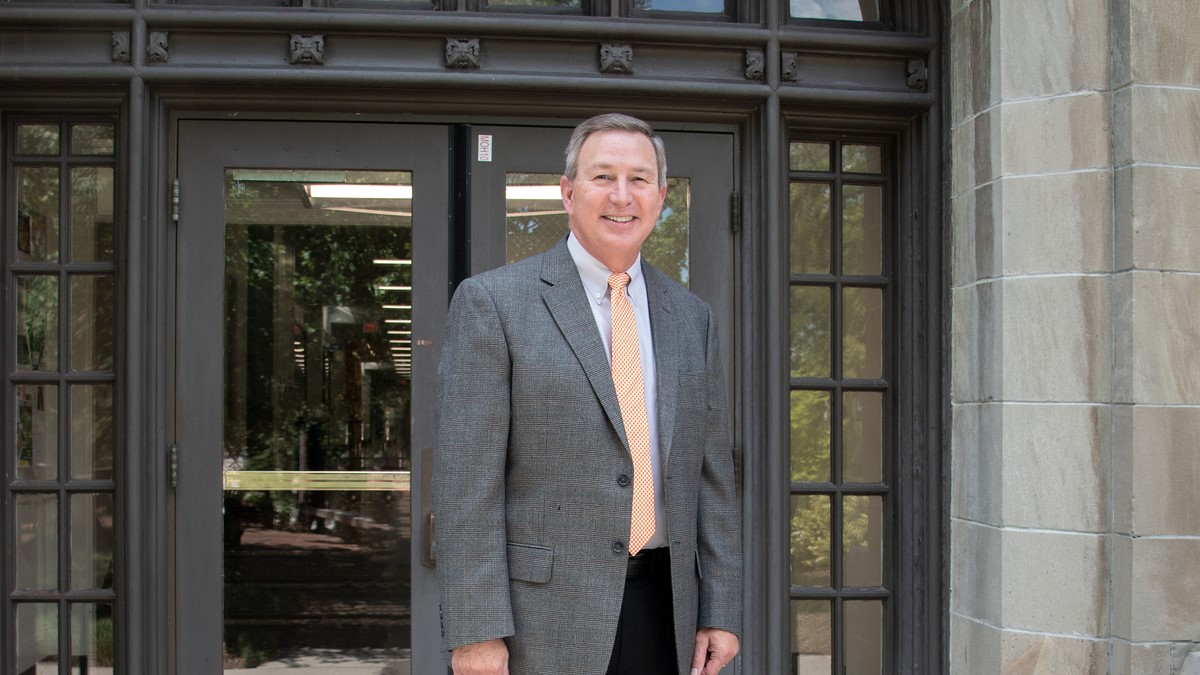 Bill Johnson to Pilot the Program Beginning August 1
KNOXVILLE, Tenn. — The Department of Agricultural and Resource Economics at the University of Tennessee Institute of Agriculture has received a generous endowment to create the Jerry L. Gibbs Professor of Practice, a multifaceted position designed to prepare students at the Herbert College of Agriculture for careers in the business world. Retired Farm Credit Mid-America chief executive officer Bill Johnson will pilot the program beginning August 1.
In addition to providing classroom instruction, Johnson will develop project-based courses and experiential learning opportunities to deepen student understanding of business and leadership principles and to enhance their ability to work in interdisciplinary teams in professional settings. His development of capstone courses will provide students with strategic opportunities to apply their business-oriented knowledge and skills to real-world challenges.
Most recently serving as president and chief executive officer for Farm Credit Mid-America in Louisville, Kentucky, Johnson has nearly 40 years of progressively responsible leadership experience in direct lending, risk management, business operations, information services, higher education and civic engagement.
Carrie Castille, the senior vice chancellor and senior vice president of the UT Institute of Agriculture, is pleased that Johnson will work directly with the students. "We are so excited to have such a highly regarded leader in the industry work with the Herbert College of Agriculture," she said. "Bill's insights will be extremely valuable to our program."
Caula Beyl, dean of the Herbert College of Agriculture, cannot think of anyone more suited to excel in this position. "In his role with Farm Credit, Bill Johnson always took a personal interest in the Farm Credit Scholars and offered valuable feedback to every one of them. He was determined that their internship experiences would be meaningful and have the potential for very real impact," she said. "Our students will reap extraordinary benefits from interacting with Bill, both inside and outside of the classroom."
"Bill Johnson's business and leadership experience, deep understanding of the agricultural and finance industries, educational achievements and involvement in experiential learning programs make him the ideal person to lead this effort," said Chris Clark, professor and head of the Department of Agricultural and Resource Economics.
Johnson earned his doctorate in education from Vanderbilt University, a master's in business administration from Gonzaga University and a bachelor's in business administration from the University of Evansville. He has served as a guest lecturer at Lipscomb University, University of Tennessee, Middle Tennessee State University, University of Evansville and the University of Louisville. Among his professional accomplishments, he is a member of the board of trustees at the University of Evansville and served on the boards of Farm Credit Council Services in Denver, Colorado, the Farm Credit System President's Planning Committee in Washington, D.C., and AgriNovus Indiana in Indianapolis, Indiana.
Through its land-grant mission of research, teaching and extension, the University of Tennessee Institute of Agriculture touches lives and provides Real. Life. Solutions. utia.tennessee.edu.