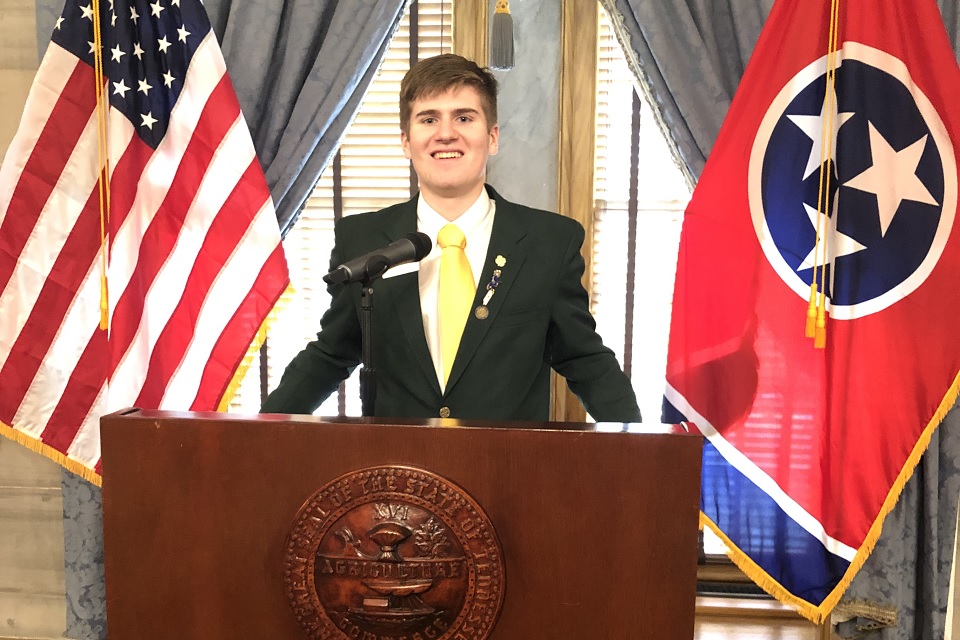 ​Will Dalton to Serve on the 2020 National 4-H Congress Design Team

KNOXVILLE, Tenn. — Will Dalton, a freshman in the Herbert College of Agriculture at the University of Tennessee, is one of eight teens selected from across the nation to sit on the Design Team for the 100th National 4-H Congress. This Design Team is responsible for planning and executing of one of the largest, national events that 4-H has to offer. Attendance often exceeds 1,000 persons.

Dalton is majoring in animal science, with a pre-vet concentration. He graduated from Grainger County High School in 2019. Dalton is the son of Jeff and Lori Dalton of Thorn Hill, Tennessee, where the family runs a cattle operation. 

An active Tennessee 4-H member, Dalton served on the State 4-H Council as president, was a member of the state's Performing Arts Troupe. He also attended the National 4-H Congress this past year as a delegate. Currently, he is an active member of the collegiate 4-H/FFA chapter at the University of Tennessee. This past year, Dalton served as a 4-H ambassador to represent Tennessee on a trip the U.S. Virgin Islands to share information on the state's 4-H program with the University of the Virgin Islands 4-H staff. 

Dalton is no stranger to serving his fellow peers and surrounding communities. In addition to his service through 4-H, he has volunteered with various organizations including Samaritan's Purse, the Ronald McDonald House, and Church Hill Free Medical Clinic. 

Through its land-grant mission of research, teaching and extension, the University of Tennessee Institute of Agriculture touches lives and provides Real. Life. Solutions.  utia.tennessee.edu.