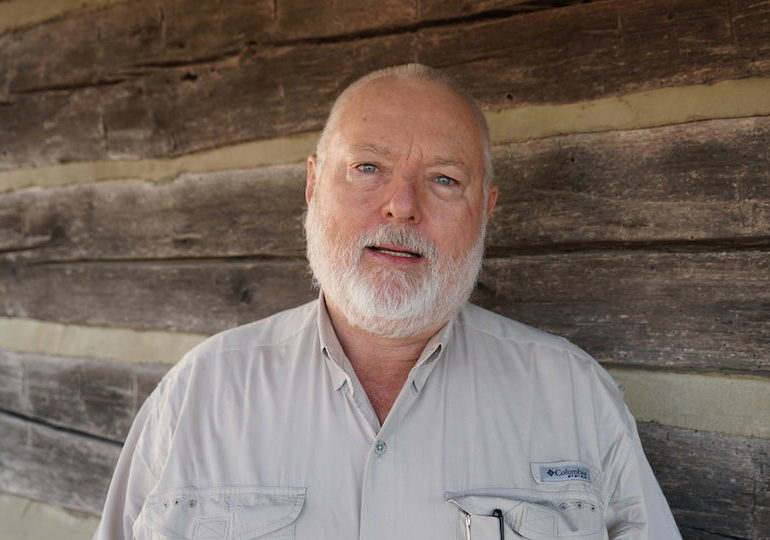 In this podcast, Blake Brown, center director of the UT AgResearch and Education Center at Milan, discusses the upcoming No-Till Field Day, which will be offered as an online event in 2020.
TRANSCRIPT:
Ginger Rowsey: Hi there, and thanks for listening to Call of the Week. I'm Ginger Rowsey with the UT Institute of Agriculture today my guest is Dr. Blake Brown who is the Center Director at the UT AgResearch and Education Center at Milan. How are you doing, Blake?
Blake Brown: I'm good. How are you?
Rowsey: Good. Blake and I are practicing social distancing. He's in Milan and I'm in Jackson, so definitely more than six feet apart. But we brought Blake in today to talk about a big announcement that was made last week concerning the Milan No-Till Field Day. This is a Milan No-Till Field Day year, but with all the concerns about what's going on in our world right now and all the uncertainty, Blake, you made the decision to go ahead and make Milan No-Till Field Day a virtual field day. So, just tell us what's that going to entail? What does that mean when you say virtual field day?
Brown: Well, first of all, I didn't make the decision, I made a proposal. There were several folks involved in the decision, because this thing was started in 1981, so this would have been our 40th year. It's going to be our 40th year. So, we were looking forward to that, but with things going on, we had to re-evaluate and see if we could continue the way we've been doing with people needing to social distance and not gather in big groups. So, we did make the decision to try to do a virtual field day. When this first came up, we were thinking about different ways. You know we have numerous research tours. We typically have 15-18 tours and each tour will have 3-4 presentations that are generally 18-20 minutes in length. So, you have a lot of different tour topics that are being covered, and the thought was we could video these because we have a great Marketing and Communications group that you're a part of and you help us tremendously throughout the year. So, we knew you could do it and do a good job. That's the main part of our field day, the research tours, so we could record those, post them on our website and people could listen from their home or their office, or the cab of their tractor, wherever they've got internet connection.
Then we got to thinking…what else do we do with our field day? One of the things we've always offered is a station overview tour. I was just talking with my guys about some possibilities for that. We're actually going to shoot some drone video in the field and we can show parts of the station that we can't show on the other because we have four different tracts of property, and we only utilize one for the field day. So, we hope we can show some of the other things we're doing across the Center.
Rowsey: That's a good point, because if you've ever been to the No-Till Field Day, like you mentioned, there are 15-16 tours, but there are only so many hours in the day. There's no way you can ever see everything that is on the program. But it sounds like the virtual format is going to provide the flexibility where people could do that.
Brown: Sure. We're not open enough hours through the day to see all the tours. And that's a decision we had to make years ago. Do we want to offer people their options and let them select, or do we want to narrow it down? And we decided to leave it wide open and let the visitors select what they want to do. In this scenario, they can actually take advantage of every tour if they would like. So that's going to be a good thing. Another thing, a lot of people are interested in getting their points for pesticide recertification and CCA points. We've been in contact with some of our people and believe we have a plan in place to do that. Again, the advantage is they can ultimately get all the points. In the past, they probably couldn't get to all the tours to get all the points available. So, there's definitely some advantages to it. I think we have the potential to reach a lot more people from other states—even though we typically had people from about 20 states participate—but there's the potential to reach a lot more people. From a Research and Extension faculty standpoint, I told them they can show information from various locations, include photos and videos, so there's a lot of opportunities for things who couldn't do when you're standing in front of the posters on the fourth Thursday in July.
The big disadvantage is not having folks on site. We're going to miss having everyone here this year, but things are different this year and we're trying to adjust the best we can.
Rowsey: You did want to make that clear that this is not in addition to the traditional field day, this is the field day. It's all online, and nothing is actually going to be taking place at the Research Center.
Brown: Right. We will not being doing tours here that day, we will not have researchers here talking about their plots. It will all be online. Our plan is for it to go live on July 23, which is the fourth Thursday in July, which has been our date since the very beginning.
Rowsey: Ok. Your material will go online July 23, you're still using that as your kickoff date. How long will people be able to access that information?
Brown: It will be there indefinitely at this point. You won't have to catch it all that date. The question came up, will the speakers be live. No, they won't be live, but we plan to provide their contact information, so you can reach out to them if you have questions. Like I said, it's going to be a little different. We're working on an online tradeshow as well. That's been a big part of this for many years. We're still working on some details on that. One other thing I'll mention, you've already helped us with some virtual tours of the West Tennessee Ag Museum. That's something we started working on before this decision was made, but we think we're going to kick that off that day because the museum tour has been a big part of this since it opened in the mid-80s.
Kinda going to have everything we've been having, just going to be a different format.
Rowsey: It's going to be different. What questions are you getting? This information went out to the public Friday. Since the announcement what sort of questions have you been getting from the community?
Brown: One question initially was are the speakers going to be there. No, they won't be here. Like I said, there will be no activities here at the AgResearch and Education Center at Milan on that date. They will be pre-recorded. That's been the biggest question. Questions about points are always there. What are the topics? We're still developing the program. Hopefully we'll have our program up and posted in the next month or so. You'll be able to see the topics prior to the event as you always have. They will be there for you to look at at your leisure. I've told people if you want to go in your office and turn the heat up to 95 degrees as you watch it will be just like being here in July.
Rowsey: I don't know that anyone is going to take you up on that, but it is a good suggestion.
(laughter)
Rowsey: One of the things you and I had talked about is that you really see this as an opportunity. You're not necessarily looking at this as a bad thing, even though it's a change that we weren't expecting. So how could this be an opportunity for this field day?
Brown: We sometimes get in a rut. We've been doing this a long time. You and I had talked for the past several years about a way to capture the talks that were going on at the field day so we could access them later in the year. And there was always a question of how many video cameras would we need to get everyone there on that date, and it was just a logistical issue.
This happened. We made a decision, we're going to try it. We're trying to get everything together for the event that's still three and a half months out, and there are a lot of things that are going to happen to make that a success. It's going to have its challenges. We're going to stump our toe somewhere along the way, but we've made our mind up, we're moving forward and we're not looking back. Someone asked is this the way you're going to do it from now on? I don't know. We'll see how it goes and we'll evaluate after that. We'll worry about that down the road. For the time being our ultimate goal is to continue to get the information that we're producing on this Center and Centers across the state into the hands of the people who need it in a timely manner.
Rowsey: Well, I know more information will be forthcoming, and I'm sure people are looking forward to it.
Brown: Everybody that we have talked to has been really supportive. Most people initially are like I hate that we're having to do this—and we are too. But in light of the situation we are in, this is probably a pretty good option. We hope it works out well, and we hope people enjoy it and find value in it. They may like it better.
Rowsey: Well, thank you very much for your time. I know you're a busy guy because you have a lot of tours to plan.
Brown: Yes, we're working on them. It's all going to be ok. Thank you for your help.
Rowsey: I know we'll have more information about the Milan No-Till Field Day—the Virtual Milan No-Till Field Day as it approaches on July 23. Still going live on July 23, but you can watch if from wherever you choose to be. As Blake said, that information will be up indefinitely after July 23. Blake, again, thank you, and thank you out there for listening to Call of the Week. We'll talk next week.