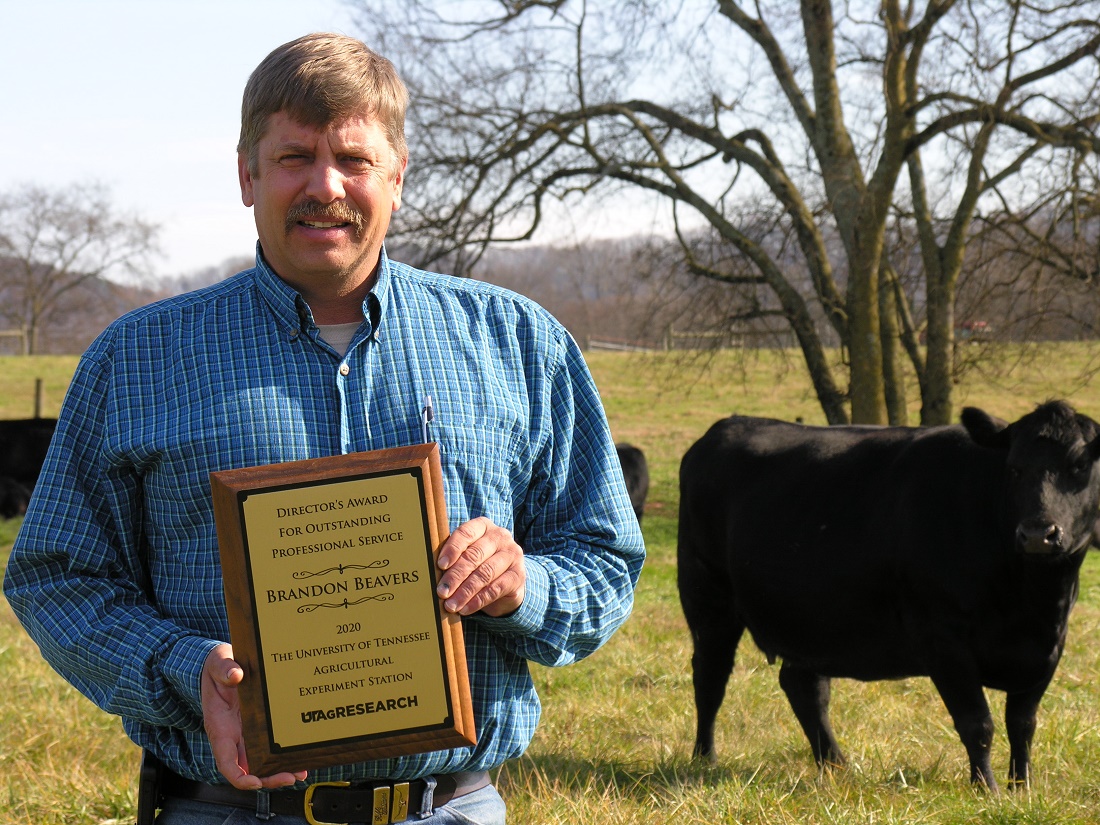 Farm Manager Brandon Beavers Recognized for Outstanding Professional Service
KNOXVILLE, Tennessee – University of Tennessee AgResearch recently presented a 2020 Director's Award for Outstanding Professional Service to Brandon Beavers, farm manager at the East Tennessee AgResearch and Education Center's Blount Unit. The award honors UT AgResearch employees who exhibit outstanding support service.
Beavers, a resident of Blount County, has worked at the center since 2001 and has managed the Blount Unit since July 2008.
The Blount Unit is a 515-acre research facility that also operates as a working farm. It plays a key role in the research, teaching, and Extension programs of UT Institute of Agriculture, particularly with regards to beef cattle breeding and management. Bobby Simpson, director of the center and Beavers' supervisor, says the conscientious Beavers spends countless hours studying the genetics of the breed and implementing cutting-edge procedures for the improvement of the herd.
"Thanks, in part, to Brandon's hard work, our Angus herd continues to be regarded as one of the top Angus herds in the eastern United States," Simpson wrote when nominating Beavers for the award. "We often get complimentary letters about Brandon from the American Angus Hall of Fame, which manages Angus sales all over the country."

Simpson also notes that the resourceful farm manager possesses a noteworthy, versatile and adaptable skillset. "While Brandon's primary passion is the top-notch care and husbandry of the Angus cattle herd, he is also an extremely capable mechanic, an attentive pasture/forage manager, and an effective supervisor of the Blount Unit's staff." Beavers also works well with UT faculty researchers and student interns. "He provides the interns with real-world learning opportunities and really takes time to explain the 'why' of what is being done at the farm."
While working full-time at the Blount Unit, Beavers also recently completed a master's degree in Agricultural Leadership, Education and Communications at the UT Herbert College of Agriculture.
The service award was presented during a small ceremony at the center. The East Tennessee Center is one of 10 outdoor laboratories in the UT AgResearch system. Each center engages in agricultural and natural resources research, and facilities are operated in each of the state's grand divisions.
Through its mission of research, teaching and extension, the University of Tennessee Institute of Agriculture touches lives and provides Real. Life. Solutions. utia.tennessee.edu.