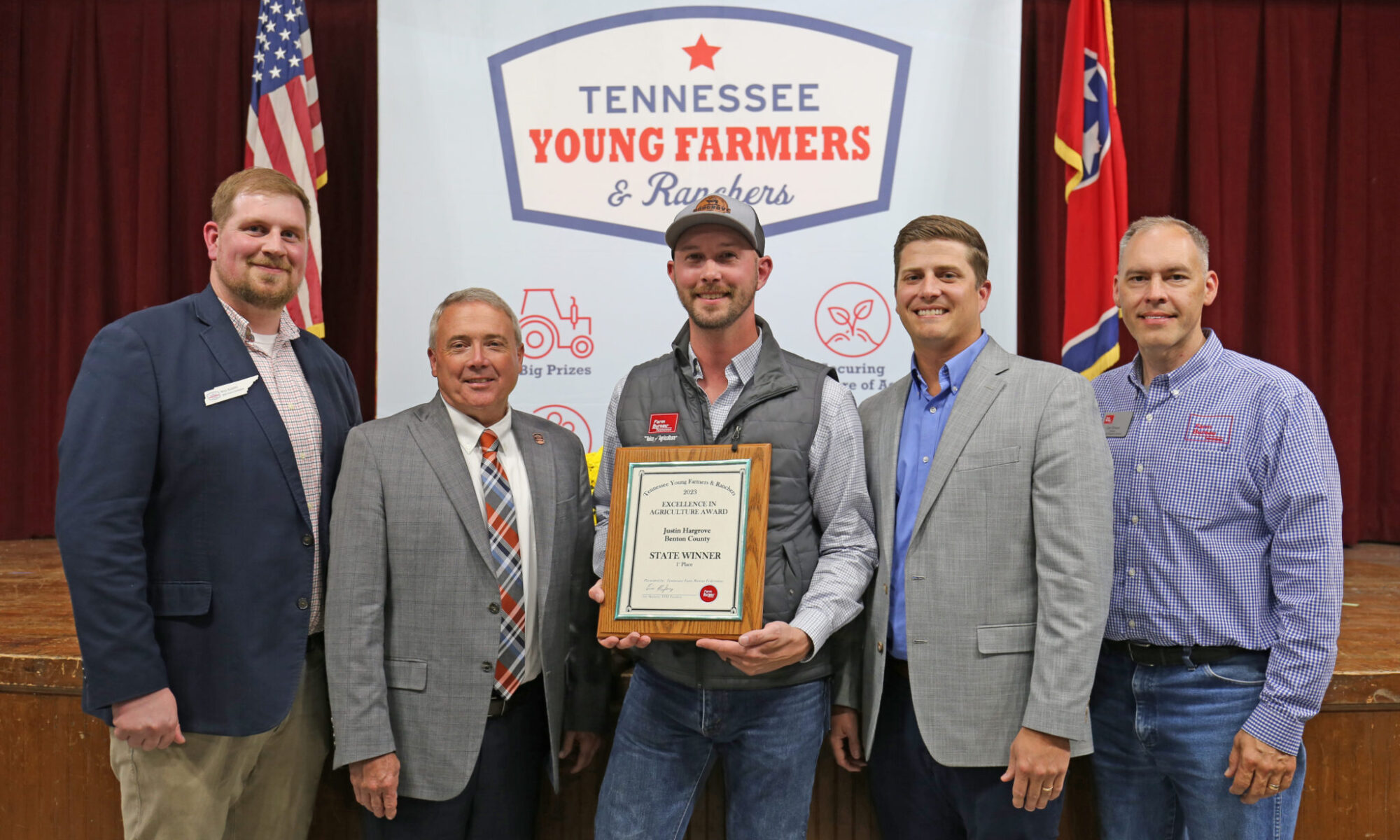 UT Extension Agent Recognized at the 2023 Young Farmers and Ranchers Banquet
Justin Hargrove of Benton County is this year's Excellence in Agriculture winner for Tennessee Young Farmers & Ranchers. The results were announced during the banquet of the YF&R Fall Educational Tour in Lincoln County at the Lincoln County Museum.
Growing up as a third-generation beef cattle producer, Hargrove was actively involved in agriculture and participated in 4-H on the local and state level. He graduated from the University of Tennessee at Martin with a bachelor's degree in agribusiness and then went on to obtain his master's degree in natural resources management from UTM.
Hargrove currently serves as an agriculture and natural resources Extension agent for the University of Tennessee in Benton County where he provides information and technical assistance to agricultural producers. He also serves as the regional fisheries agent for 31 counties where he provides pond and fisheries management expertise and assistance to county agents and landowners. In addition to those responsibilities, he is a team member and host of Extension's regional podcast series, "Tennessee Farm to Family." Outside of his career, Hargrove farms in partnership with his father where they market half of their annual calf crop as custom beef direct-to consumers. He and his wife, Alli, are proud to be raising the next generation with their son, Inman.
Hargrove has been involved in YF&R since he was 18 and could join the organization. He has served as Benton County's YF&R chair, district I chair and on the YF&R state committee representing district I for two terms. In 2022, he won state honors in the discussion meet contest and represented Tennessee extremely well nationally at the American Farm Bureau Convention in Puerto Rico.
The Excellence in Agriculture Award recognizes young farmers who derive the majority of their income for an off-farm occupation, but who actively contribute and grow through their involvement in agriculture, their leadership ability and participation in Farm Bureau and other organizations. Hargrove competed against 14 other county contestants from across the state to be named the state winner.
As state winner, Hargrove receives $1,000 from Farm Bureau Insurance of Tennessee, $500 from Tennessee Farm Bureau Federation, $1,000 in Tennessee Farm Bureau services, a John Deere Gator sponsored by Farm Credit Mid-America and a trip to the American Farm Bureau Convention in Salt Lake City in January 2024 where he will compete for national honors with other state winners.
Nick and Holly Harper of Smith County was selected as this year's second-place winner. Third was Megan Southerland of Greene County, fourth was Emily Nave of Cannon County and fifth was Leigh Fuson of Dekalb County.
Read more at TN Farm Bureau.