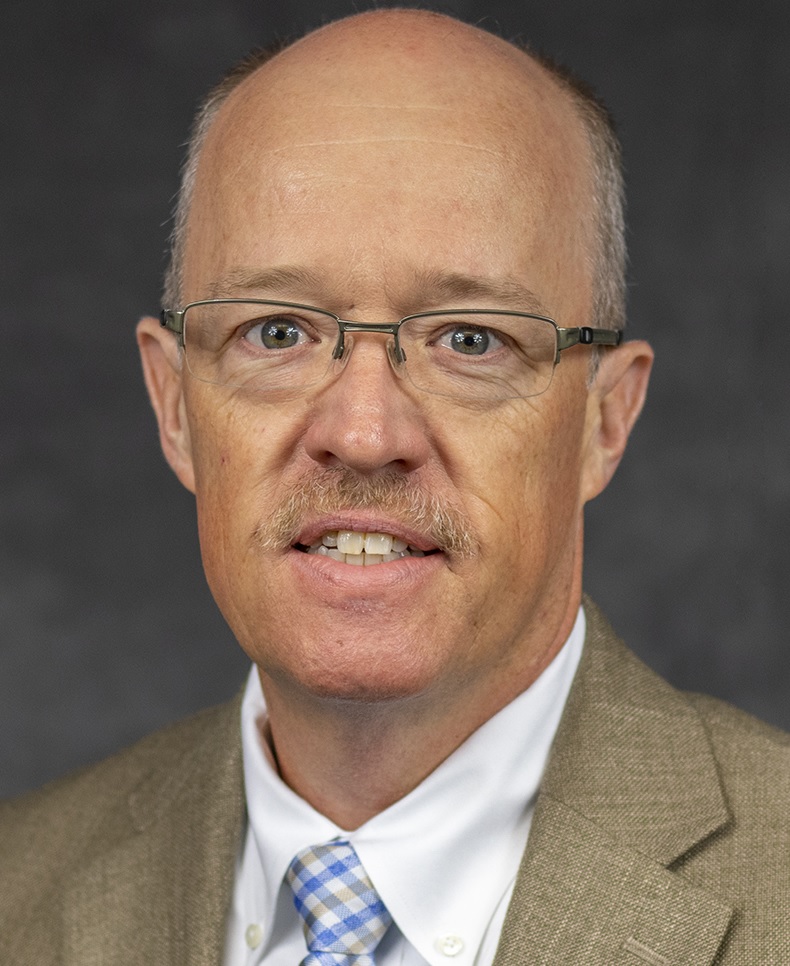 Rob Holland Adds to His Responsibilities

KNOXVILLE, Tenn. – The University of Tennessee Institute of Agriculture has chosen a familiar face across Tennessee agriculture to serve as an interim assistant dean of UT Extension. Rob Holland will step into the role on September 1 while maintaining responsibilities as director of the UT Center for Profitable Agriculture.
Holland, a native of Giles County, has devoted his professional life to Tennessee agriculture. In September 1993, Holland started down a career path with the University of Tennessee that has traversed through every county in the state. He began his service as a Vol as an area farm management specialist in East Tennessee emphasizing educational programs for whole-farm and enterprise analysis, computerized financial recordkeeping, tobacco economics, DAIRY PLUS+ and economics of hay storage. In 1998, Holland joined the UT Agricultural Development Center, where his financial expertise was applied to developing UT Extension resource materials and educational programming pertaining to value-added agriculture for farmers and agri-entrepreneurs statewide. Value-added enterprises are those that allow producers/growers to earn a greater portion of consumer expenditures by processing, packaging and/or marketing crops, livestock or other farm resources, including agritourism enterprises and direct marketing ventures.

In October 2002, the Agricultural Development Center moved from Knoxville to Spring Hill in Middle Tennessee and was renamed the Center for Profitable Agriculture. At that time it became a partnership with the Tennessee Farm Bureau Federation. Programs of the CPA are focused on assisting Tennessee farmers in analyses, evaluation, development and sustainability of value-added agricultural enterprises. In September 2007 Holland was named director of the center, following the retirement of Dan Wheeler, who was also a former Commissioner of Agriculture for Tennessee.
In his new role as interim assistant dean, Holland will assist with the management of UT Extension's statewide agricultural and natural resource educational and outreach programs to help ensure the success of the state's $4.3 billion+ agricultural industries. UT Extension works with local governments to provide educational services regarding agricultural production, natural resource management and family and consumer sciences through an array of adult learning opportunities. UT Extension also manages Tennessee 4-H, the state's branch of the USDA's national youth development and leadership program. With more than 168,000 participants, Tennessee 4-H is among the nation's largest 4-H club-based programs.

"I'm excited to welcome Rob Holland to the leadership team of the UT Institute of Agriculture as interim assistant dean for UT Extension," said Scott Senseman, interim dean of UT Extension. "Rob has a commanding knowledge of Tennessee agriculture and his commitment to serve the state's farmers and businesses will help the Institute continue to provide real life solutions for all the people of Tennessee. I look forward to working with him as he helps to advance our Extension educational programs."

"I am excited to serve in this role and look forward to working with and supporting County Extension agents and agricultural specialists as they develop and implement educational programs that impact producers, farm families and agri-based industries across the state," Holland said.
Holland grew up on his family's farm and was an active 4-Her and a national 4-H project winner. He earned a Bachelor of Science at UT Martin in agricultural business in 1991, followed by a Master of Science in agricultural economics at UT Knoxville in 1993.
Holland takes over for Mike Buschermohle, who has admirably served as interim assistant dean for ANR-CED programs for the last three years. "Mike has provided outstanding leadership over that period and his presence will be truly missed," said Senseman. "Mike's service to the Extension mission has been unparalleled and it has been a true pleasure to work with him."
Buschermohle will be returning to his faculty role in the Department of Biosystems Engineering and Soil Science, where he previously served as a professor and Extension precision agriculture specialist. Buschermohle first joined UT Extension in 1990.
Troy Dugger, a UT Extension program coordinator with the Center for Profitable Agriculture, will be providing additional leadership and direction to the CPA on an interim basis. Dugger is a native of Maury County and alumnus of the University of Tennessee who served as county extension agent and county extension director in Hickman County for more than 33 years prior to joining the CPA.
Through its mission of research, teaching and extension, the University of Tennessee Institute of Agriculture touches lives and provides Real. Life. Solutions. utia.tennessee.edu.