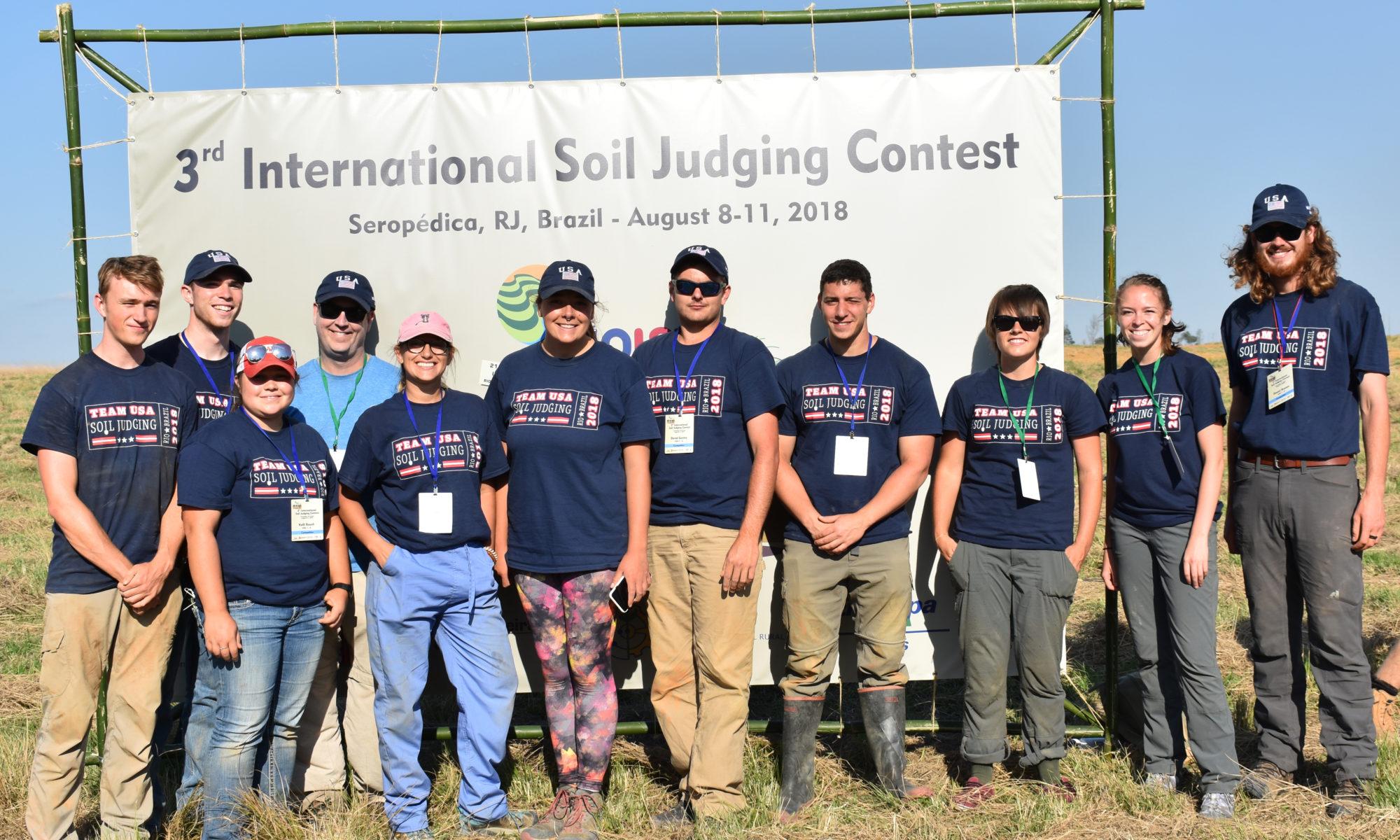 UTIA Well Represented: Student on Winning Team and Among Top Individual Finishers, Faculty Member a Head Coach​
KNOXVILLE, Tenn. – For many, a trip to Brazil sounds like vacation. But for one University of Tennessee student and his professor, traveling to Brazil was the chance of a lifetime to win on the international stage. David Gentry, a junior from Clinton, Tennessee, studying biosystems engineering and soil science, and Andrew Sherfy, a senior lecturer in the Department of Biosystems Engineering and Soil Science, traveled to Brazil as members of Team USA to take part in the International Soil Judging Competition, held on August 3.

A total of 47 students on 12 teams were challenged to describe, characterize and classify soil in the terrain surrounding Rio de Janeiro. The eight students from the U.S., each representing a different university, were split into two teams, both competing for first place.

Team USA swept the competition. In team judging, the two U.S. groups placed first and second, and individual students placed first, second, third and fourth in the individual competition, making Team USA the overall first and second place winners. In addition to being a member of the winning team, Gentry placed third in individual competition.

"Representing the United States and University of Tennessee on the international level is something I'd never imagined I would do," Gentry says. "Being able to do just this was an honor and I wanted to do the best I could. Preparing for the competition over the summer from the United States was kind of hard because I wasn't sure of the soils we would see. I am fairly competitive, so once we arrived in Brazil I was trying to learn all I could about the soils and adapt to how their professionals interpreted them."

Gentry says soil judging is something that requires you to get into a groove. "Each individual develops their own system for competition day. I didn't realize the magnitude of the event I was participating in until I was in my first competition soil pit going through my routine. The soil wasn't too different but it was different having individuals from Australia, Taiwan, and Spain in the soil pit right beside you. The best part was that everyone had developed respect and friendships over the previous three days of practice.

"I really enjoyed spending time with individuals who will likely share a similar career path as myself in this country or around the world. Our Team USA group really became one team and have remained in touch since August, and I expect that to keep going."

Sherfy served as one of two head coaches for Team USA.

"I truly couldn't be happier for and proud of the students involved," Sherfy says. "They represented the Soil Science Society of America, their respective universities and our country with distinction, professionalism and a positive attitude throughout the week. And for personal impacts, Sherfy had this to add: "I still don't think I have complete words to express what it meant for me professionally or personally. To date, only four individuals including myself have ever served as a head coach for a U.S. National Soil Judging Team, so the experience was rare in of itself and therefore incredibly exciting professionally. But to represent my country on a global scale for the first time in anything, let alone something I love like soils was quite humbling. It still evokes a lot of emotion for me and I will cherish that for life."

The International Soil Judging Competition is held every four years in countries around the world. The next competition, planned for 2022, will be held in Scotland.

Through its land-grant mission of research, teaching and extension, the University of Tennessee Institute of Agriculture touches lives and provides Real. Life. Solutions. utia.tennessee.edu.