UT Gardens' October 2020 Plant of the Month

Submitted by Jason Reeves, research horticulturist at the UT Gardens, Jackson, and Andy Pulte, distinguished lecturer in the UT Department of Plant Sciences
​
A frequent landscape situation experienced by gardening enthusiasts is a need for evergreen plants for smaller spaces in the landscape. There are very few trees or shrubs that fit into this category without needing substantial maintenance pruning. Finding plants that don't require seasonal shearing is always preferred, even for those who are passionate about gardening. Two favorite plants that really fit the bill are Thuja occidentalis 'DeGroot's Spire' and 'Jantar'.
'DeGroot's Spire' was one of the first slender arborvitaes to come to market thanks to plantsman Constant DeGroot of Sheridan Nurseries. He selected a very narrow form of T. occidentalis from a batch of seedlings in 1970. He died the following year, and Sheridan Nurseries introduced it in 1980, naming it 'DeGroot's Spire'. Its medium green foliage is somewhat twisted and turns a dark mossy green during winter. It will reach 15-20 feet tall and only 3-4 feet wide in 15-20 years.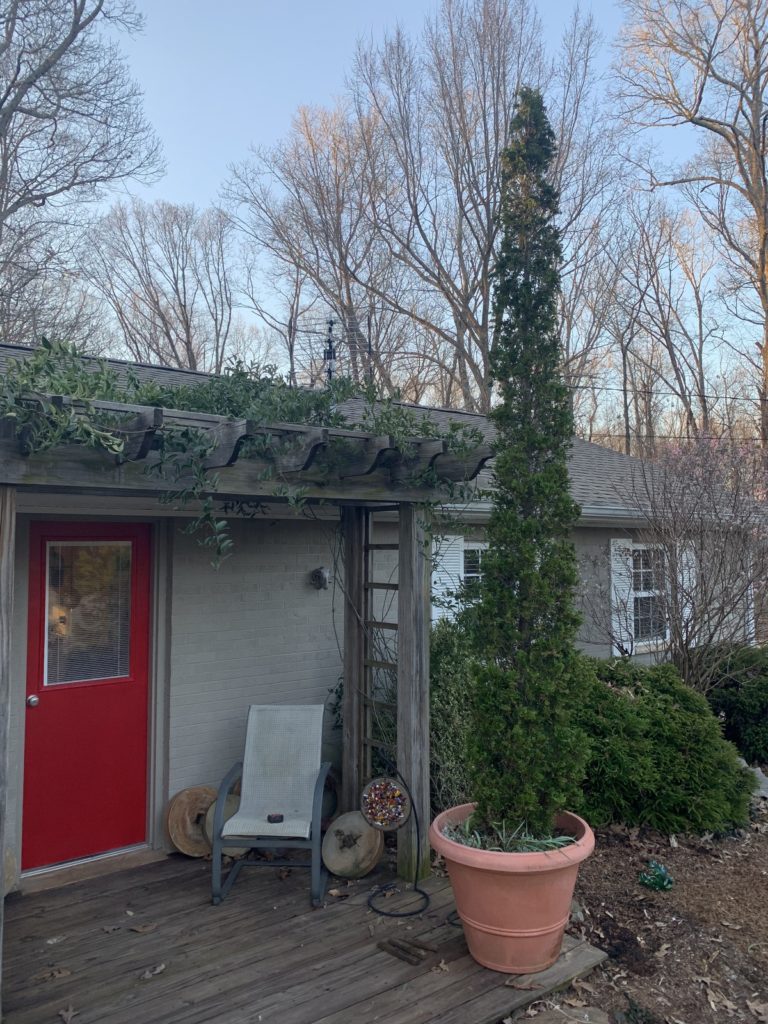 'Jantar' was originally found in Poland in 2000 as a mutation on 'Emerald Green' Eastern arborvitae and introduced into the U.S. in 2012. It is an eye-popping yellow during spring and summer. As cold weather approaches it takes on a warm amber-gold tone, hence the name 'Jantar' which is Polish for amber. Sometimes this plant is sold under the name 'Amber Gold'. Even though arborvitaes will grow with some shade, the yellow color displayed by 'Jantar' is best in full sun. Compared to other gold arborvitaes, it has more lateral branches making for a denser plant. Expect it to reach 6 to 10 feet tall and 2-3 feet wide in 10 years. With a striking upright habit, this selection will add a dramatic, glowing vertical element to the landscape.
Neither of these plants like to be crowded, so it is best to pair them with low-growing shrubs or perennials. They are useful in planters or as part of a privacy screen where space is limited. Whether the area available is small or the landscape simply needs some four-season drama, 'DeGroot's Spire' and 'Jantar' will not disappoint.
Of course, the form of these plants is important. The most desirable habit is a single, straight, dominant stem (leader), paired with a tapering pyramidal shape. The first years of life are very important, and maintenance pruning to insure a single dominant leader is critical. Inspect new plants for co-dominant stems, and make subordinating cuts or remove competing leaders altogether. More aggressive pruning while the plant is young will lead to better overall structure in maturity.
Fall is an absolutely fabulous time to purchase and plant one or both of these beauties. Both plants provide similar forms but provide a choice between emerald green or gold foliage. You can find one or both of these plants at the State Botanical Garden sites in Knoxville and Jackson.

The UT Gardens includes plant collections located in Knoxville, Crossville and Jackson. Designated as the official botanical garden for the State of Tennessee, the collections are part of the UT Institute of Agriculture. The Gardens' mission is to foster appreciation, education and stewardship of plants through garden displays, educational programs and research trials. The Gardens are open during all seasons and free to the public. For more information, see the Gardens website: utia.tennessee.edu/state-botanical-garden.