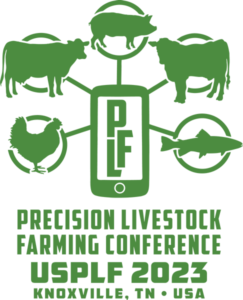 Theme: Field Implementation of Precision Livestock Farming
KNOXVILLE, Tenn. – The University of Tennessee Institute of Agriculture will host the 2023 U.S. Precision Livestock Farming Conference. The theme is "Field Implementation of Precision Livestock Farming."
Precision Livestock Farming involves the real-time monitoring of images, sounds and other biological, physiological and environmental parameters to assess and improve individual animal health and well-being within herd or flock production systems.
The conference will be May 21-24, 2023, at the University of Tennessee Conference Center in Knoxville. This will be the second U.S. Precision Livestock Farming Conference. The first one was held in 2018 in Omaha, Nebraska. UT AgResearch and the University of Nebraska, Lincoln, are co-sponsors for the 2023 event.
Attendees to the 2023 U.S. Precision Livestock Conference will exchange research discoveries, and the conference will foster collaboration among engineers, animal scientists, veterinarians, ethologists and other professionals. UT AgResearch has formalized a PLF initiative to positively impact livestock and poultry production in Tennessee, the U.S. and beyond; and UT PLF Program Coordinator Robert Burns, distinguished professor of biosystems engineering is serving as the conference chair, and Yang Zhao, assistant professor of animal science is conference proceedings chair.
Organizers are asking for abstract and paper submissions on the following topics:
Sensors and Sensing in PLF
Data Management and Algorithm Development
Measuring, Modeling and Managing of Dynamic Responses
Societal Impacts of PLF
Submissions will open May 15, 2022, and close June 30, 2022. For detailed lists of topics of interest and more information on abstract submissions, paper submissions, and other deadlines, visit tennessee.edu/usplf2023/.
Through its land-grant mission of research, teaching and extension, the University of Tennessee Institute of Agriculture touches lives and provides Real. Life. Solutions. utia.tennessee.edu.