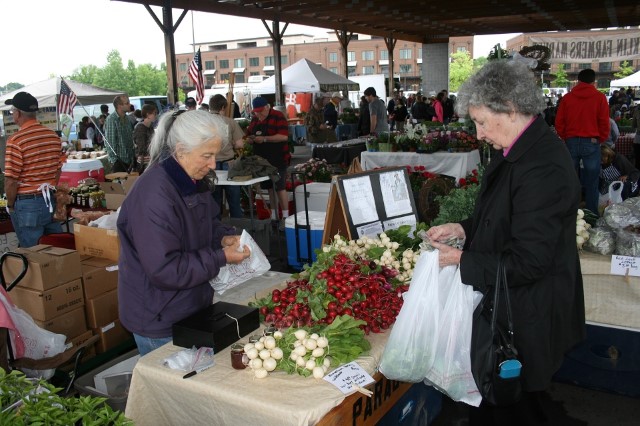 Registration Required Five Days Prior to Each Session, Sessions Begin March 3​
Due to concerns amid the coronavirus outbreak, the final three events of this series have been cancelled.

COLUMBIA, Tenn. – Farmers interested in marketing their products directly to consumers at farmers markets, roadside stands, CSAs and you-pick operations are encouraged to attend the Center for Profitable Agriculture's upcoming Farmers Market Vendor Boot Camp workshops. Specialists from University of Tennessee Extension along with Tennessee Department of Agriculture staff will teach the six workshops offered across the state.

Participants will learn a variety of topics during these all-day workshops including business planning basics, calculating food product costs and establishing product pricing to generate profits. Participants will also learn to more effectively market their products and create merchandising displays that can boost sales. With most American adults using the internet, workshop participants will learn the current trends in online marketing tools and strategies to better promote their operations online. Mike Brown with the Tennessee Department of Agriculture will teach participants about the importance of food safety when selling food products direct to consumers. 

Preregister to attend the workshops online at tiny.utk.edu/fmbootcamp2020. There is no cost to register and lunch will be provided. Preregistration is required at least five business days prior to the workshop, and space is limited.

Dates and locations for the workshops are:
Martin – March 3
Selmer – March 4
Centerville – March 5
Elizabethton – March 17
Livingston – March 18
Coalmont – March 19

The same training will be conducted in each location. Check-in begins at 8:30 a.m. local time, and sessions will last from 9 a.m. to 3:30 p.m.   

These workshops fulfill a Tennessee Agricultural Enhancement Program (TAEP) educational requirement in only the following Producer Diversification sectors: Agritourism, Fruits & Vegetables and Value-Added. For additional information regarding educational programs for TAEP requirements, please contact Erica Alexander at the Tennessee Department of Agriculture, 615-837-5324 or visit the TAEP website: www.tn.gov/agriculture/farms/taep.html. 

For more information about the workshops, visit the website for the Center for Profitable Agriculture: ag.tennessee.edu/cpa.  Look for a link under the "educational events" menu.

Through its land-grant mission of research, teaching and extension, the University of Tennessee Institute of Agriculture touches lives and provides Real. Life. Solutions.  utia.tennessee.edu.