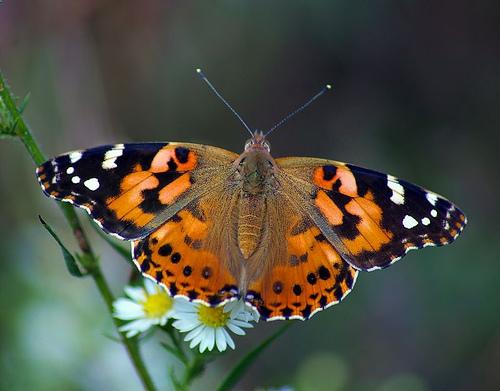 Activities Include UT Insect Zoo, Butterfly Tents, Educational Speakers and Children's Activities
The University of Tennessee Arboretum Society will present its eighth annual Butterfly Festival on Saturday, September 9 from 10 a.m. to 1 p.m. at the UT Arboretum Auditorium and surrounding grounds, 901 S. Illinois Avenue in Oak Ridge. As in past years, the mission and purpose of the Butterfly Festival is to provide educational opportunities for the public and to learn how we can all protect our pollinators. The UT Insect Zoo, two butterfly tents, educational lectures, a butterfly release and children's craft activities are among the educational activities that will be offered.
Parking is in designated areas of the UT Arboretum adjacent to the event and on a first come first serve basis. The entrance fee is $5 in cash (to facilitate entry) per carload. All other expenses can be made with cash or credit card. The gate will be open at 9:30 a.m. The event will take place rain or shine. Children's craft activities will be available at a cost of a $1 ticket per activity or $10 for all ten crafts. Activities include butterfly puzzles, temporary tattoos, butterfly masks, Magic Color Scratch butterfly ornaments, decorating cookies, caterpillar bracelets, and more.
An educational release of 500 painted lady butterflies will be promptly at 12:00, noon. Please plan enough time for arrival and parking before the release. It is suggested that butterflies be purchased early in the day due to limited supply. Children are invited to help release the butterflies, which will be offered at a cost of $5 per butterfly to cover costs. Cash or credit cards will be accepted. For the safety of all, the use of butterfly nets at this event is strictly prohibited.
Speakers will be Professor Laura Russo at 10 a.m. who will speak on "Wild and Native Pollinators in Your Backyard." Stephen Lyn Bales will start his presentation at 10:50 with a talk entitled "All Weeds Are Not Weeds. Just Ask a Butterfly!" Both presentations will be inside the air-conditioned Auditorium.
Children of all ages will enjoy experiencing the UT Insect Zoo, a travelling exhibit of insects. The goal of the Insect Zoo is to have fun while sharing knowledge of insects with others to help them appreciate the important role of insects in our environment. The Insect Zoo showcases preserved and live insects and arachnids (scorpion, tarantula, etc.) found in Tennessee and throughout the world. Two butterfly viewing tents, staffed by graduate students of the University of Tennessee Entomology and Plant Pathology department, will be open for a closer look at butterflies and insects.
The festival will feature a number of local artisans, all offering butterfly-themed merchandise. The Anderson County Master Gardeners will also have a booth staffed with volunteers who can answer your gardening questions.
Food trucks include CJs Tacos, Pelican's SnoBalls, and Rocky Top Hot Dogs. The public is invited to bring refillable water bottles.
Co-sponsored by the UT Forest Resources Research and Education Center, this educational event is designed for children and adults of all ages.
The Forest Resources AgResearch and Education Center, which celebrated its 55th anniversary in 2019, is one of ten outdoor laboratories located throughout the state as part of the UT AgResearch system. AgResearch is a division of the UT Institute of Agriculture. The Institute of Agriculture also provides instruction, research and public service through the UT Herbert College of Agriculture, the UT College of Veterinary Medicine, UT AgResearch and UT Extension offices, with locations in every county in the state.
To learn more about the Arboretum Society, go to www.utarboretumsociety.org or for questions on this program contact, UT Arboretum Education Coordinator, Michelle Campanis. at mcampani@utk.edu
Through its land-grant mission of research, teaching and extension, the University of Tennessee Institute of Agriculture touches lives and provides Real. Life. Solutions. utia.tennessee.edu.