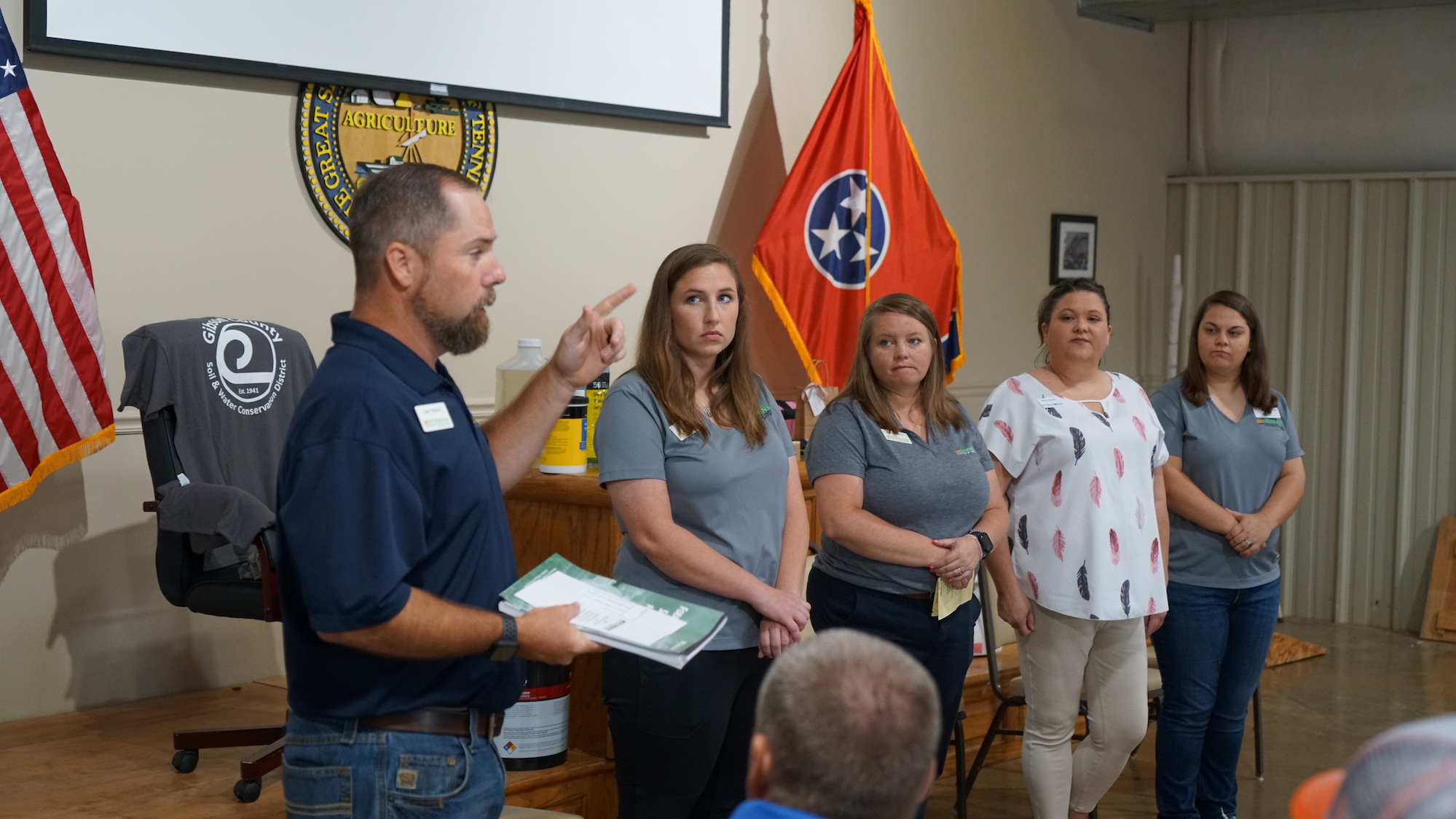 University of Tennessee and Local Partner Organizations Host Free Regional Event
TRENTON, Tenn. —Tennessee AgrAbility, UT-TSU Extension Gibson County and various partner organizations hosted Beginning Farmer Field Day on July 20, 2023. This free educational class was open to all West Tennessee farmers with less than 10 years of agricultural experience, providing them with the information and resources needed to become successful long-term producers.
Presentation topics included business planning, agricultural decision making, income management, production strategies and more. Attendees also received a tour of a Gibson County farm where they learned about agriculture conservation practices as well as locally available assistance programs.
The event was led by Gibson County Extension agents along with representatives from various local, state and national organizations including Tennessee AgrAbility, the UT MANAGE program, The STAR Center, Natural Resources Conservation Service (NRCS), Soil and Water Conservation Districts (SWCD), Farm Service Agency (FSA), Center for Profitable Agriculture (CPA) and various independent farmers.
Joetta White, Extension area specialist for AgrAbility in West Tennessee, says she hopes the event will positively impact the future of agriculture by ensuring farmers of all sizes have the resources they need to be successful. "Farming can be a challenging and costly industry to get started in. However, we believe that the best way to become a successful producer in West Tennessee is not to do it alone, but to instead learn from one another and from those who came before us. Beginning Farmer Field Day is about making sure agriculture is accessible for people of all ages, backgrounds and skill levels."
Jake Mallard, county director of UT-TSU Extension Gibson County, says that countless people every day depend on the work of our local farmers. "Our need for farmers and what they produce cannot be emphasized enough, and programs such as Beginning Farmer Field Day can have a widespread impact on our local community and beyond. Attendees were able to receive the tools and tactics they need to better improve production or begin farming for the first time. I know we will all benefit from their success."
The field day was made possible thanks to a grant from the Tennessee Department of Agriculture (TDA) as well as through local support from Farm Credit Mid-America and Gibson County Young Farmers & Ranchers. Over 40 local farmers from across West Tennessee attended the event.
Tennessee AgrAbility is a community-based program that assists Tennessee producers who have temporary or permanent disabilities. The program is offered in partnership with University of Tennessee Extension, Tennessee State University Extension, USDA, The STAR Center and Tennessee Technology Access Center. Tennessee AgrAbility educates and assists Tennessee's farmers, farm workers and their family members that have disabilities so they can increase their independence and productivity. Their mission is to enhance and protect the quality of life and preserve livelihoods for farm families touched by disability.
Through its land-grant mission of research, teaching and extension, the University of Tennessee Institute of Agriculture touches lives and provides Real. Life. Solutions. utia.tennessee.edu.