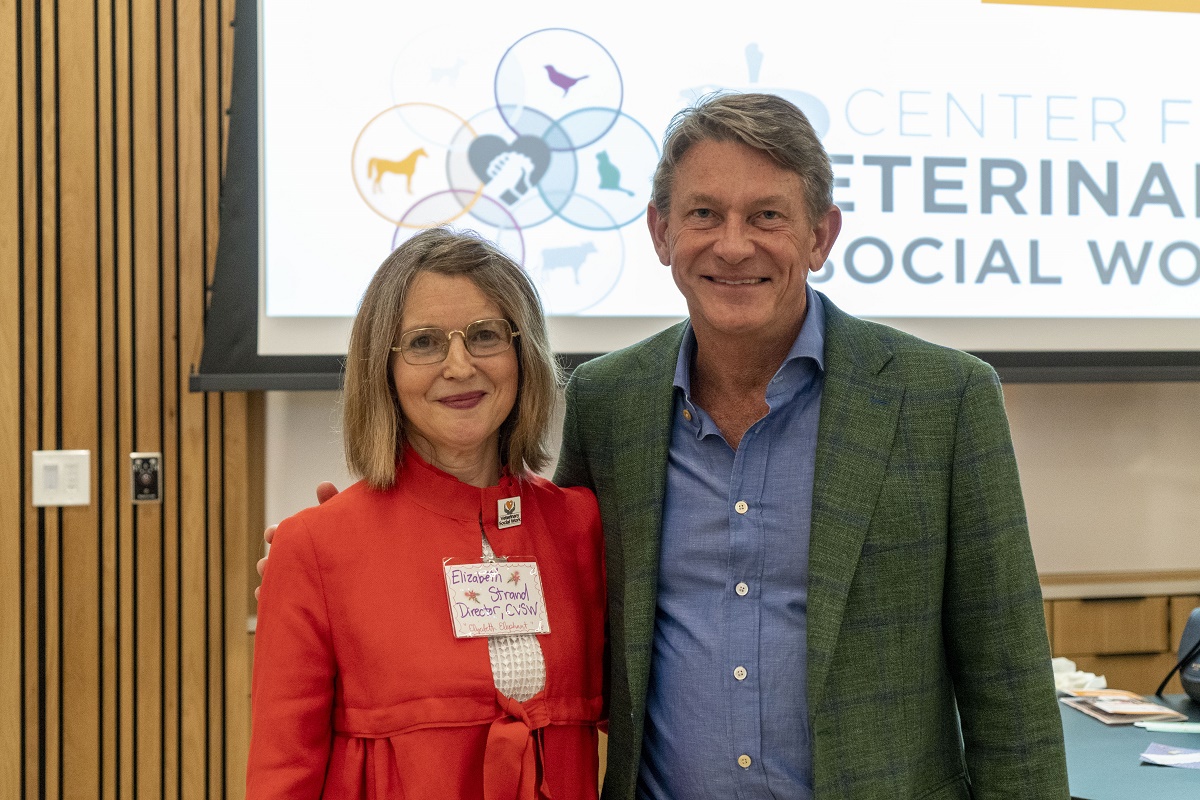 Focuses on the Welfare of All Species
KNOXVILLE, Tenn. – A thirty-seven-year collaborative partnership between the University of Tennessee College of Social Work and the UT College of Veterinary Medicine has culminated in the establishment of the UT Center for Veterinary Social Work (CVSW). The center focuses on attending to the welfare of all species through excellence in global interprofessional practice. A hybrid celebration with attendees from around the world kicked off the CVSW Friday, June 2, at the veterinary college.

The groundbreaking discipline of veterinary social work was established in 2002 by Elizabeth Strand, the All Creatures Great and Small Endowed Clinical associate professor in veterinary social work. This area of social work practice tends to the human needs that arise at the intersection of veterinary medicine and social work practice. The areas of veterinary social work include grief and pet loss, animal-assisted interaction, the link between human and animal violence, as well as intentional well-being, formally called "compassion fatigue and conflict management."  The field is rapidly growing with more veterinary social workers in veterinary clinics across the United States than ever before.

Lori Messinger, dean of the College of Social Work, says the interdisciplinary center is dedicated to research, education, and service in the interprofessional space of veterinary social work, which is a One Health human-animal interactions model. "Under Dr. Strand's leadership, the center will provide people in our community and across our University a recognized framework to support further academic and professional opportunities in veterinary social work."
Jim Thompson, dean of the College of Veterinary Medicine, says Strand is fiercely protective of those in the veterinary profession. "Dr. Strand realizes at the end of every leash or the head of every herd is a person. Veterinarians are highly trained to address animal issues, but human beings are a whole other factor. The work of this center will enhance the understanding of the complex relationships between humans and animals."
Both colleges will share faculty, staff and fiscal responsibility for the creation and functioning of the Center for Veterinary Social Work as they focus on problems as well as solutions.
Other programs connected to the center include the College of Social Work's Program for Pet Health Equity as well as Human Animal Bond in Tennessee (HABIT), Companion Animal Initiative of Tennessee (CAIT) and Shelter Medicine from the College of Veterinary Medicine.

Through its land-grant mission of research, teaching and extension, the University of Tennessee Institute of Agriculture touches lives and provides Real. Life. Solutions. utia.tennessee.edu.