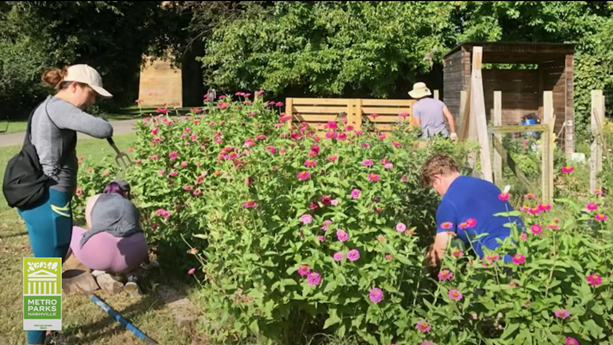 Statewide Initiative Set to Expand
NASHVILLE — The Shelby Bottoms Nature Center in Nashville, Tennessee, has come on board as the newest participating Tennessee Smart Yards Community. The program is a collaboration between University of Tennessee Extension, local municipal governments and communities. Tennessee Smart Yard Communities are community organizations that strive to create healthier, more ecologically-sound landscapes through education, stewardship and connection. The program is led by Andrea Ludwig, an associate professor in the UT Department of Biosystems Engineering and Soil Science.
John Michael Cassidy, director of the Shelby Bottoms Nature Center, Amanda Healan, naturalist with the Shelby Bottoms Nature Center, and Julie Berbiglia, education specialist with Nashville Metro Water Services, have played important roles in spearheading the initiative and helping spread the word about the program so that more residents can become involved.
"Tennessee Smart Yard certification is a natural fit for our campus. We've made a concerted effort to maintain several habitats. This includes open meadows with native grasses and wildflowers next to the nature center that support a myriad songbirds, small mammals and insects," said Cassidy, "Our Teaching Garden provides an opportunity for seed sharing in the community year-round, and is an example of how pollination, in part supported by our bee boxes, supports food production. And we are very fortunate to have a green roof, adding a bit of habitat, water retention and mystery towering over our campus. Our community is benefiting from educational partnerships and simple action measures with Metro Water Services and the Tennessee Smart Yard Certification program through UT-TSU Extension."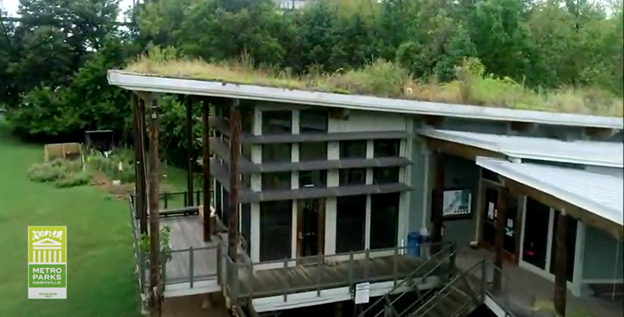 "Nature does not stop at park boundaries. This commitment connects the Nature Center to residents' yards, exponentially increasing the impact of environmental education and stewardship," added Berbiglia.
"It is exciting to see the enthusiasm that communities bring to the table and the ability to unite people around healthy land and clean water," stated Ludwig. "Once an entire community gets on board with this concept of stewardship, the potential environmental benefits can increase exponentially." Ludwig, who is based in Knoxville, is working with people across the state for this initiative.
Participating Tennessee Smart Yard Communities – from neighborhood associations to school groups – are equipped with the tools they need to educate, promote stewardship and connect with their members for the common goal of smart yards, healthy landscapes and clean water. Through the Tennessee Smart Yards program, homeowners and residents across Tennessee incorporate yard and property management guidelines that yield healthier, more sustainable landscapes.
Built on nine foundational principles of stewardship and responsibility, the program works to build awareness of small steps that can have a big impact statewide. From managing runoff in beneficial ways to incorporating native plants into residential landscapes, an online certification tool lists dozens of potential steps individual residents can take to make their yard or property a certified Tennessee Smart Yard.
Since its inception in 2007, Shelby Bottoms Nature Center has been a leader in creating functional landscapes for the benefit of the public and ecosystem alike. Through their educational garden, invasive plant removals, thoughtful planting, and ongoing monitoring, the nature center campus is a blossoming example of what can happen when a team sets intention for their grounds and adopts natural landscape practices.
"During field trips and hikes, it's always fun to share how the native landscapes we cultivate support the ecosystem. We can showcase galls, bee burrows, egg cases, nests of all sizes, fungi, lichen and more, all of which grew out of our landscape choices. The benefits go far beyond the plantings themselves," said Healan.
Communities coming on board this year will help develop a playbook on how to become an official participating Tennessee Smart Yard Community. To find out more about the process to become a participating Tennessee Smart Yard community, visit tnyards.utk.edu/communities.
"When it comes to health, whether that's environmental health or physical health or something else, small, sustainable steps make the largest difference," added Ludwig. "Through Smart Yards, we are cultivating respect for the environment and our role in its well-being, and I'm thrilled to see the program grow to encompass entire communities as well."
Through its mission of research, teaching and extension, the University of Tennessee Institute of Agriculture touches lives and provides Real. Life. Solutions. utia.tennessee.edu.