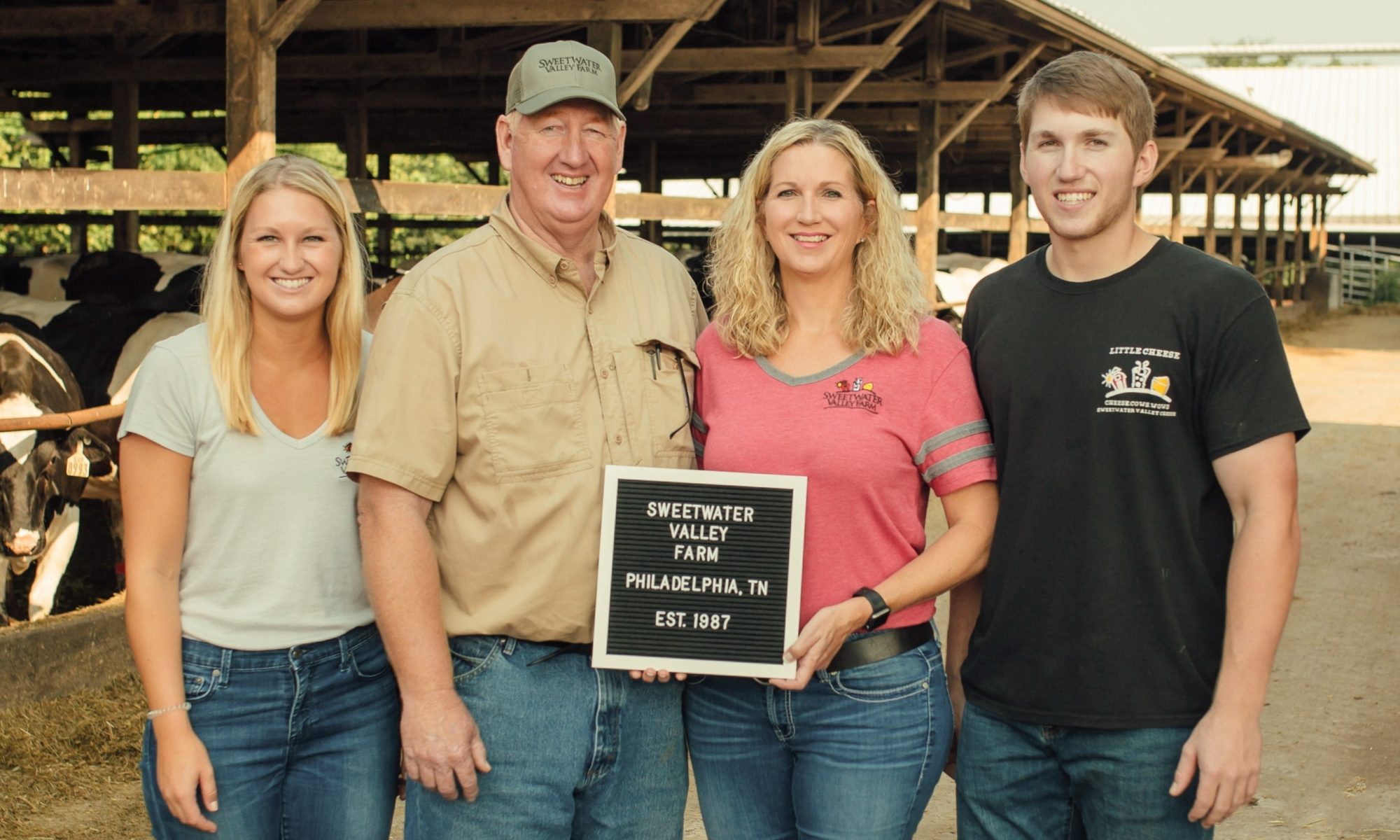 Annual Honor Bestowed by UT Extension
PHILADELPHIA, Tenn. – A third-generation dairy farmer, John Harrison of Sweetwater Valley Farm, remembers hearing his parents and grandparents talk about the milk-bottling operation they ran in the 1940s and 1950s.

He, too, dreamed of having a farm where he could make and sell a product using the fruits of his labors.

Today, Sweetwater Valley Farm―located in Philadelphia, Tenn., in Loudon County―is one of the area's largest and best known agritourism destinations in the region, and Harrison has been named the 2022 Tennessee Farmer of the Year by University of Tennessee Extension.

David Bilderback, area farm management specialist for UT Extension's Eastern Region, along with Loudon County Extension Agent John Goddard, nominated Harrison for the award.

"John is extremely innovative," Bilderback said. "He runs an excellent operation and he's also a good steward of the land and resources."

Bilderback works with Sweetwater Valley Farm and other Tennessee farms in Dairy Gauge, a benchmarking program in which the farmers work with consultants and share details about their businesses and finances to help each other.

"John and the other farmers are working together to make each of their farms more efficient," Bilderback said. "They want to make each other better. Iron sharpens iron." Harrison's 4,490-acre spread includes a dairy farm, a cheese factory, a store and a café. He also has a cow-calf beef operation and grows corn, barley, soybeans and hay. He produces most of his own livestock feed and sends the surplus to the AgCentral Farmers Co-op. The farm also welcomes visitors to tour parts of its operation.

When Harrison started college at UT Knoxville, he flirted with the idea of pursuing something other than farming. But the more he explored, the more he knew dairy farming was his life.

"I realized I had an opportunity," he said. "I enjoyed it, and I knew it."

After earning a degree in agricultural business, Harrison farmed with his family for a few years and then rented a 350-acre farm and purchased 80 cows to launch his own dairy. In 1987, Harrison and his wife, Celia, purchased an interest in Sweetwater Valley Farm. They became its sole owners in 1992.

Looking for ways to grow his business, Harrison took a cheese-making course, borrowed against his farm, and built a $1.5 million cheese factory in 1998. Although craft cheese factories are popular now, back then it was a novel and risky venture.

Over the years, Sweetwater Valley Farm has grown significantly. In 2012, the International Dairy Foods Association named Harrison Innovative Dairy Farmer of the Year.
Today, the farm has more than 2,050 mature dairy cows, 1,500 replacement heifers, 650 beef cows and 450 beef calves. The farm has three dairy facilities—two with traditional milking parlors staffed around-the-clock, as well as Tennessee's largest state-of-the-art robotic milking facility where 500 dairy cows are trained to interact with robots that do the milking 24/7.

Sweetwater Valley Farm produces an average of more than 85 pounds of milk per day per cow, and last year sent more than 44 million pounds of milk to Mayfield Dairy Farms plant in Athens, Tennessee, through the Dairy Farmers of America, a national milk co-op.

The farm purchases back 10 percent of the raw milk and uses it to produce as much as 450,000 pounds of cheddar cheese a year, which is sold at its store and in its Seed to Sandwich Café. The cheese is also sold online, as well as in stores and restaurants in Tennessee and surrounding states. The farm also provides cheese for the "Power-T" cheese sold by All Vol Cheese, a project of UT's Food Science Department.

In addition to the farm and café, Sweetwater Valley Farm offers tours of its robotic dairy and its cheese factory.

Harrison employs about 50 people, some of whom are dairy producers whose own operations shuttered over the past decade.

Sweetwater Valley Farm is a family endeavor. Celia, the emergency department director at Sweetwater Hospital, serves as the corporation's secretary and treasurer. Three of the Harrison's five children work on the farm: their oldest, Mary Lyndal, is the farm's marketing director and runs the public side of the business; their fourth child, Charles Allen, is the head herdsman and crop manager; and their youngest, Amy Elizabeth, recently started helping with the business. (Daughter, Sally Anna, is a doctor, and son, John William, is a software engineer who acts as a "great sounding board" as the farm expands its virtual presence.)

Despite his busy schedule, Harrison stays active with county, state and national agriculture organizations, county economic development groups and the First Baptist Church of Philadelphia.

For Sweetwater Valley Farm, like all businesses, the pandemic has brought challenges.

The day-to-day work with the crops and animals continued without interruption because, as Harrison said, "people still needed milk."

The store, café and tours shut down for a while, but the Harrisons got creative.

Mary Lyndall took café operations online, and customers picked up their to-go meals from the café porch. When the café finally did reopen in November 2020, customers could dine outdoors at picnic tables.

"I think people felt like we were a safe place to be," Harrison said.

Supply chain issues persist, and it's been a struggle to find workers. Skyrocketing fuel prices are concerning, but visitor numbers are increasing, and tour buses are arriving again.

Always known for his optimistic outlook and ability to think outside the box, Harrison wonders if the high cost of traveling could work in his favor.

"Tennessee might be a good destination―a quick vacation for a lot of the country without flying," he said.

As the Tennessee Farmer of the Year, Harrison will be honored at the UT Institute of Agriculture's annual Ag Day event, this year to be held September 24 in advance of the Tennessee versus Florida football game in Knoxville. He will also compete in the Swisher/Sunbelt Expo Southeastern Farmer of the Year competition, the winner of which will be announced in October at the Sunbelt Ag Expo in Moultrie, Georgia.

Through its land-grant mission of research, teaching and extension, the University of Tennessee Institute of Agriculture touches lives and provides Real. Life. Solutions. utia.tennessee.edu.