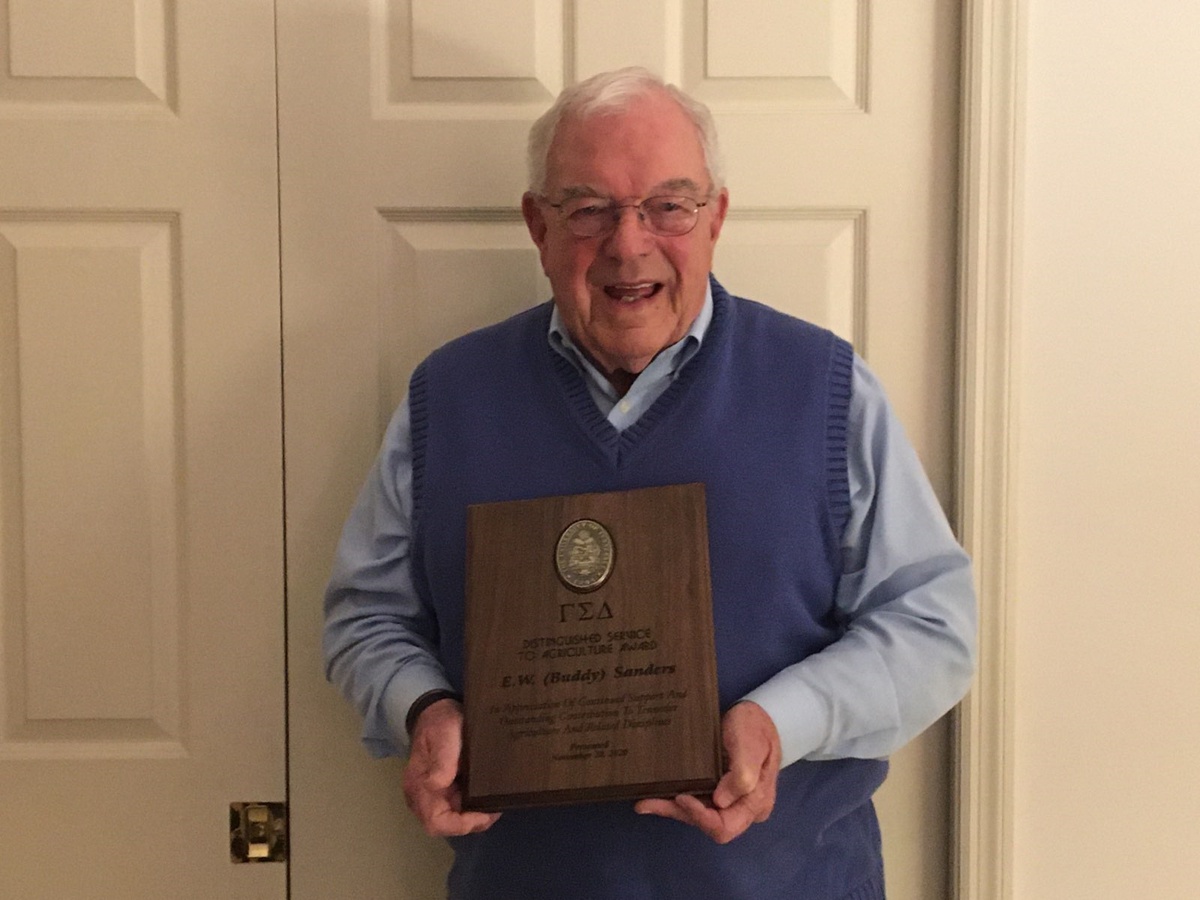 Pioneering UT Extension agent and specialist, farming broadcaster and entrepreneur celebrated for service to Tennessee
KNOXVILLE, Tenn. — The Tennessee chapter of Gamma Sigma Delta, the international honor society of agriculture, has honored Buddy Sanders of Knoxville with its 2020 Distinguished Service Award.
Headquartered at the University of Tennessee Institute of Agriculture, Gamma Sigma Delta recognizes leaders of Tennessee agriculture. Sanders, who has worked as a professional in both Memphis and Knoxville, is a three-time employee of the University of Tennessee Extension and pioneer in value-added agriculture. Sanders helped lay the groundwork for the innovative Center for Profitable Agriculture, which is jointly operated by UT Extension and the Tennessee Farm Bureau Foundation to enhance the profitability of agricultural operations throughout the state of Tennessee.
Deeply Rooted in Agriculture
Sanders was born and raised on the Ames Plantation in Grand Junction, Tennessee, when it was privately owned and operated by the Ames family. Both of Sanders' parents were employed at Ames. His family resided there, and his upbringing in the farm environment instilled his commitment to and connection with agriculture.
Sanders graduated from Grand Junction High School in 1951 and majored in animal husbandry at UT Knoxville that same year. He married Ann Hestle in 1953 and served in the US Army from 1954 to 1956 stationed in Korea.
Sanders received his BS degree in animal husbandry from UT Knoxville in 1957 and served as assistant county Extension agent and manager of the Shelby County Soil Erosion Control Association until 1959 when he returned to Knoxville to work on his MS degree. While attending graduate school, he served as graduate assistant in the UT Knoxville Department of Animal Husbandry from 1959 to 1962 and worked as manager of the Blount Unit for UT AgResearch, now a part of the East Tennessee AgResearch and Education Center.
A Career Dedicated to Serving Others
After receiving his MS degree in animal husbandry in 1962, Sanders began his second of three stints with UT Extension in Shelby County from 1962 to 1970. In this role, he trained the Tennessee state champion 4-H livestock judging team in 1964 and was honored as Agricultural Man of the Year in 1967 by the Memphis Agriculture Club.
In 1970, Sanders left UT Extension and, from 1970 to 1981, he became famous in the Mid-South region as the farm broadcaster for WMC radio and television in Memphis. He also put his entrepreneurial skills into action and started and operated the Buddy Sanders Farm Supply Storein the rural community of Middleton in Hardeman County, Tennessee, from 1977 to 1982. In addition, Sanders served as president of Memphis Agriculture Club from 1975 to 1976.
Sanders returned to UT Extension for his third stint in Shelby County, serving as Shelby County Extension director from 1988 to 1994. During this time, he was recognized for his outstanding accomplishments in agriculture programs in many ways, including in 1994 when he was named the Outstanding County Extension Agent in Forestry.
Sanders completed his Extension career in Knoxville, serving as the East Tennessee marketing specialist from 1994 until his retirement in 2000. In this role, he served on the planning committee for the creation of UT Extension's Agricultural Development Center, later named the Center for Profitable Agriculture.
Maintaining His Close Ties to Agriculture
In retirement, Sanders enjoys spending time with his two sons and daughter-in-laws, three grandchildren and two great-grandchildren. He can often be found taking various day trips in the region and enjoying a good meat-and-three restaurant. Sanders remains active in the agriculture community by continuing his involvement with the UTIA Retirees Association, the Knoxville Agriculture Club and the Memphis Agriculture Club.
Sanders' positive, energetic and friendly personality served him well as he worked with the public and the greater agricultural community for so many years. He continues to share his wit, wisdom and passion for agriculture through the stories he tells, the colleagues he mentors and the circles in which he travels.
There is no argument that Sanders has provided distinguished service to agriculture. He is certainly worthy of the utmost recognition and appreciation for the countless ways he contributed to and supported the agriculture industry in our state and throughout the entire Mid-South.
Through its mission of research, teaching and extension, the University of Tennessee Institute of Agriculture touches lives and provides Real. Life. Solutions. utia.tennessee.edu.