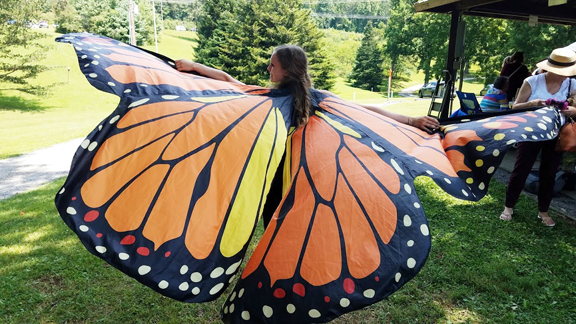 Plan to Join the Fun on September 9
OAK RIDGE, Tenn. — The University of Tennessee Arboretum Society has updated the plans for the annual butterfly festival. While the fun-filled and educational event is still scheduled for September 9, a mass release of painted lady butterflies is no longer scheduled as part of the event.
The festivities will occur from 10 a.m. – 1 p.m. at the UT Forest Resources AgResearch and Education Center and Arboretum, 901 S. Illinois Avenue in Oak Ridge. Plenty of activities will provide educational opportunities for the public to learn how we can all protect our pollinators.
The butterfly species previously planned for release at the festival was the painted lady, Vanessa carduii. Butterfly releases have been held at past festivals with the intention that the more people understand an organism, the more they are inspired to help protect it. Though there has not been definitive scientific research about the impact of painted lady butterfly releases, the UT Arboretum Society has decided to join many other scientific organizations, such as the North American Butterfly Association and the Smithsonian Institute, in not promoting this practice.
Michelle Campanis, education programs coordinator for the UT Arboretum, says, "We hope you will join us as we learn and grow together celebrating our pollinators. Other planned activities will take place including the UT Insect Zoo, butterfly tents, educational lectures, and children's craft activities."
A free pollinator plant will be provided by Tennessee Naturescapes for each family as long as the supply lasts and additional pollinator plants will be available for purchase. Food vendors and craft vendors will be on site to add to the fun and entertainment!
Professor Laura Russo will speak at 10 a.m. on "Wild and Native Pollinators in Your Backyard." Stephen Lyn Bales will start his presentation at 10:50 with a talk entitled "All Weeds Are Not Weeds. Just Ask a Butterfly!" Both presentations will be inside the air-conditioned Auditorium.
Parking is in designated areas of the UT Arboretum adjacent to the event and on a first come first serve basis. The entrance fee is $5 in cash (to facilitate entry) per carload. All other expenses can be made with cash or credit card. The gate will be open at 9:30 a.m. The event will take place rain or shine. Children's craft activities will be available at a cost of a $1 ticket per activity or $10 for all ten crafts.
Please join us on September 9 at this cooperative educational endeavor by the UT Arboretum Society and the University of Tennessee Institute of Agriculture to provide opportunities for the public to learn ways we can protect our pollinators.
Through its land-grant mission of research, teaching and extension, the University of Tennessee Institute of Agriculture touches lives and provides Real. Life. Solutions. utia.tennessee.edu.