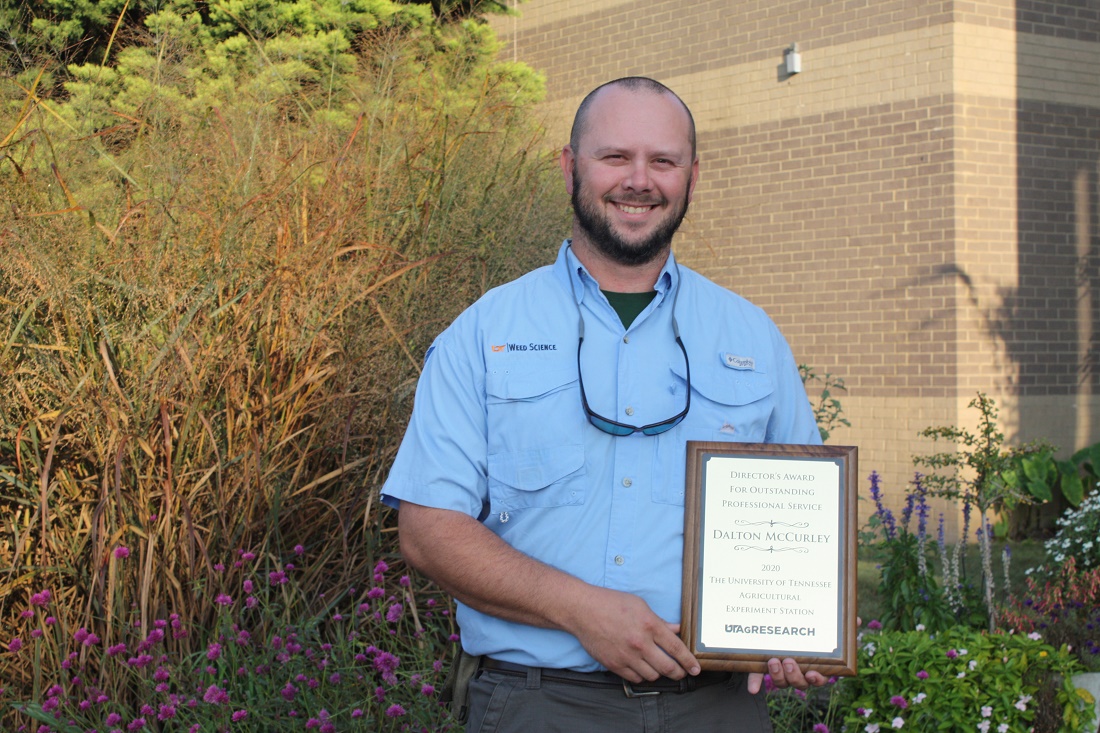 West Tennessee's Dalton McCurley Recognized with Director's Award for Outstanding Professional Service
JACKSON, Tenn. – University of Tennessee AgResearch presented the 2020 Director's Award for Outstanding Professional Service to Dalton McCurley of the West Tennessee AgResearch and Education Center in Jackson. The award honors the UT AgResearch employee who exhibits outstanding support service. McCurley, a resident of Milan, Tennessee, is a research associate who supports the University's Cotton Agronomy Research Program.
McCurley joined the Center's staff in 2015 after having previously worked as a student employee. His responsibilities include supervising students and interns, organizing, packaging seed, planting, fertilizing, and maintaining, harvesting, ginning and compiling data for cotton and small grains research trials at the three UT AgResearch Centers in West Tennessee (Jackson, Milan and Grand Junction) as well as at the AgriCenter International in Memphis and multiple other sites. He also assists with UT Institute of Agriculture field days, special events, and the Cotton Tour. In addition, McCurley is responsible for maintaining field equipment as well as the cotton gin equipment.
Robert Hayes, who retired as director of the West Tennessee AgResearch and Education Center at the end of September, nominated McCurley prior to his retirement. Hayes wrote, "Dalton is a dedicated employee who will stay as long as it takes to get the job done, especially during planting and harvesting. He is one of those employees that knows what needs to be done and does it with little supervision. He quickly learns new equipment, procedures and skills necessary to do his job." Hayes also noted that McCurley enjoys his work and brings a good sense of humor to the workplace.
The Center's new director, Scott Stewart, heartily endorses the nomination and award. "Dalton is a pleasure to work with and a great role model for the numerous students and interns with whom he works. We're proud of his efforts and genuinely delighted to have him on staff at the West Tennessee AgResearch and Education Center."
The award was presented in October at a small ceremony at the Center. The West Tennessee Center is one of 10 outdoor laboratories in the UT AgResearch system. Each center engages in agricultural and natural resources research, and facilities are operated in each of the state's grand divisions.
Through its mission of research, teaching and extension, the University of Tennessee Institute of Agriculture touches lives and provides Real. Life. Solutions. utia.tennessee.edu.