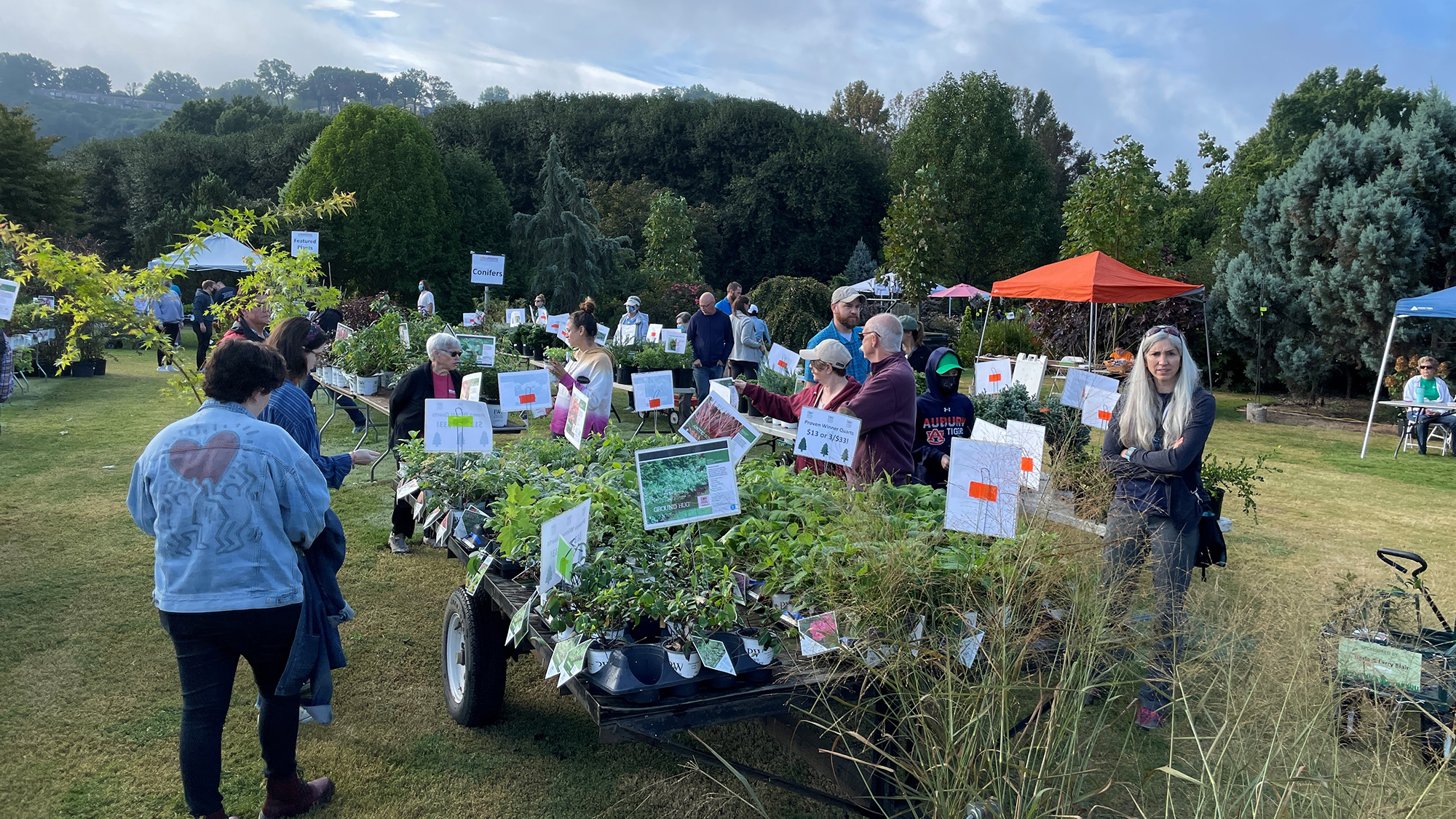 Sale Offers Large Assortment of Plant Varieties
KNOXVILLE, Tenn. — Filling your garden with beautiful, high-performing plants will be easier than ever this year thanks to the experts at UT Gardens. Hundreds of carefully selected perennial and annual flowers, houseplants, edibles, trees and shrubs will be available for purchase on Saturday, April 1, from 9 a.m. to 2 p.m. at the annual Spring Spectacular Plant Sale hosted by the UT Gardens, Knoxville.
"Whether you are looking for native flowering plants to support pollinating insects or the latest foliage, texture and flower color to set your landscape apart from the rest, this plant sale is the place to be," says Holly Jones, UT Gardens horticulturist.
Four special varieties of columnar trees will be available, including 'Kindred Spirit' Oak, 'Slender Silhouette' Sweetgum, 'Musashino' Japanese Zelkova and 'Golden BellTower' Ironwood. All of these are prized for their reliably slender growth habit, which makes them perfect for small spaces, driveway or street edges, or as an interesting focal point. For the shrub layer of the garden check out the extensive collection of deciduous azaleas with the UT Gardens' exclusive native selection 'Volunteer Orange' being offered in easy to plant 8" pots. This brilliant orange beauty is a must have for all Volunteer fans. Other stand out shrub selections include thirteen varieties of hydrangea with exciting new releases like 'Puffer Fish' and 'Little Lime Punch' Panicle hydrangeas that deliver large showy flowers on a compact rounded bush. The final featured plant is a sun loving, drought and heat tolerant spreading groundcover called Delosperma 'Ocean Sunset'. Well-suited for containers or planted in the ground in well-drained soil, this charming succulent lives up to its name with multi-colored blooms that invoke the joyful feeling of watching the sun set over the ocean horizon.
A preview sale will be held on Friday, March 31, from 4 p.m. until 7 p.m. for all UT Gardens members, Gardens volunteers, and UT employees. Garden members receive a 10% discount on all purchases. Memberships can be purchased at the sale with an immediate discount on plants.
The UT Gardens, Knoxville, located at 2518 Jacob Drive, is one of three sites of the State Botanical Garden of Tennessee. For more details on the plant sale, including a list of plants available, or to become a member, visit utgardens.tennessee.edu.
Through its land-grant mission of research, teaching and extension, the University of Tennessee Institute of Agriculture touches lives and provides Real. Life. Solutions. utia.tennessee.edu.