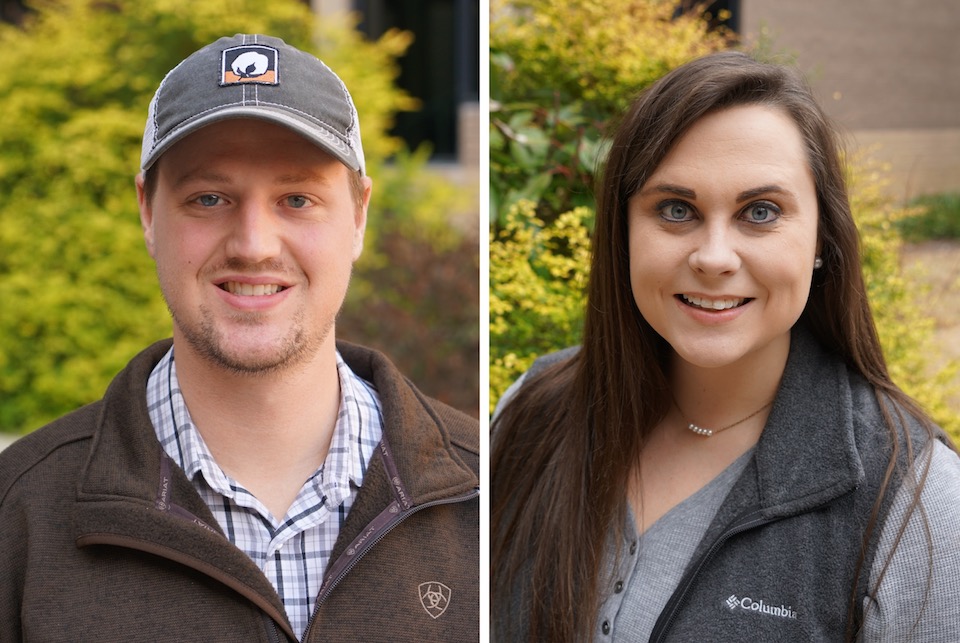 Earn Top Honors in Two Categories at National Conference

JACKSON, Tenn. – Two University of Tennessee Herbert College of Agriculture students took home top honors at the 2020 Beltwide Cotton Conference in Austin, Texas.

Dawson Kerns and Shelly Pate, both graduate students in UT's Department of Entomology and Plant Pathology, won first place in the student oral paper competition in the categories of Cotton Insect Research and Control and Cotton Disease, respectively.

Kern's presentation was titled, "Evaluation of Bt Resistance in Helicoverpa zea Populations Using Various Bt Cotton Plant Tissues." Helicoverpa zea, commonly known as cotton bollworm, is a major pest of Bt cotton that has steadily developed resistance to many Bt proteins. While current monitoring methods can adequately determine if a population has developed resistance to a particular Bt protein, they fail to evaluate how that may impact performance in the field. Kerns concluded an assay utilizing Bt cotton plant tissue diet overlays may be used to evaluate field performance of a resistant bollworm population.

Pate earned first place with her presentation titled, "An Assessment of Seed Treatment Efficacy and Cotton Seedling Disease Presence Using Innovative Techniques." For more than 20 years the National Cottonseed Treatment program has used the same protocol for detection of several fungal pathogens. Pate looked at updating the protocol to include pathogen-specific media, enzyme-linked immunosorbent assays, weather risk assessment and pathogenicity screening, with a goal of making seed treatment data more reliable.

Kerns is completing his master's degree in entomology under the direction of Scott Stewart, while Pate is earning a master's degree in plant pathology under Heather Kelly. Both students conduct research at the West Tennessee AgResearch and Education Center.

Through its land-grant mission of research, teaching and extension, the University of Tennessee Institute of Agriculture touches lives and provides Real. Life. Solutions. utia.tennessee.edu.