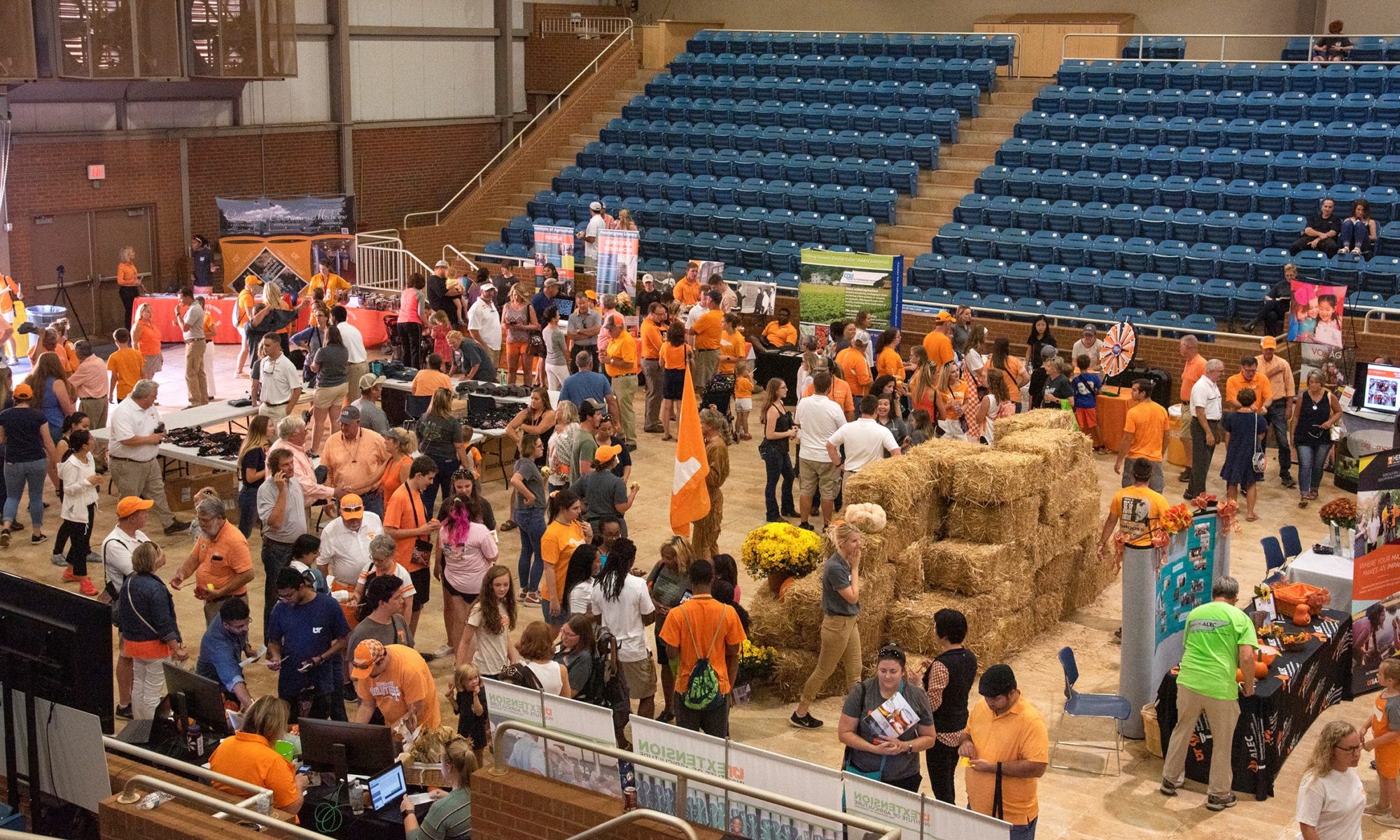 Farming, Tailgating and Big Orange Spirit Return In Person on September 24
KNOXVILLE, Tenn. – The University of Tennessee Institute of Agriculture is excited to host the return of Ag Day on September 24. Last year, Ag Day celebrated all things ag virtually, but this year attendees can celebrate agriculture, which includes Extension, AgResearch, the UT College of Veterinary Medicine and the UT Herbert College of Agriculture, in person.
Ag Day is where farming, tailgating and Big Orange spirit come together. The event is free to the public, and includes music, farm animals, free popcorn, UT Creamery ice cream, an interactive selfie station and departmental exhibits. While supplies last, Ag Day guests will also receive a free, clear UTIA-branded bag that can be taken inside Neyland Stadium. This year's event is Saturday, September 24, at the Brehm Animal Science Arena on the UT Institute of Agriculture campus in Knoxville. The start time is 11:00 a.m., a few hours before kickoff of the Tennessee-Florida game. Parking is free for Ag Day attendees in select spots on UTIA's campus. A full parking map can be found here.
"Since joining UTIA, I've heard about the one event you simply cannot miss: Ag Day!" says Carrie Castille, senior vice chancellor and senior vice president of the UT Institute of Agriculture. "I'm excited to be a part of this event and honor three outstanding individuals who are working hard to advance agriculture across our state."
Each year at Ag Day, three stewards of agriculture are recognized for their contributions across Tennessee. This year, John Harrison will be recognized as the 2022 Tennessee Farmer of the Year. Harrison, a third-generation dairy producer, and his wife Celia are the sole owners of Sweetwater Valley Farm in Loudon County. The farm is one of the largest and best known agritourism destinations in the region.
Ag Day will also include the presentation of the UTIA Horizon Award to Andrea Cote. This award honors someone who is just starting their career but has already had incredible impact on agriculture. Cote graduated from UT with a master's degree in public health in 2014 and from the UT College of Veterinary Medicine in 2015 with a doctor of veterinary medicine degree. She currently works as an epidemiologist with the U.S. Department of Agriculture.
Mark Wilson, an alumnus of the Herbert College of Agriculture, will be presented with the Meritorious Service Award. Wilson enjoyed a long career with Farm Credit Mid-America in Middle Tennessee, has been a generous endowment donor to UTIA, is an essential volunteer and actively supports many initiatives such as AgResearch and Extension, including 4-H.
The Brehm Animal Science Arena is located at 2506 River Drive in Knoxville, Tennessee. You can register in advance online. For more information, contact Robin Haefs at 865-974-1928.
Through its land-grant mission of research, teaching and extension, the University of Tennessee Institute of Agriculture touches lives and provides Real. Life. Solutions. utia.tennessee.edu.