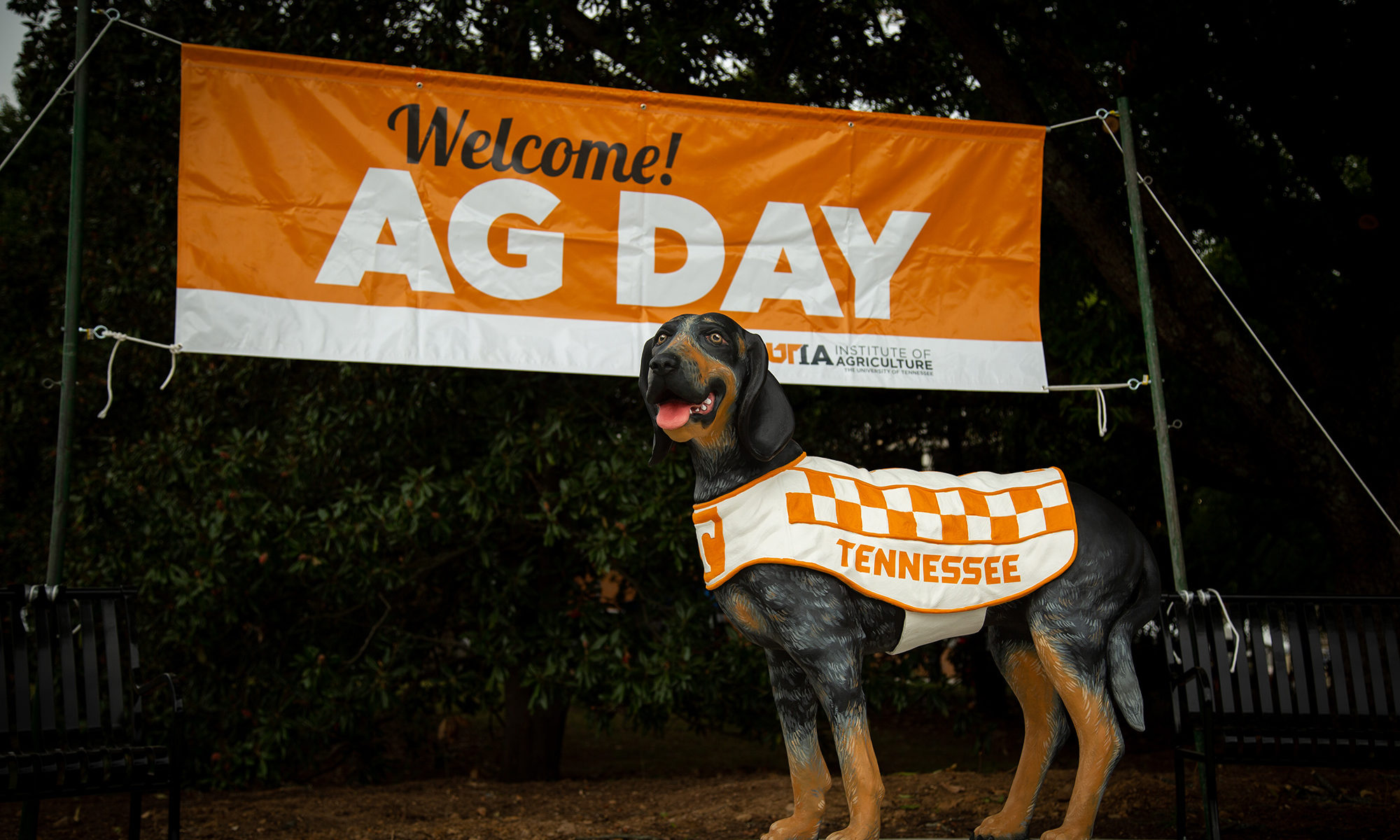 All Things UTIA and Three Stewards of Agriculture and Natural Resources Will Be Honored September 23
KNOXVILLE, Tenn. – The University of Tennessee Institute of Agriculture (UTIA) is planning its annual celebration of all things UTIA for Saturday, September 23, beginning at 11:30 a.m. at the Brehm Animal Science Arena on the Knoxville campus. Hundreds of guests are expected to enjoy activities sponsored by various departments in the UT Herbert College of Agriculture, including the School of Natural Resources; the UT College of Veterinary Medicine; programs in family and consumer sciences; 4-H Youth Development; student clubs; and more.
Activities will include live animal exhibits, music, department-based demonstrations, an interactive selfie station and lots of food available for purchase. Alumni reminiscing with friends, faculty and staff is also on the agenda, and everyone is invited to meet UTIA's Senior Vice President and Senior Vice Chancellor Keith Carver. "I am truly excited to host Ag Day," said Carver. "What a fabulous opportunity to meet so many of our alumni and supporters as we celebrate all things UTIA! I look forward to greeting many friends and making many more," he said.
The event will conclude in time for attendees to make their way to Neyland Stadium for the 4 p.m. kickoff between the football Vols and the University of Texas at San Antonio Roadrunners.
Ag Day also recognizes significant members of Herbert College and College of Veterinary Medicine alumni as well as the contributions of other outstanding members of the state's agriculture and natural resource industries. For 2023, UTIA is presenting its Meritorious Service Award to Dr. Robert Barry (Bob) Coley, a veterinarian and beef cattle producer from New Market, Tennessee. Coley is a 1974 graduate of the Herbert College of Agriculture and has served Tennessee agriculture in various capacities including as a large-animal veterinarian, a 4-H volunteer and a member of the Governor's Council on Agriculture and Forestry in 1995. He is also a member of the UT Beef and Forage Center Advisory Board and has served on the UT Animal Science Advisory Board, as an adjunct clinical instructor with the College of Veterinary Medicine and as a long-time CVM Advisory Board Associate member.
The UTIA Horizon Award winner, Dr. Leslie Sadeghi Brooks, is also a veterinarian. She is a 2012 graduate of the UT College of Veterinary Medicine, and currently resides in Brentwood, Maryland. UTIA initiated the Horizon Award in 2013 to recognize young professionals for their early-career accomplishments and potential as a leader in agricultural, natural resources and related professions. The selection criteria include both service to their chosen profession and involvement or leadership in community activities. Brooks currently serves as a science and technology policy fellow for the U.S. Agency for International Development (USAID). She is an agricultural and livestock technical advisor for the Bureau for Humanitarian Assistance and focuses on food security and climate-smart agriculture. Among her many other accomplishments, she volunteers as a governing board representative for federal (civilian) government veterinarians.
A farmer from Carthage, Tennessee, Kyle Owen, was named the 2023 Tennessee Farmer of the Year by UT Extension earlier this year. He, too, will be honored at Ag Day. In his nearly 20 years of farming, his passion for agriculture, work ethic, and business sense have combined to morph an original 32 acres of tobacco to more than 6,000 acres of corn, soybeans and wheat as well as tobacco, watermelons and pumpkins. As the Tennessee Farmer of the Year, Owen will compete in the Sunbelt Ag Expo Southeastern Farmer of the Year competition, the winner of which will be announced in October at the Sunbelt Ag Expo in Moultrie, Georgia.
Through its land-grant mission of research, teaching and extension, the University of Tennessee Institute of Agriculture touches lives and provides Real. Life. Solutions. utia.tennessee.edu.