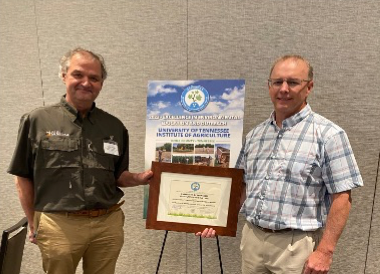 Professors Recognized for Environmental Education and Outreach
KNOXVILLE, Tenn. – Through the 2023 Governor's Environmental Stewardship Award for Environmental Education and Outreach, the state of Tennessee recognized the research of two University of Tennessee Institute of Agriculture professors to create a solution for farmers to safely use poultry litter as fertilizer.
Shawn Hawkins and Forbes Walker, who are both professors in the Department of Biosystems Engineering and Soil Science (BESS), created a UT Extension publication for producers and farmers that helps improve profitability and reduces the environmental impact of poultry production.
Hawkins and Walker accepted the award from Gov. Bill Lee and Department of Environment and Conservation (TDEC) Commissioner David Salyers at a ceremony in Franklin. They were joined by Hongwei Xin, dean of UT AgResearch; Julie Carrier, professor and head of BESS; Justin Rhinehart, assistant dean of UT Extension; Tom Tabler, professor of animal science; and Dale Barnett, executive director of the Tennessee Poultry Association.
The Governor's Environmental Stewardship Awards program, started in 1986, recognizes "exceptional voluntary actions that improve or protect the environment and natural resources with projects or initiatives not required by law or regulation," according to TDEC. More than 55 programs and organizations were nominated for the awards, which were selected by a panel of nine judges.
Poultry production creates a large amount of litter, which can be used for fertilizer; however, it must be applied in a controlled way to prevent environmental harm. Hawkins and Walker conducted research to find the appropriate amounts and application process and then created a UT Extension publication called Litter Land Application Management to help poultry producers follow the procedures. Field trials continue to be conducted at the UT AgResearch and Education Centers across the state.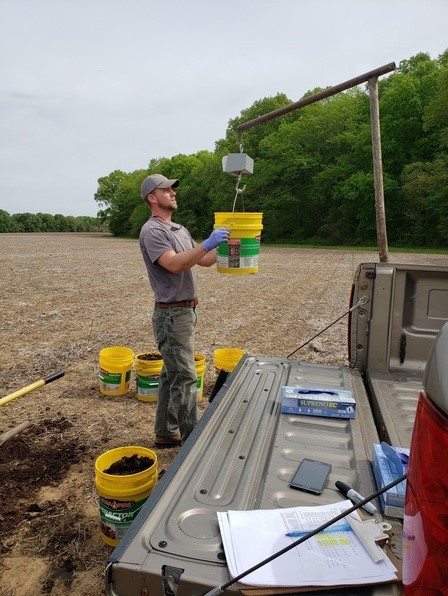 "Through integration of research and Extension endeavors, Drs. Hawkins and Walker have spearheaded field trials and information dissemination regarding use of broiler litter as an effective fertilizer to improve crop production efficiency, soil health, and water quality, and thus sustainability. The impact of their work has been and will continue to be felt by many producers throughout the state," says Xin.
The poultry sector is very valuable to Tennessee agriculture with an overall economic impact of $6.5 billion. The industry provides for more than 27,000 direct and indirect jobs and accounts for more than $438 million paid annually in state and federal taxes.
Poultry litter contains nitrogen, phosphorus, and potassium along with several micronutrients, making it ideal for fertilizer. One ton of poultry litter can contain 66 pounds of nitrogen, 50 pounds of phosphorus, and 40 pounds of potassium. Tennessee ranks 14th nationally in processing about 400 million broilers each year, according to the Tennessee Poultry Association. About half of them are grown in Tennessee, which equates to about 250,000 to 300,000 tons of litter a year.

The Litter Land Application Management (W 796) publication provides a field-specific nutrient management system and the required recordkeeping. Using the worksheet provided in the publication, producers determine the amount of poultry litter that will maximize its value while minimizing the cost of commercial fertilizer. Additionally, the worksheet enables the calculation of the correct amount of litter to apply on a field to be well below the limit that could cause a risk of illegal discharge. So far, the publication has been well received by producers and farmers, proving to be invaluable to the poultry industry.
Walker, who has been at UTIA since 1998, also serves as the environmental soils specialist for UT Extension and focuses his work on the impact of agriculture on the environment and assessing practices that will improve agricultural productivity without negatively impacting the environment.
Hawkins, who has been at UTIA since 2007, specializes in animal waste management and is a member of the UT Precision Livestock Farming program faculty. He recently received the Webster Pendergrass Outstanding Service Award, which is presented annually to a teaching, research or Extension faculty member who has contributed most to the fulfillment of UTIA's goals and objectives.
Through its land-grant mission of research, teaching and extension, the University of Tennessee Institute of Agriculture touches lives and provides Real. Life. Solutions. utia.tennessee.edu.