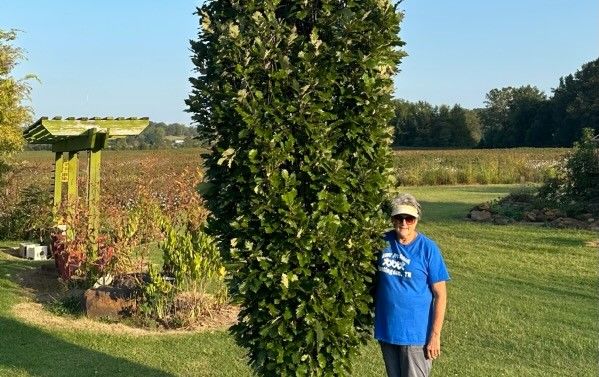 UT Gardens' November Plant of the Month
KNOXVILLE, Tenn. – In 1974 the legendary nurseryman Earl Cully planted a thousand acorns from a cross of the columnar English oak (Quercus robur 'Fastigiata') with our native swamp white oak (Q. bicolor). Only a few of the hundreds of seedlings had the desired attributes of both species that Cully was looking for and made it into his final cut. Regal Prince® was Cully's first introduction and Quercus × warei 'Nadler' Kindred Spirit®, with an even tighter habit, was the second.
The original Kindred Spirit is located in Jacksonville, Illinois, on what was once Mr. Cully's property. It is over 40 years old and has long since proven itself. From its American swamp white oak parentage, it inherited the ability to tolerate constantly damp, as well as dry soil, cold hardiness, heat tolerance, powdery mildew resistance and limbs that withstand wind and ice.
Read more at the UT Gardens' site.
The UT Gardens includes plant collections located in Knoxville, Crossville and Jackson, Tennessee. Designated as the official botanical garden for the State of Tennessee, the UT Gardens are part of the UT Institute of Agriculture. The Gardens' mission is to foster appreciation, education and stewardship of plants through garden displays, educational programs and research trials. The Gardens are open during all seasons and free to the public. For more information, see the Gardens website: utia.tennessee.edu/state-botanical-garden.
The University of Tennessee Institute of Agriculture is composed of UT AgResearch, UT College of Veterinary Medicine, UT Extension and the Herbert College of Agriculture. Through its land-grant mission of research, teaching and extension, the Institute touches lives and provides Real. Life. Solutions. utia.tennessee.edu.