Eight Students Complete UT's First Ever Stand-Alone Certificate-for-Credit Program
KNOXVILLE, Tenn. – The first cohort of students enrolled in the Horticultural Therapy Program at the University of Tennessee Institute of Agriculture has completed the requirements and participants have received their certificates in Horticultural Therapy. The program, offered through the UT Herbert College of Agriculture's Department of Plant Sciences and the UT Gardens, is the first undergraduate certificate program offered by UT for students not enrolled in a full degree program.
Carrie Castille, senior vice chancellor and senior vice president of the UT Institute of Agriculture, praises the team involved in developing and administering the new Horticultural Therapy Program, including Derrick Stowell, program administrator. "Offering new and unique ways to enhance workforce development skills is an important element of our land-grant mission. Derrick and his team have paved a trail for future certificate-based programs that may help countless professionals across many disciplines," she says.
"It's exciting to see the Herbert College of Agriculture offer the first-ever certificate for credit, not limited to graduate students, at the University of Tennessee," says John Stier, associate dean at the Herbert College. "Hats off to Derrick Stowell and PJ Snodgrass for developing the idea and graduating the first cohort of the Horticultural Therapy Program!"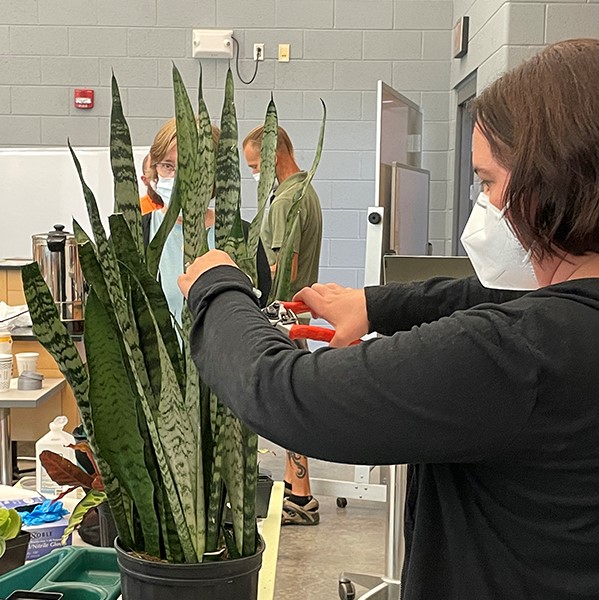 Horticultural therapy is a therapeutic tool that has long been used for physical rehabilitation, vocational training and improvement of cognitive abilities. The Horticultural Therapy Program at UT, designed as a hybrid accelerated program, is intended for those who are already working and interested in learning how to enhance their practice by incorporating horticultural therapy into their skill set.
"Horticultural therapy is a unique profession that utilizes the people-plant connection to help improve health and wellness outcomes for people," says Stowell. "It was exciting to be able to teach this first cohort."
Stowell adds that the program enjoyed participation from across the U.S. "We had an amazing set of students from around the nation. I look forward to offering our next cohort in 2023."
The first group of students, eight in total, completed the program during the summer 2022 term, which ended in August. Katharine McDonald, one of the students, remarks, "The Horticultural Therapy Certificate Program was wonderful. It not only provided a thorough overview of horticultural therapy and the populations it can serve, but also enabled each student to create the materials they need to start their own horticultural therapy practice or integrate horticultural therapy into their current career. The taught sessions were engaging and informative, and I particularly valued the in-person week where we could share ideas and learn from one another. I feel I ended the program with not just a great group of new colleagues, but friends."
The program resumes in January 2023 and applications are now being accepted. The course is limited to 25 students. Those who are interested can contact Stowell at dstowell@tennessee.edu or visit plantsciences.tennessee.edu/horticulturaltherapycertificate for more information.
UT's Horticultural Therapy Program is accredited by the American Horticultural Therapy Association and approved by the Southern Association of Colleges and Schools Commission on Colleges. Students who complete the program will receive a certificate in horticultural therapy in addition to nine credit hours that can be applied towards the academic requirements of becoming a registered horticultural therapist. A full list of requirements can be found at ahta.org.
Through its land-grant mission of research, teaching and extension, the University of Tennessee Institute of Agriculture touches lives and provides Real. Life. Solutions. utia.tennessee.edu.