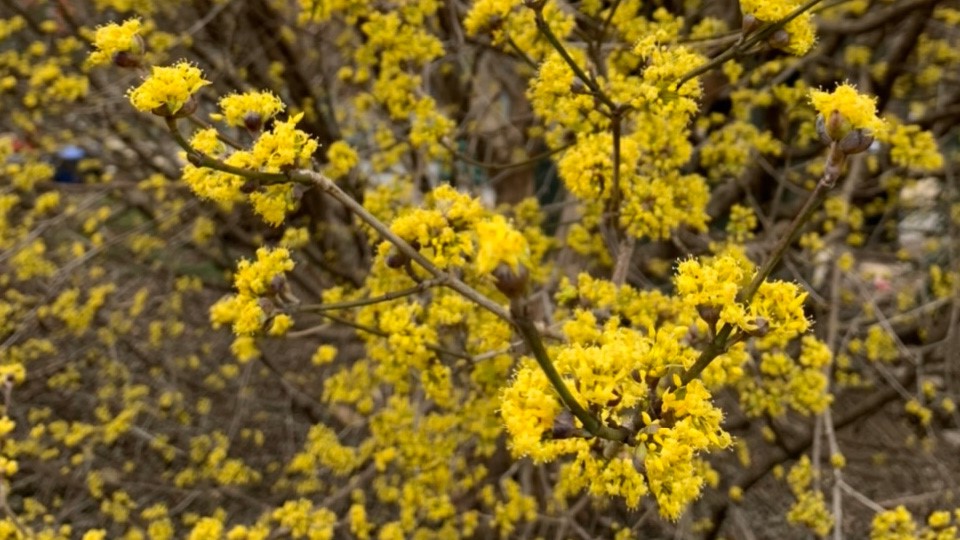 UT Gardens March 2023 Plant of the Month
The landscape can be dreary in January and February, so trees or shrubs that offer a bit of cheer with winter blooms can be a welcome addition to almost any yard or garden. Underused in the landscape, the Japanese cornel dogwood is just such a plant. In midwinter it defies the gloom with showy clusters of yellow flowers.
The Japanese cornel dogwood's exfoliating bark also adds interest to the winter garden with its rich grays, browns and oranges.
Native to Japan and Korea, Cornus officinalis usually grows as a large, spreading, multi-stemmed, deciduous shrub or a small tree up to 15-25 feet tall. A deciduous plant, with pale yellow to reddish-purple fall foliage, the Japanese cornel dogwood is effective in the landscape when used in foundation plantings, shrub borders, woodland gardens, bird gardens or naturalized areas. The plant prefers full sun to partial shade and tolerates a range of soil types. In the autumn, like other dogwoods, showy red fruits (drupes) decorate this plant. Technically these drupes are edible, but most would find them astringent.
Read more at the UT Gardens' site.
The UT Gardens includes plant collections located in Knoxville, Crossville and Jackson, Tennessee. Designated as the official botanical garden for the State of Tennessee, the UT Gardens are part of the UT Institute of Agriculture. The Gardens' mission is to foster appreciation, education and stewardship of plants through garden displays, educational programs and research trials. The Gardens are open during all seasons and free to the public.