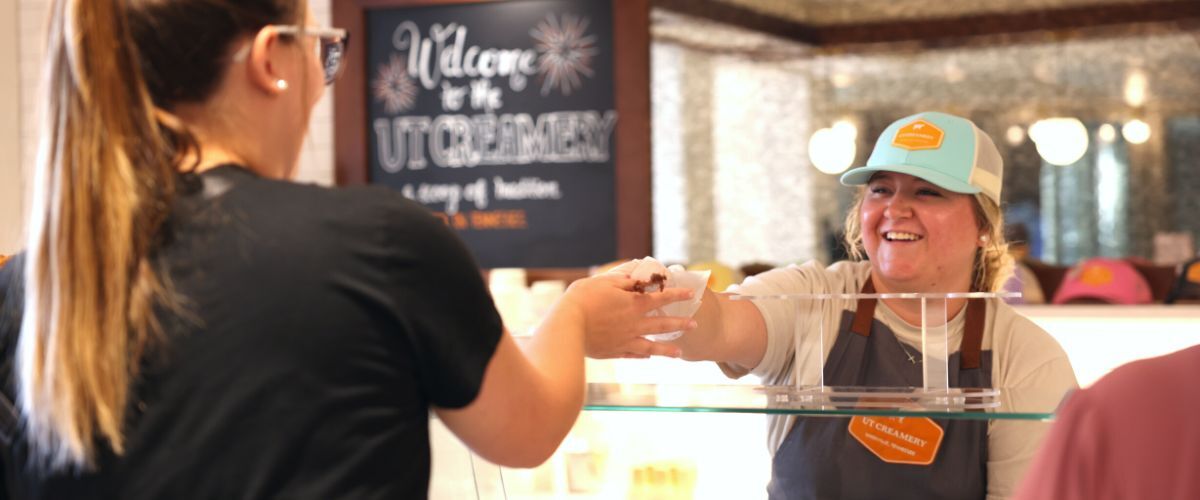 Dual-College Partnership Focuses Student Experiential Learning "From Cow to Cone"
On August 14th, the University of Tennessee Creamery opens its doors to the public, offering a nostalgic ice cream parlor atmosphere with a modern twist.
Thanks to the generous support of two university alumni and co-founders of the nationally acclaimed Cowgirl Creamery, Peg Smith and Sue Conley, aka "The Cowgirls," the University of Tennessee is once again offering artisan, premium ice cream for sale to all in search of a delicious treat. The creamery itself is a throwback to a time when the UT Creamery served students, faculty, staff, and the community from 1915 until its closure in 1985.
What makes the UT Creamery different from other ice cream parlors? The entire operation is run by students under the supervision of UT Knoxville faculty in the Department of Retail, Hospitality and Tourism Management (RHTM) and the Herbert College of Agriculture. Students from the RITR manage the retail side of the business, while Herbert food science students manage ice cream commercial production. Together, they bring Peg and Sue's vision for the UT Creamery to life.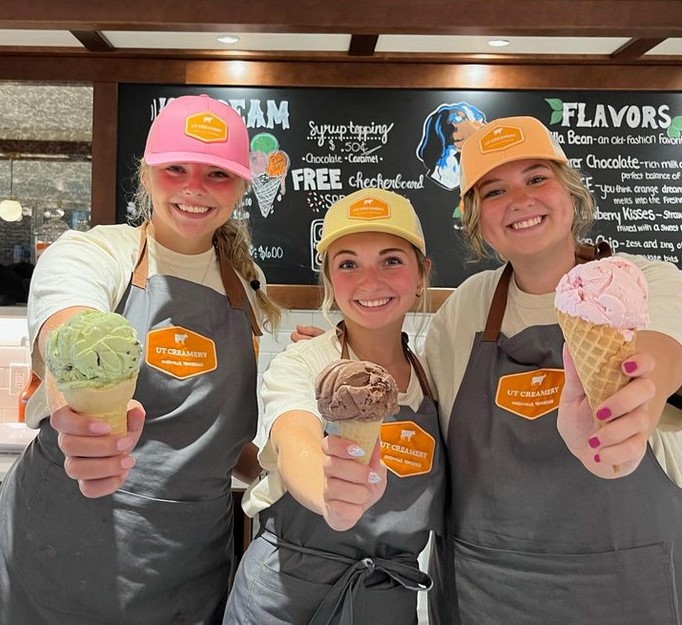 At the opening, the UT Creamery will offer five flavors. VOLnilla, Torchbearer's Chocolate, Smokey's Strawberry Kisses, Mint Champion Chip, and its signature flavor, Go Big Orange. The small-batch, artisan ice cream is prepared by students from the Food Science department, students from Rocky Top Institute of Retail (RTIR) manage the retail side of the business while developing new student-created products, and students from all majors scoop and sell the ice cream.
"The UT Creamery provides an opportunity for students from all over campus to learn to make ice cream and manage an ice cream business. Food Science students, who know the complicated science of ice cream, learn the practical aspects of producing safe, high-quality products that consumers will enjoy," said Rob Williams UT Herbert Food Science department head. "Our partnership with Retail, Hospitality, and Tourism (RHTM) expands the student perspective to include the marketing and branding facets of the Creamery, which elevates the student experience at UT."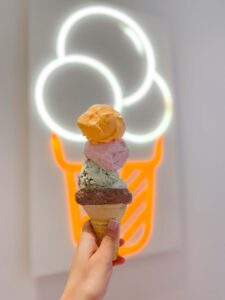 In fact, the UT Creamery's primary purpose is to provide related experiences to their fields of study, while offering premium ice cream and a wide-ranging choice of UT Creamery and Rocky Top themed merchandise. A variety of roles are offered to students including, modern ice cream production methods, manufacturing, logistics, product development, retail business management and analytics, marketing, merchandising, event planning, customer service, and direct-to-customer sales.
From its inception, RTIR students conducted market research to find out customers' favorite ice cream flavors, named each flavor, and descriptions of the ice cream flavor profile. In addition, RTIR students were also involved in the development of UT Creamery-themed merchandise, available for sale at the creamery and eventually online.
"Students will gain an advantage point starting off their careers working in the creamery's fast-paced operations, understanding a variety of categories, retail business analytics and the significance of the customer-product relationship", said Myra Loveday, Director of Retail Strategies for the UT Creamery.
Prior to the August 14th opening, the UT Creamery held a "soft opening" to allow students an opportunity to gain familiarity and experience in retail operations as a start-up as well giving Food Science students experience in enhancing ice cream production techniques.
"Before the soft opening, the students were trained in food safety using the nationally recognized ServSafe certificate program through the National Restaurant Association and Knox County Health Department's Food Safety Awareness Training. I was so proud of the team as I learned they passed the health inspection with a perfect score! They were ready, " said Junehee Kwon, head of UT's Retail, Hospitality and Tourism Department (RHTM). "During the soft-opening period, they have been training for customer-facing experience and the actual operation of the store, including opening and closing the store without the faculty supervisor. "
RTIR students worked long hours to get the creamery ready for its public debut. From putting up shelves, preparing signage, menu displays, and creating operational processes to merchandising the retail space, all under the supervision of Loveday. On the ice cream production side, Herbert Food Science students spent countless hours developing and perfecting a final product that would please all palates.
"We wanted to make sure everything was just right to exceed the customer experience," said Loveday.
"Based on reactions to our initial taste tests, we are excited to launch our seasonal and fun flavors!" said Nathan Miller, UT Creamery Production Manager.
"Our students are ready for the opening of UT Creamery for the UT campus community and beyond. I am very excited that UT Creamery, which has taken a long time coming, is finally ready to open to the public. I wish everyone in Herbert College of Agriculture and the Retail and Merchandising Management Program in the Department of RHTM the best as we open this historic UT Creamery," said Kwon
Be sure to stop by the UT Creamery and sample a "Scoop of Tradition" for yourself. The UT Creamery is located at 2712 Neyland Drive (across from Sorority Village) on the UT campus and is open Monday through Saturday noon to 7 pm.
Check out utcreamery.tennessee.edu and our social media for updates on hours of operation and new flavors!
###
About the College of Education Health and Human Sciences: Through its eight departments and 12 centers, the UT Knoxville College of Education, Health, and Human Sciences enhances the quality of life for all through research, outreach, and practice. Find out more at cehhs.utk.edu
About the University of Tennessee Institute of Agriculture: Through its land-grant mission of research, teaching and extension, the University of Tennessee Institute of Agriculture touches lives and provides Real. Life. Solutions. utia.tennessee.edu.