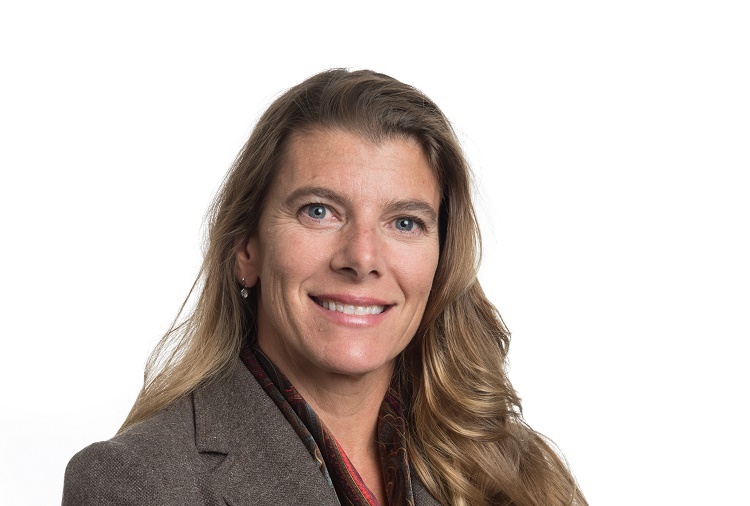 Ashley M. Stokes to Begin Role in February 2021
KNOXVILLE, Tenn. — A veterinarian, beef industry partner and expert in teaching and community engagement has been chosen as the new dean of UT Extension in the University of Tennessee Institute of Agriculture.
Ashley M. Stokes, DVM, Ph.D., MBA, who currently serves as the associate vice president for engagement and deputy director of Colorado State University Extension, will begin her new role as the leader of UT Extension February 22, 2021. Tim Cross, senior vice president and senior vice chancellor of UTIA, announced in a letter to faculty, staff and stakeholders.
"With extensive leadership experience in all aspects of Extension and engagement, Dr. Stokes brings a wealth of knowledge in overseeing operations, personnel, county and state relations, and engagement throughout the university setting," Cross says. Stokes is the first woman to serve as dean of UT Extension in its more than 100 years of service to Tennesseans. Established in 1910, UT Extension includes more than 60 subject matter experts specializing in agriculture production and natural resources management as well as family and consumer sciences and youth development.
UT Extension also features agents strategically located in offices in every county in the state. UT Extension works with local governments to provide an array of adult learning opportunities while also managing Tennessee 4-H, the state's branch of the USDA's national youth development and leadership program. With more than 168,000 participants in club-based programs, Tennessee 4-H is among the nation's largest 4-H programs.
Stokes has a broad history of service to the national Cooperative Extension system. Her current duties at CSU include serving as assistant and associate vice president of engagement for CSU of the university's Office of Engagement, including CSU Extension and CSU Online. CSU Online serves learners across the spectrum as they deliver undergraduate and graduate degrees, credit for college-level courses, and even non-credit education. She also is part of the leadership for the CSU Office of Community and Economic Development; the Colorado Water Center (research, teaching and water policy expertise); and international projects in Ethiopia, Japan and the Western Pacific Region focused on university engagement with communities to collaborate on local, regional and global challenges. She previously served as the assistant dean of the CSU College of Veterinary Medicine.
Stokes also has attained national prominence serving on executive committees for Association of Public and Land-grant Universities (APLU) and Extension Directors Association. In November the University of Tennessee was designated as an Innovation and Economic Prosperity University by the APLU.

Prior to her service at CSU, Stokes received her bachelor's degree from the University of Alabama and her DVM and Ph.D. degrees from the Louisiana State University School of Veterinary Medicine, where she also served on the faculty in veterinary clinical sciences. Starting in 2009, she spent six years at the University of Hawai'i, where she was the sole veterinary Extension specialist serving Hawai'i as well as several territories throughout the Western Pacific. She also conducted veterinary research while at UH and taught pre-veterinary and animal science courses. In 2018, she completed her MBA at Colorado State University with a focus on marketing and communications.
Among her accolades and achievements, Stokes has been recognized with the Top 40 Under 40 award in her hometown of Baton Rouge, Louisiana; the Excellence in Teaching award for her college at UH; Ka Pouhana Student Mentorship award; Hōkū Leadership award; Hawaii Cattleman/Cattlewoman of the Year; Who's Who in Colorado Agriculture; and the Public Service Award for the International Animal Transportation Association for her collaborative research on livestock transportation. Stokes was inducted into the Academy of Veterinary Consultants in 2014.
A native of South Louisiana, Stokes is thrilled to return to the Southeast. She is also looking forward to working throughout Tennessee to improve the lives of citizens in the state and region. "UT Extension is one of the strongest in the country with traditional programs that have been robust for more than 100 years, as well as new programs that are tailored to the ever-changing needs of our communities. I am thrilled and honored to join these incredible Extension professionals as dean," says Stokes. She also adds, "Knowing the expertise within UTIA, across the UT System, and collaborations with many partners, it will be exciting to explore opportunities to broaden our programming as we grow our excellence to best serve those across Tennessee and beyond."
Through its mission of research, teaching and extension, the University of Tennessee Institute of Agriculture touches lives and provides Real. Life. Solutions. utia.tennessee.edu​.