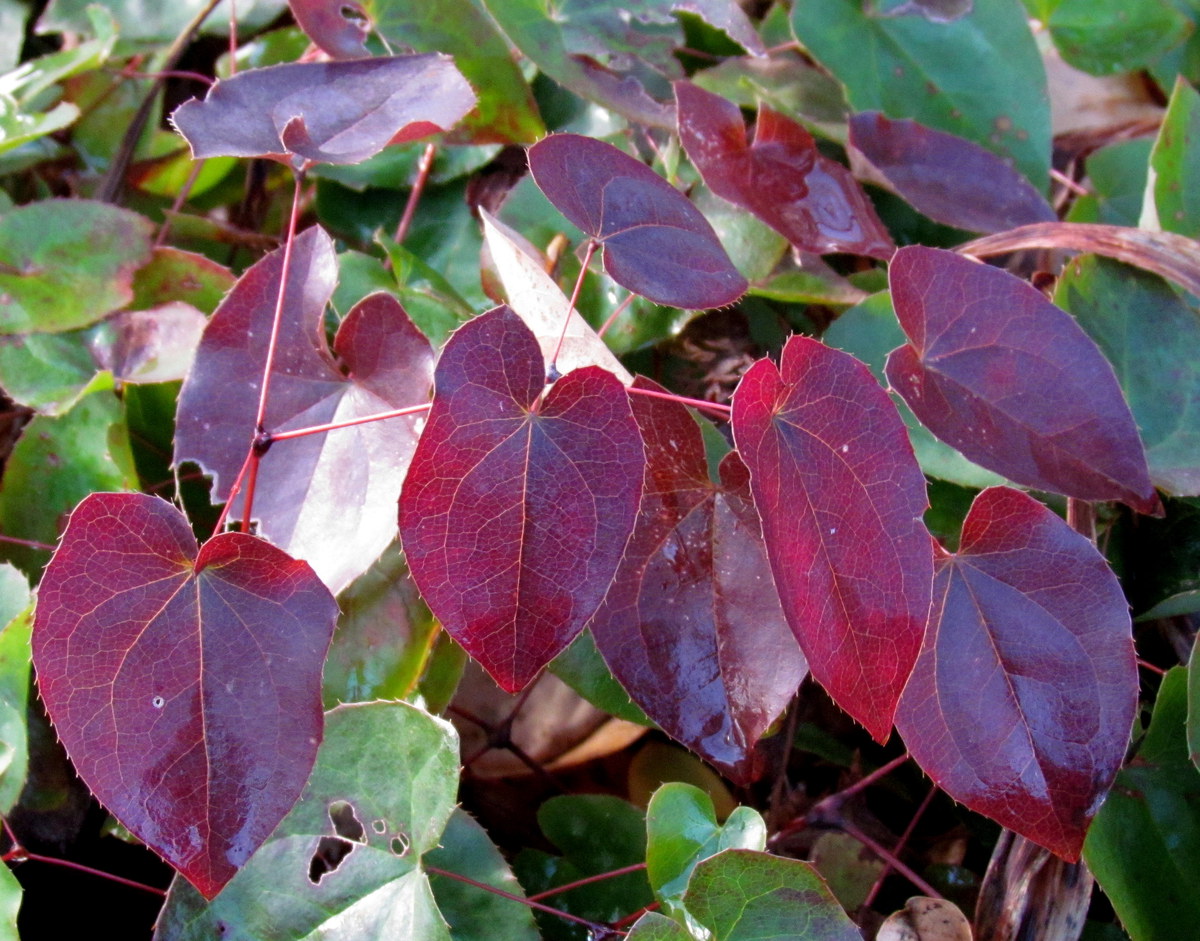 UT Gardens' March 2022 Plant of the Month
Submitted by Troy B. Marden, host of Nashville Public Television's Volunteer Gardener
Bishop's hat and fairy wings are charming common names for Epimedium and if you look at the flowers and newly unfurling leaves in early spring, it is clear how they came by them. As the tiny, wing-like leaves emerge from underground rhizomes in March and April, they are accompanied by clusters of delicate, dangling flowers which, with a bit of imagination, could be reminiscent of certain ecclesiastical headwear.
Over the past two decades, Epimedium have become increasingly popular with gardeners for their tough constitution and long season of interest in the shade garden. New selections and cultivars from enterprising plant explorers and hybridizers have expanded the offerings from just a handful twenty years ago to a smorgasbord of enticing leaf forms and flower colors that offer nearly year-round beauty. Among the many species — more than 60 at present count — the foliage can range from tiny and delicate (hence, the common name fairy wings) with soft, eyelash-like edges to long, leathery and sharply spined architectural forms. In many selections, new leaves emerge painted in red, copper or pink shades and in those that remain partly to completely evergreen, may take on tones of red to deep maroon-purple in winter.
The flowers are equally diverse, appearing from very early spring to early summer in a veritable rainbow of colors, including white to red, pink, yellow, orange, copper and deep, dusky purples. Often, they are bicolored, with the outer sepals being one color and the longer, sometimes "spidery" inner petals a contrasting shade, and they can range in size from the tiny, quarter-inch white stars of E. stellulatum to the dangling, two-inch yellow "spiders" of E. 'The Giant.' Plants can range in size from just a few inches tall to nearly two feet and in habit from strictly clumping, with little to no spreading, to slowly spreading groundcovers that will eventually form nice stands in and around other shade-loving plants.
Epimedium are best suited to bright, dappled shade in an open woodland garden where they will put on their greatest display, but have proven quite adaptable in locations ranging from morning sun to fairly deep shade. Once established, they are drought tolerant and deer are largely uninterested in their tough and unpalatable leaves. For maintenance, all that really is needed is a quick tidying up of old foliage in February, before flowers and new leaves begin emerging in March and April.
Of the many varieties now on the market, a few have been standouts in my own garden and gardens I have visited. At the top of my personal list is 'Domino,' a vigorous clump former that bears clouds of creamy white flowers tipped in deep rose from early spring to early summer. It is one of the longest-blooming varieties available. Also outstanding are 'Amber Queen,' 'Pink Champagne,' 'Caramel' and the species E. membranaceum with its large, yellow spring blooms and ruby red winter leaf color.
If you garden in shade, give these tough, adaptable, deer-resistant plants a try. You'll be glad you did!
A variety of Epimedium species and cultivars can be found at the UT Gardens, Jackson, and Knoxville.
The UT Gardens includes plant collections located in Knoxville, Crossville and Jackson. Designated as the official botanical garden for the State of Tennessee, the collections are part of the UT Institute of Agriculture. The Gardens' mission is to foster appreciation, education and stewardship of plants through garden displays, educational programs and research trials. The Gardens are open during all seasons and free to the public. For more information, see the Gardens website: utia.tennessee.edu/state-botanical-garden.