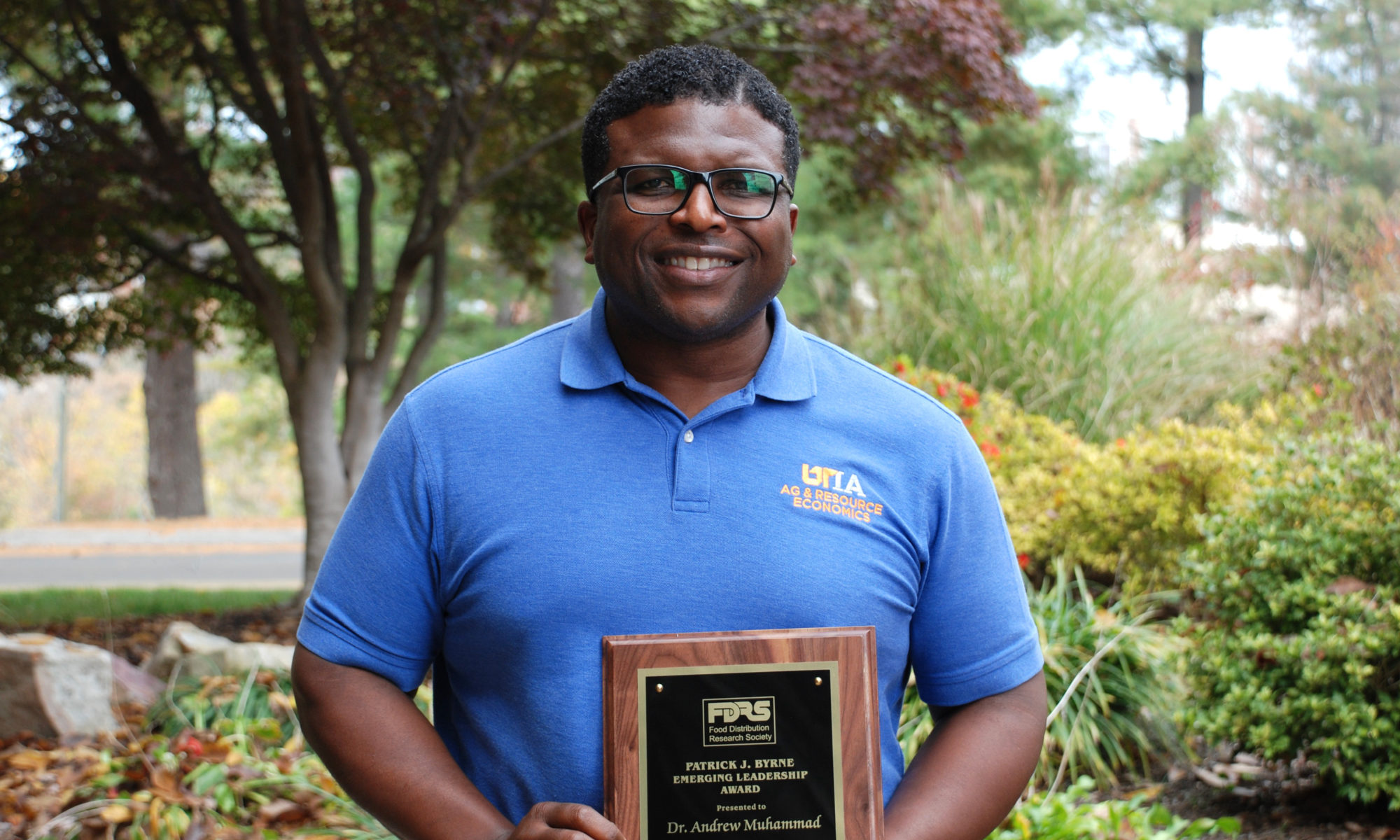 Andrew Muhammad recognized by Food Distribution Research Society
KNOXVILLE, Tenn. — University of Tennessee Institute of Agriculture professor Andrew Muhammad has been awarded the 2022 Patrick J. Byrne Emerging Leadership Award by the Food Distribution Research Society. He was presented with the award at the Society's annual conference in Pensacola, Florida.
The Food Distribution Research Society assembles professionals from academia, government and industry to work together in an effort to foster growth in the industry. It is the only body of scholars and practitioners in the United States dedicated to the study, monitoring and sharing of knowledge about the dramatic changes that are taking place in the global food system.
"The Patrick J. Byrne Emerging Leadership Award is a very special honor, highlighting individuals who have made outstanding contributions to the profession, in addition to dedicated service to the society," said Muhammad. "It is an honor to have been selected as this year's awardee."
The FDRS produces the Journal of Food Distribution Research, a well-established journal that focuses on issues of importance facing the U.S. agribusiness economic sector. The journal places emphasis on the flow of products and services through the food wholesale and retail distribution system. Muhammad previously served on the editorial review board for the journal.
Muhammad joined the Institute's Department of Agricultural and Resource Economics in 2018 and holds the distinguished Blasingame Chair of Excellence in Agricultural Policy. In this role, he assists the state and nation's agricultural decision makers in the evaluation of policies and programs dealing with agricultural commodities, food and international trade, as well as advocating for state and regional agricultural opportunities. His current research focuses on agricultural trade and trade policy, effects of trade on developing countries, and global food demand. He has garnered funding in excess of $4 million for teaching and research and has written more than 60 journal articles and 40 reports on agricultural trade and policy issues.
He has provided leadership to numerous key committees, such as USDA's Agricultural Policy Advisory Committee and the executive committee of the International Agricultural Trade Research Consortium. He also provides leadership to the Council on Food, Agricultural and Resource Economics, as well as the Agricultural and Applied Economics Association.
Through its land-grant mission of research, teaching and extension, the University of Tennessee Institute of Agriculture touches lives and provides Real. Life. Solutions. utia.tennessee.edu.